Sophia A. Muirhead – The Conference Board
Thought in leadership
It has published research critical to the adoption of eight-hour workdays and lobbied for employment of African-Americans and the disabled.
President Woodrow Wilson asked for its help in resolving labor disputes during WWI. Its seminal findings on industrial pollution were incorporated into the first policies of the federal government's Environmental Protection Agency (EPA) in the 1970s.
Today, The Conference Board—a business membership organization dedicated to helping its members anticipate "what's ahead," improve their performance and better serve society—continues to focus on the growing complexities of commerce, consumerism, industry and the environment.
Sophia Muirhead couldn't be prouder to help carry on that mission.
Having once been a researcher with the organization, Muirhead now serves as the think tank's chief legal officer—the first in its 102-year history. Most recently, she has also been tapped to develop, and eventually lead, a brand-new U.S. Marketing and Communications Center designed for the organization to inspire and enable marketers to address their most important opportunities.
Upon joining the organization 20 years ago, "I found out that I had an entrepreneurial spirit," says Muirhead. "It's been a really, really fun place for me to work, if for no other reason than it's allowed me to spread my wings in ways that I could not have imagined."
Endless possibilities, if you make them
Established in 1916 and headquartered in New York City, The Conference Board has its nonpartisan centers in Asia, Europe and the U.S., analyzing topics such as corporate governance, sustainability and employee engagement—and you've no doubt heard of its widely-quoted Consumer Confidence Index®.
In fact, Muirhead just closed two deals: one that will enable The Conference Board to offer its global Consumer Confidence Index in 64 economies around the world; and a second that creates a center to study the economies of the Gulf States.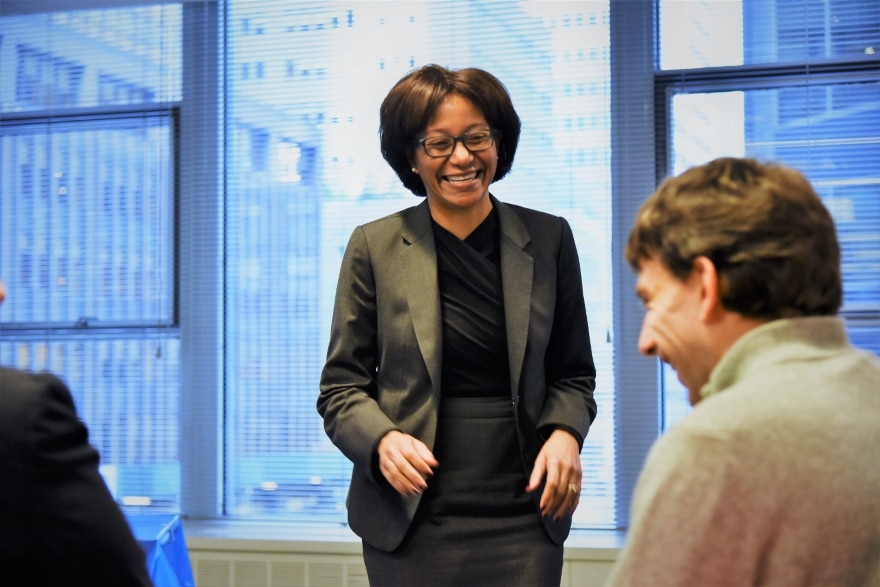 In November 2018, The Conference Board expanded its global research organization to the Gulf Region by starting a new Research Center in Kuwait, to conduct and publish quantitative economic and business research related to the Gulf Cooperation Council region; collaborate with the policy, business and research communities in the region; and transition knowledge to business, government, and research organizations across the region to strengthen the capabilities to use this research for economic development purposes. Muirhead worked on this venture for over two years.
Since joining the organization in 1998, Muirhead, a Jamaica native and Harvard-trained lawyer, has applied her talents to a variety of legal, research and advisory capacities. She shares her employer's passion for advancing society through public-private partnerships, calling such cooperation "critical to our DNA and our core."
Today, she juggles her legal duties with developing a three-year strategy for the U.S. Marketing and Communications Center, including which issues the center will focus on, how it will disseminate ideas and how it will be staffed.
The world: No shortage of research material
Not that these are totally new concepts for her: Shortly after starting out as a senior research associate with The Conference Board, she co-founded the Webcast Program. Launched in the early days of webcasts, it highlights the organization's researchers and their work.
Meanwhile, she has conducted global studies on topics such as corporate citizenship, corporate downsizing, business conduct codes, the 2005 tsunami relief effort, the state of nonprofits in America, and the impact of mergers and acquisitions. In 2008, she took the mantle as chief legal officer to establish a legal infrastructure, develop training protocols and staff policies, and handle expected duties related to, among other things, mergers, joint ventures, compliance and protection of intellectual property.
Recently, Muirhead has also been active in The Conference Board's Demand Institute, a joint venture with Nielsen. Focused on consumer demand, the Institute reports that, over the next decade, consumers globally will spend $600 trillion across all industries. One Institute project, American Communities, highlights the economic challenges in communities across the U.S.
Meanwhile, another called Project 8 is a cloud-based, open data platform that disseminates information on sustainable development and human needs. A collaboration of the United Nations Foundation, the U.S. State Department and the Salesforce Foundation—among others—it is meant as a tool to help end poverty, fight inequality and tackle climate change, Muirhead explains, as the world approaches a population of 8 billion.
Other research performed by the Institute has focused on the digital consumer of the future, the shifting nature of U.S. housing demand, and housing metrics and satisfaction across 2,200 U.S. cities.
"I love the variety of the work," Muirhead says. "I like that we work at an organization where I can raise my hand for a stretch assignment."
A natural fit
It's a long way from her days as a "geeky 10-year-old" growing up in Jamaica. Muirhead recalls being enthralled by parliamentary proceedings on TV. From a young age, her goal was to pursue a law degree and go into Parliament.
Then a friend's father, who served in parliament, was assassinated; in addition to the personal loss, she was "completely disillusioned" by the tragedy.
Still, as Muirhead moved to the states and became a naturalized citizen, she couldn't deny the inexplicable pull to law. After graduating from Hunter College and Harvard Law School, she worked in private practices focusing on corporate and security laws—and then the opportunity came up at The Conference Board. It seemed a natural fit, she recalls, as she had always had an affinity for research and writing, serving as editor of the Harvard International Law Journal.
The Conference Board's reputation and history, following its founding in 1916 during "unprecedented strains on governments, workers, and citizens" added to the appeal that Muirhead felt.
"It is really important for me to work at an organization whose mission I wholeheartedly embrace," she says, describing her "lattice-like" career. "I've risen through the ranks. Sometimes it has been bumpy, but it's been lots of fun—it's been great."
Showcase your feature on your website with a custom "As Featured in Vanguard" badge that links directly to your article!
Copy and paste this script into your page coding (ideally right before the closing