Stefanie Singer – Novogradac & Company LLP
Ditching the guilt, tapping technology and finding freedom to parent
As a young litigator, Stefanie Singer remembers walking into a deposition and people often asking her if she was the court reporter—a question she never witnessed being asked to a man.
She also recalls a later challenge of working from home as she tried to balance her career aspirations with her personal obligations; most of her files were usually in an office nearly a four-hour round trip away.
Singer, now the general counsel and chief risk officer for Novogradac, found a way to overcome both obstacles and strike a balance between the two equally important aspects of her life: her career and family. Working with a forward-thinking company, she now has the tools to do her job remotely, even before the COVID-19 pandemic. Singer's performance—aided by the latest technology—hasn't skipped a beat.
The result? An enviable work-life balance doing a job that she loves—and receiving her latest promotion in July.
"For the first time I don't feel like I'm being pulled in two different directions," Singer says. "Before, if I was doing well at work, I felt I was failing at home as a mother or a wife; when my home life seemed in sync, I was not living up to expectations at work. Here I can honor both."
Balance without sacrifice
In recent years, it's no secret that the legal profession has been grappling with how to create the best policies for working parents—particularly mothers in management positions.
"Lawyers have always sought to fulfill their growing responsibilities at home while still fervently pursuing their career goals," Singer says. "For working parents, this is a question way beyond parental leave. The real challenges of balancing work and home life manifest long after the baby arrives. Technology seems to be a viable solution."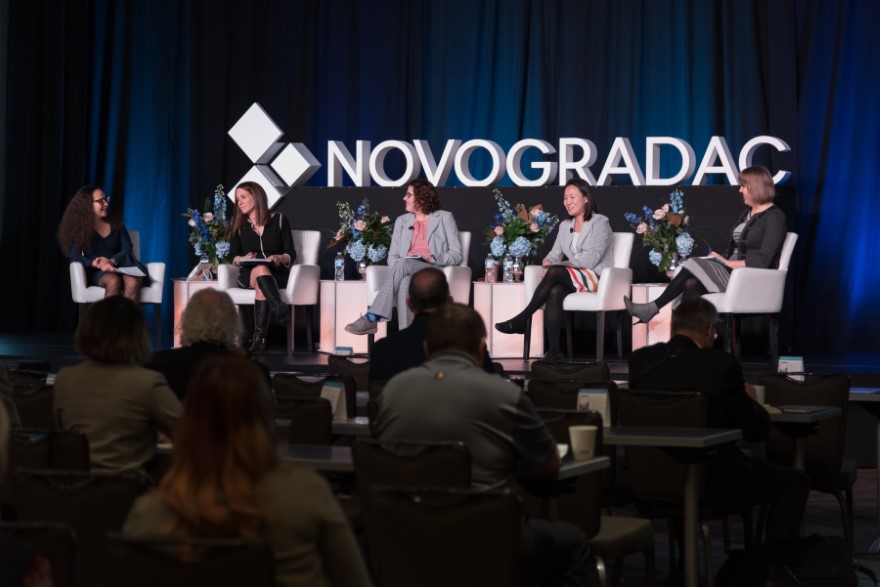 Just after the birth of her second child in November 2018, Singer was presented with the opportunity to join Novogradac, a California-based national professional services organization that offers tax, audit, valuation and consulting services—with an emphasis in the affordable housing, community development, historic preservation, opportunity zones and renewable energy fields.
For the Long Island mother of two, the opportunity seemed too good to be true—a role that was right in her wheelhouse, using her many years of experience representing accountants and other professionals. What's more, the position offered remote work which would not require her to commute to the firm's Manhattan office. Everything she had heard and read about Novogradac painted the picture of a family-friendly, flexible work culture that she felt her growing family needed.
Although she was happy in her current position, Singer knew that juggling her career and one child had been difficult enough; so she pursued the opportunity. Two weeks later, she had the job. Aside from the occasional business trip, she works entirely from home, takes her children to school every morning, has dinner with her family every night, and finally shares those responsibilities equally with her husband.
"The technological resources I have at Novogradac and the no-guilt culture here have given me the flexibility to be a more present and engaged employee, mother and wife," says Singer.
Transformative technology
Novogradac offers its approximately 700-member workforce flexible work-from-home options, bolstered by an ongoing investment in technology—particularly useful given the pandemic.
The cornerstone of Novogradac's tech investment is that it provides staff with laptops that can be docked to monitors in the office or used on the go via a secure VPN; seamless screen-sharing and videoconferencing software; and mobile use of office extensions from multiple devices.
According to Singer, the company's technological and cultural advancement has put it in a desirable position to develop, attract and retain talent.
"Embracing cultural progression through the use of technology benefits employees individually," she says, "but also allows a company to expand its recruiting pool geographically. Technology allows us to work in and out of the office efficiently when we need to. My personal life does not stop between 9 a.m. and 5 p.m. and Novogradac acknowledges that. A work-life balance does require a give-and-take, so I do often work later into the night after my kids go to sleep. I'm willing to adjust to find that balance when I need it and Novogradac trusts me to do so."
As Singer explains, an early investment in remote technology also poised Novogradac to quickly transition its nationwide workforce to operate from home when COVID-19 hit.
"We continued servicing our clients seamlessly in a time of crisis," Singer says.
All in a day's work
So what did Singer sign up for, exactly?
At Novogradac, her civil litigation experience—including professional liability defense—has quickly come in handy, particularly when tackling the diverse projects that come with being a GC and CRO, including real estate, employment matters and IP. In addition to managing day-to-day legal matters, she advises the organization's executive committee and develops and implements enterprise risk management policies aimed at mitigating the firm's business and operational risks.
As Novogradac continues to grow, Singer is developing its legal department. In collaboration with IT, she established an electronic portal that automates her department's handling of the growing number of contract reviews and other internal requests.
"Novogradac understands the value in automation; we view cultural change as opportunities for growth. By investing in your company's technology and resources, you are also making important investments in your human capital. Both will pay dividends," she says.
Sweet reward
Like other lawyers starting out, Singer felt purposeful and was prepared to invest time in her new career.
After earning a bachelor's degree in Political Science and International Relations from the University of California in Los Angeles in 2006, she attended Saint John's University School of Law, where she was a student leader in an organization that would later become the Hugh L. Carey Center for Dispute Resolution.
Singer expected to pay her dues on her way up the career ladder—a process that can sometimes feel more challenging for female attorneys, especially at that pivotal time when she considered starting a family.
That landscape is changing, however. Singer's encouraged to see more female general counsels and C-suite executives joining the ranks of working women. "Hopefully, more companies will begin to invest in technology needed to sustain that growth," she says.
"With my son, I didn't see him much that first year," Singer laments. "Now I can be there for all of those special moments. I can always log in to finish my work when the kids are asleep. I've gotten that time back … and for that I am grateful."
Showcase your feature on your website with a custom "As Featured in Vanguard" badge that links directly to your article!
Copy and paste this script into your page coding (ideally right before the closing