Stephanie J. Gilliard – Colonial Downs Group LLC
Focusing on people a sure bet for success for corporate attorney and community advocate
Most people don't decide what they want to be when they're 10. But when a friend of Stephanie J. Gilliard said she wanted to become an attorney, Gilliard decided that's what she wanted to do, too, even though she didn't know what a career in law entailed.
There were no lawyers in her family, either, but when her mother bought her a family legal dictionary, two legal terms piqued her interest even more.
"I remember reading the words 'accord' and 'satisfaction,' and thinking, 'OK, this is law and I can't wait to read this whole book and learn more,'" Gilliard says.
Having since worked as a criminal prosecutor and a litigator, she's now the vice president of legal affairs and general counsel for Colonial Downs Group LLC of New Kent, Virginia. Gilliard also manages legal affairs for Colonial Downs' charitable efforts and she promotes its DEI efforts, too. The once introspective child now makes a career of speaking up.
"I am a huge communicator. This sets the foundation for success for our team and the company as a whole. I recognize the person for who they are and not just what they can contribute to the bottom line," Gilliard says.
Game for the opportunity
The Colonial Downs Racetrack is also home to one of six Rosie's Gaming Emporiums in Virginia that offer gaming machines and sports betting along with entertainment, food and beverages. Currently owned by Peninsula Pacific Entertainment, Colonial Downs Group will be sold to Churchill Downs Inc. (owners of Churchill Downs, home of the Kentucky Derby) in a deal that is scheduled to close in the fall.
Gilliard was one of Colonial Downs' first 10 employees when she joined it in October 2018. Though new to the gaming industry, she had confidence she'd succeed.
"I'm not a gaming lawyer, but I am a highly-proficient corporate lawyer, and I can transfer my skills to any industry," Gilliard says. "I follow the same blueprint. I learn the business and risk areas, read up on the applicable laws and regulations, and draw upon the diverse areas of law I've practiced and provide optimal legal support."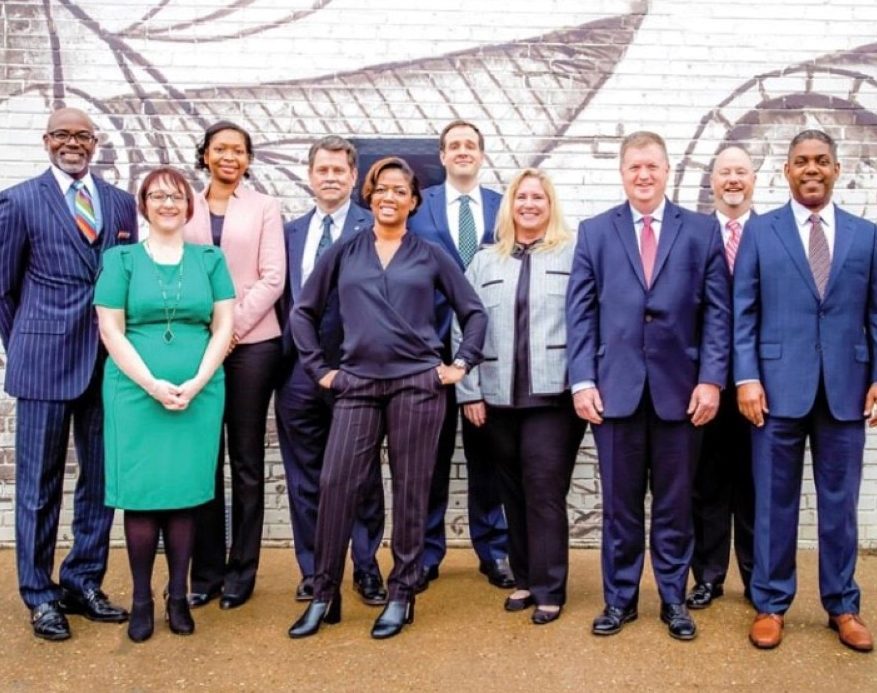 Day to day, Gillard manages commercial transactions and vendor contracts, corporate filings and employment issues. She ensures compliance with state and local gaming laws and regulations, too, and is also general counsel for Colonial Downs' efforts to build The Rose Gaming Resort in Dumfries, a project that will continue under Churchill Downs' ownership.
Her work requires extensive interaction with local and state regulators and elected officials, including those with the Virginia Racing Commission, Virginia Lottery, the Virginia Alcoholic Beverage Control Authority and local departments of health.
"This role has demonstrated that successful transactions are as much about building rapport with all parties as it is about knowing the substantive area of the law," Gilliard says.
Advocacy and support
In early 2021, Gilliard established the Colonial Downs' DEI Committee and continues to chair it. In addition to examining and promoting diversity in the workforce and leadership, the committee has created new management training focused on conscious and unconscious bias and micro aggressions.
Gilliard says the company's workforce and leadership are already well diversified, and she brings her perspective and advice on avoiding legal actions the company could face in its hiring and firing practices and potential employee disciplinary actions. Gilliard also handles the legal affairs of Rosie's Gives Back, Colonial Downs' charitable program she developed in 2019.
RGB provides community support in every location the company operates, including to veteran's organizations, food pantries, education initiatives and nonprofits providing housing, such as local Habitat for Humanity chapters. Its donated more than $2.1 million and 2,500 volunteer hours.
RGB's support of Miracles in Motion is close to Gilliard's heart—the dance school provides lessons to people with special needs and Gilliard's youngest son has Down syndrome.
Diverse roles, singular focus
Raised on Staten Island, New York, Gilliard earned her J.D. from Albany Law School after earning her bachelor's degree in English from the State University of New York at Albany. After graduating, she joined the New York City District Attorney's Office in Richmond County as an assistant district attorney, litigating for the Sex Crimes & Special Victim's Unit.
In 2000, she entered private practice as an associate in the firm of Shebitz, Berman & Cohen, working in practice areas of education, as well as employment and labor law.
After a stint with the New York City Mayor's Office of Contracts and Procurement Services from 2001 to 2002, Gilliard became contract and procurement manager for Metcalf & Eddy of New York, an environmental engineering firm now known as AECOM.
She later worked in corporate counsel roles with Children's Health, United BioSource Corp. and Evidera. Before joining Colonial Downs, Gilliard was assistant general counsel for corporate at Indivior in Richmond.
She volunteers as vice chair for the Virginia State Bar Board of Governors Corporate Counsel Section. She's secretary for the Association of Corporate Counsel National Capital Region, too, and the past co-chair of its DEI Committee.
Gilliard is also a frequent panelist on topics related to managing legal departments, courageous leadership, DEI and contract negotiation. She conducts training and presentations for organizations such as CenterForce's The Women in Law Summit and the Women's Bar Association of the District of Columbia, too.
"My legal career has been quite diverse," Gilliard says. "I have the experience and knowledge to offer a lot of value, and my focus is always on inspiring, motivating and helping others—and closing the deal with the best terms, of course!"
View this feature in the Vanguard Summer II 2022 Edition here.
Showcase your feature on your website with a custom "As Featured in Vanguard" badge that links directly to your article!
Copy and paste this script into your page coding (ideally right before the closing