Suzanne Law Marisa – OVHcloud
All in the family name
"I was up working until 2 in the morning last night," Suzanne Law Marisa confides, with surprising verve, during a recent interview with Vanguard magazine. "So, I apologize in advance if I sound a little off."
Last night, it should be noted, referred to Sunday, after a weekend packed with kids sporting events that included an eight-and-under soccer match where the remnants of Hurricane Florence had turned the field into a veritable wading pool.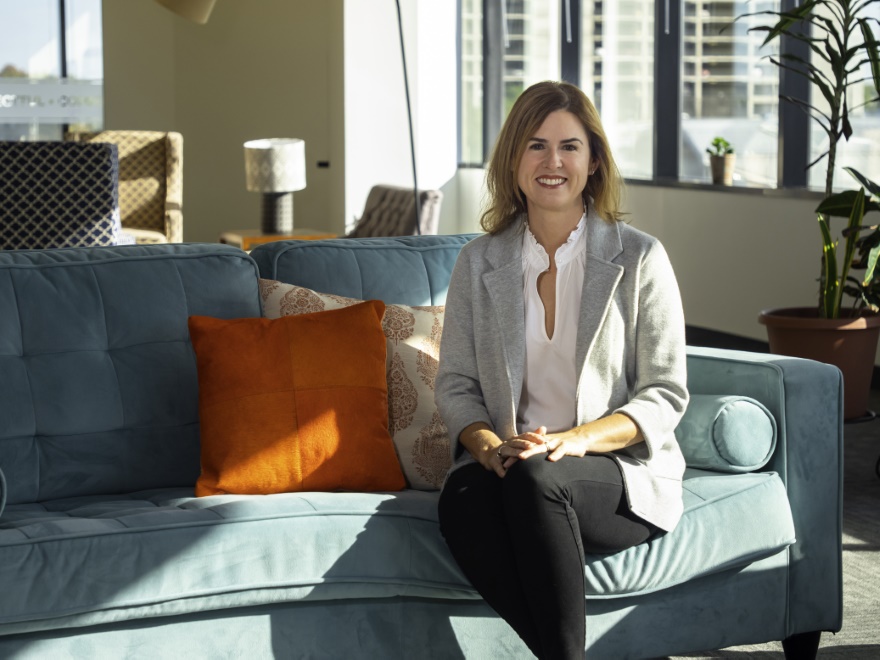 For someone ostensibly running on fumes, Marisa sounds lucid enough. Then again, when your CV bona fides include working in Saudi Arabia, at a time when women could be arrested for not wearing a traditional hijab, a little sleep deprivation probably seems a reasonable tax.
"Given what we're working on right now, it's not hard to find that extra adrenaline," says Marisa, general counsel for OVHcloud, the U.S. division of OVH, a French-based provider of cloud services. "When you're growing the way we are, it's all hands on deck, all the time."
Truth be told, hers were there from the get go.
Due data diligence
Upon assuming her post in January of 2018, Marisa immediately focused her efforts on ensuring the company was ready for the European Union's (EU) then-impending General Data Protection Regulation (GDPR), which took effect the following May. The law requires any business with customers or clients within the EU to adopt a slew of data-privacy safeguards—or risk fines in the millions of euros.
Within weeks of her arrival, Marisa hired Ilona Levine (CIPP/E/US) to assist with the effort. They developed and oversaw the implementation of an effective compliance plan, led all of the company's privacy and data protection activities, built partnerships with their counterparts in France, and worked closely with cross-functional partners with the U.S. business.
"There's this misconception that, as soon as the law took effect back in May, our work was done. But that couldn't be further from the truth," Marisa says. "We still talk to our colleagues in France on a weekly basis, to make sure we're not missing any blind spots."
Marisa deploys similar diligence in complying with some of the more obscure terms of the USA Patriot Act. Known primarily for its anti-terrorism and surveillance provisions, the law also makes it easier for U.S. authorities to seek information across jurisdictions, including internationally (as noted with greater clarity in the CLOUD Act, signed into law this spring). It's Marisa's job to ensure the authorities get that information, while balancing and respecting the data privacy rights of customers.
M&ABCs
Of course, not all of Marisa's duties are purely preventive. In 2017, OVHcloud acquired VMware's vCloud Air business. In addition to the platform itself, which provides disaster recovery, backup and data center extension for customers moving to the cloud, OVHcloud also took on the data center and customer-service operations.
For this, Marisa oversaw reams of contracts, covering everything from intellectual property and real estate to employee acquisitions.
"This was the move that solidified OVHcloud's entry into the U.S. market," Marisa explains. "We see ourselves as an alternative to some of the bigger cloud providers, with the key differentiator being our data center automation, vertical integration, and water-cooling technology that allow us to operate more efficiently and give the cost savings back to our customers."
Unlike Amazon Web Services and Google Cloud, OVHcloud relies solely on its own networks and 28 data centers around the globe—most of which feature eco-friendly cooling systems.
Given the company's size, Marisa says cybersecurity is critical, whether she's advising on facility certifications or conducting meetings with the company's security and operations teams.
Moreover, as part of a company-wide "Working Together" initiative, Marisa is one of the many leaders at OVHcloud who regularly confers with her global colleagues to achieve company goals—including those relating to cybersecurity.
I am a Law
Born Suzanne Law, the Brookeville, Maryland, native comes from a family of legal minds. Her great grandfather, Walter Wheeler Cook, was an esteemed law professor at the University of Chicago, who counted among his friends the Supreme Court Justice Oliver Wendell Holmes, widely considered one of the greatest legal minds in American history.
"When you have that surname, it's always in the back of your mind," Marisa muses. "It just took me some time to see it as my calling."
Harboring early designs on a career in journalism, Marisa attended the University of Maryland. After graduating with a B.A. in English literature in 1992, Marisa attended American University's Washington College of Law, earning her J.D. in 1996.
For the following two years, Marisa supported the senior American attorney for Gibson, Dunn & Crutcher LLP in Saudi Arabia.
"To call it a learning experience would be an understatement," Marisa says. "It totally pulled me out of my comfort zone, which I think is something every lawyer should experience."
Moving on up
Following an 18-month stint at Troutman Sanders LLP in Washington, D.C., Marisa moved in-house at the invitation of her former boss from Saudi Arabia, who had recently moved in-house with Hughes Network Systems. Marisa became Hughes' senior director of international contracts and legal affairs in 2000.
In 2004, Marisa made her second international sojourn, this time to Copenhagen, Denmark, where she and her colleagues at the Danish law firm of Plesner Svane Gronborg represented the newly privatized Danish national energy company then preparing for an IPO. A four-year hiatus soon followed, during which Marisa returned stateside to devote herself to the full-time care of her growing young family (Marisa and her husband have four children).
After returning to the law at the helm of her own firm for two years, Marisa reentered corporate law in 2013 as legal director for the U.S. subsidiary of Australian-based transportation infrastructure company Transurban. From 2016 to 2018, she held a pair of concurrent titles: director of contracts and legal for Human Domain Solutions, and staff attorney for commercial transactions firm Axiom.
By 2017, Marisa was providing external legal advice to OVHcloud, which had just begun the process of opening a U.S. office. Before long, she was the company's general counsel, with the principal task of building the legal function of OVHcloud U.S. from the foundation up.
The legal keystones now in place, Marisa is focused on adding more layers to the building itself.
"There's a real startup feel here, which is part of what makes the job so exciting," Marisa says. "You're watching this thing grow up before your eyes."
But, like raising any newborn, consistent sleep can't come soon enough.
Showcase your feature on your website with a custom "As Featured in Vanguard" badge that links directly to your article!
Copy and paste this script into your page coding (ideally right before the closing