Tamara Lesh – LTK Engineering Services
Fast-tracking a better community
There may have been some latecomers to this station, but it now appears to be all aboard for expanded rail transit.
Especially, it would seem, in major metropolitan areas where bumper-to-bumper vehicular traffic and its noxious emissions necessitate a change in what's long been commuting as usual.
All of which puts LTK Engineering Services on the fast track to more growth.
LTK is a consulting engineering firm to the very busy operators of transit systems. And because transit is such a regulated industry, it sure helps for the company to finally have a general counsel after decades of depending on outside legal assistance.
"On the East Coast there are legacy transit systems with infrastructure that needs to be maintained and improved," explains Tamara Lesh, a veteran construction and transit lawyer who took over LTK's legal responsibilities in April 2018. "And on the West Coast, communities are being built around rail transit. LTK has a role to play in both areas."
In the last 20 years, LTK has expanded its presence so that it now has offices in 19 U.S. cities, two in Australia and one each in Canada and China. Lesh, as a result, is busy attending to the company's ever-increasing real estate portfolio. Having recently been tasked with assisting the Atlanta transit agency in the procurement of at least 254 new rail vehicles, LTK anticipates supplementing its Atlanta-area staff, meaning more office space. Last summer the company opened a satellite in China's Jilin province to complement its two Australian outposts in Sydney and Melbourne.
So, there's lots of work on the legal front as contracting gets more complex, needs for office space grow, employment laws of multiple jurisdictions are followed, and LTK's proprietary software calls for trademarking.
Agent for change
A quick learner, Lesh brushed up on a slew of employment laws upon coming aboard, juggling that concern with so many others, including the company's foray into new areas of practice.
LTK works with transit agencies, cities, regional authorities and other transit operators to procure or overhaul their transit vehicles (all kinds of trains and buses) and the systems that keep them safe (e.g. signals, radio communications, power systems and operations centers). LTK personnel are hands on with clients, weighing in on such things as design, specification writing, testing, production oversight, commissioning and warranty administration.
The workload is growing as transit services expand around the world, and LTK's intent is to expedite projects and decrease the risk for both the firm and the client. To accomplish that risk reduction, Lesh has been point person for the firm's most complex contracting problems, freeing up others and streamlining operations.
Then there's the oversight of LTK's intellectual property portfolio. LTK is uniquely positioned to solve conceptual planning and operational challenges of rail networks with its innovative and proprietary TrainOps® software. The company has also recently developed its Assurail™ tablet application to aid railroad, transit and other transportation inspection personnel in maintaining, tracking and improving the progress of inspections and quality control.
"No more having to walk around with a clipboard and pen or store mountains of paperwork generated by QC inspections" says Lesh of Assurail™. "Now the QC process is paperless, customizable and user-friendly with back-office support. Clients love it."
LTK offers TrainOps® and Assurail™ both as a service to its clients and under license agreement, keeping Lesh busy in the intellectual property arena.
And while her legal skills haven't yet been tapped for LTK's newest initiative, Lesh extends moral support to the company's goal of zero-emissions trolleys and buses for the transit agencies it serves.
In connection with the Massachusetts Bay Transit Authority's (MBTA) federal grant to acquire five electric buses whose batteries can be recharged at on-route locations, LTK performed a depot site survey to determine the most suitable charging stations and ensure sufficient voltage.
Philadelphia and Seattle also harnessed LTK's expertise in the incremental greening of their bus fleets, and there are certain to be more agency clients looking to LTK as the desire for zero-emissions transit grows.
Community straight ahead
As those initiatives expand, so should Lesh's responsibility to provide a wide array of legal services to LTK, which she welcomes. It's all part of building a better community, and that's an extracurricular task for which she has much passion.
"LTK's focus on passenger rail and community so aligns with my values," she says. "We have a great history of giving back over the last 100 years. Every time LTK works to improve transit services, we help a community."
Lesh seeks to do the same. A single mother of a college-age son and a special needs daughter, Lesh lives in New Hope, Pennsylvania, and volunteers with the Friends of the Delaware Canal. A 501(c)3 nonprofit organization, its mission is preserving for recreational use, a waterway that once enabled the transport of goods. Lesh also recently concluded several years of service on the Solebury Environmental Advisory Council, working to heighten awareness about recycling and single-use plastics in her community, and prior to that was a member of her township's Land Preservation Committee.
As to how she wound up with such a rewarding professional and personal life, Lesh says it wasn't all planned. Multiple meaningful activities just seemed to compound.
A New York native, she wasn't initially drawn to law as an Emory University undergrad, majoring in philosophy and minoring in English. Recognizing her potential in other areas, her family steered Lesh toward law, and she went on to George Washington University National Law Center where her English credentials proved valuable when she was selected managing editor of the Law Review.
Graduating in 1989, Lesh was a litigation associate at a large Wall Street law firm long enough to know that litigation wasn't for her. Life then took her to the Pacific Northwest where she was an associate with Allen, Yazbeck, O'Halloran & Hanson, a boutique firm in Portland, Oregon, that handled government contracts.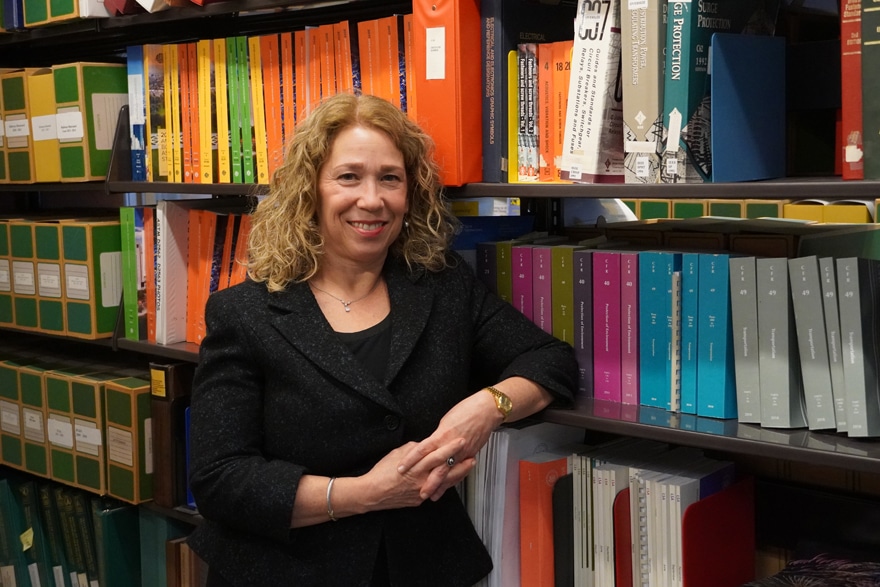 Lesh spent over eight years there and then got a call from the Tri-County Metropolitan Transportation District of Oregon (TriMet), where she served as deputy general counsel from 2001 to 2013.
Transit law appealed to her, and she distinguished herself enough for the federal government to name her to the Transit Rail Advisory Committee for Safety, formed in 2009 to assist the Federal Transit Administration's development of national transit safety standards.
Lesh also lent her mix of construction, transit and legal skills to the design, construction and opening of three extensions to TriMet's light-rail system, as well as its commuter rail.
A lifestyle change then took Lesh to Pennsylvania, where she opened her own boutique firm in 2013, with the Southeastern Pennsylvania Transportation Authority (SEPTA) among her clients.
Such a resume made Lesh a prime candidate when LTK opted for its own in-house legal boss. It's a role she relishes.
"Extremely satisfying," she says. "It allows me to work in an industry I love and to use my legal skills to find solutions and win-wins for my firm and the industry we serve. We're bringing needed transit to the public. That's our mission and I'm proud to be part of it."
Showcase your feature on your website with a custom "As Featured in Vanguard" badge that links directly to your article!
Copy and paste this script into your page coding (ideally right before the closing