UFC GYM
May the best brand win
Those who have never stepped foot in a UFC GYM might expect to see the facility constantly full of muscular men and women battling it out in the middle of an eight-sided, cage-enclosed fighting ring.
After all, the Ultimate Fighting Championship organization—which blends disciplines like boxing, wrestling, Brazilian jiu-jitsu, sambo, karate and judo—is now a household name, and the largest mixed martial arts (MMA) promotion in the world.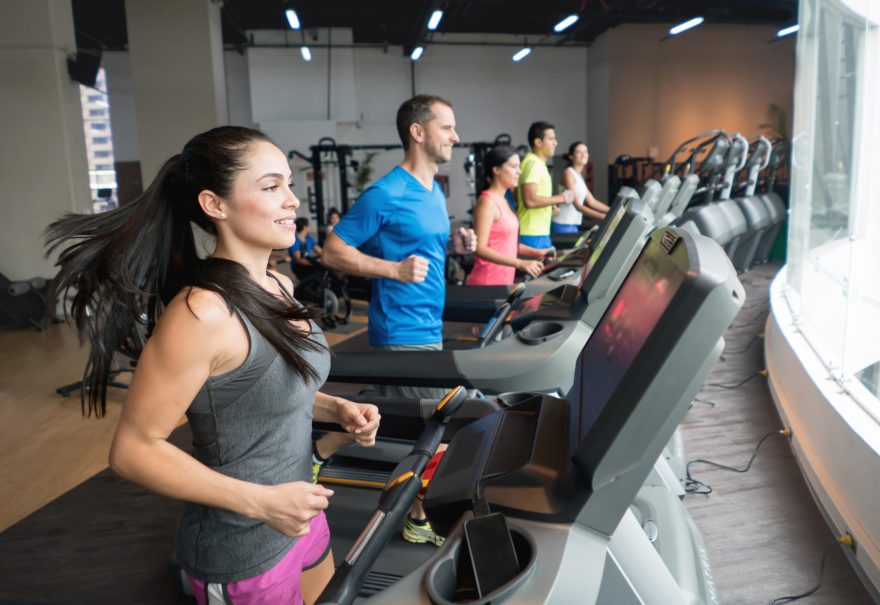 Although most of the gyms feature the UFC's trademark Octagon ring, this perception is far from accurate, says Mindy Nili, senior vice president and general counsel of UFC GYM—which has corporate locations and franchises throughout North America and four other continents.
Members can still receive training in Brazilian jujitsu, Muay Thai and other MMA at the facilities, she explains, but the real reasoning behind the brand's name was to "bring the training modalities of a fighter—and the spirit of what it takes to be a fighter—to the fitness world," not so much the actual fighting.
Accordingly, members get the traditional aspects of a gym experience with the emotional pull of a UFC event—complete with intense music and numerous high-energy workouts.
"There's a wow factor there that we try to create," Nili adds.
And, unlike fighting in an actual UFC match, it includes fun for the whole family.
All are welcome
UFC GYM currently offers two types of facilities: Signature Clubs and "CORE" UFC GYMS.
The latter locations range in size from 8,000 to 15,000 square feet and include areas for free weights, cardio equipment, boxing bags and retail space—in addition to an Octagon, in most locations, which acts as the setting for boxing, kickboxing, conditioning, striking, fitness and mixed martial arts classes among the offerings.
The larger Signature Clubs are open 24/7, and weigh in at 35,000 to 45,000 square feet—nearly twice the size of an average, big-box gym. They were operated strictly as corporate locations, but recently became available to franchisees. In addition to the CORE amenities, these facilities have personal trainers, youth training rooms, kids clubs, cafes, saunas and lounges.
Some members are surprised to find these clubs contain kid-friendly elements, but this aspect is especially important to UFC GYM, Nili explains.
"The focus is to be a family facility where kids can come and train in different martial arts, the parents can train in martial arts, or they can do traditional fitness [workouts]," she says, adding that every feature is included in the membership price.
A third type of facility was unveiled last fall, Nili says. Called CLASS by UFC GYM, these clubs will offer a boutique-style experience and have a different color scheme than the red and black palette used at the Signature and CORE facilities.
CLASS by UFC GYM will only concentrate on two modes of exercise—boxing and high-intensity interval training (HIIT)—with no private instruction.
The HIIT classes focus on functional fitness and involve a lot of kettlebell exercises, the lifting and moving of large objects, and calisthenics. As opposed to the monthly or yearly memberships available at the other facilities, the new locations will operate on a pay-per-class basis, which Nili says meets the demands of both the capricious millennial market and members with busier schedules.
CLASS will likely be popular in bustling urban markets, Nili explains, as real estate is often scarce in these settings, and the smaller size of the facilities will help to eliminate this obstacle.
Square one
UFC GYM is the brainchild of 24 Hour Fitness founder Mark Mastrov, who sold his company in 2008, opened a private equity firm called New Evolution Ventures and conceived of starting a gym as a brand extension of UFC. The first location opened less than a year later in Concord, California.
There are now 130 locations across the United States, including one at UFC GYM's corporate headquarters in Santa Ana, California, Nili says—adding that it does, in fact, get used quite often.
Outside of America, there are locations in Australia, India, Pakistan, Dubai, Egypt, Oman, Chile and Mexico—and more are on the way, Nili says.
She would know. In addition to handling mergers and acquisitions, licensing, litigation, trademark issues and enforcement, and compliance, the general counsel helped build and currently oversees operations for the franchise division.
"Internationally, we work with local counsels to navigate the international laws and partner with the right firms to ensure compliance with our partner countries," she says.
Additionally, Nili was asked to build and oversee a people operations division for its 1,800 corporate employees in early 2016, which included hiring a team of five employees as support.
"I'm very proud of the team and division I built that focuses on keeping our UFC GYM team members first," she says.
Slice of life
Prior to joining UFC GYM, Nili worked as the general counsel for a nationwide chain of pizza restaurants, where she first learned the challenges of franchising from a legal perspective—including acquisitions, negotiating agreements, ensuring compliance, and developing a staff and a legal department.
She was hired as the assistant general counsel for UFC GYM in September 2014, when the franchising concept was still in its infancy, and was quickly promoted to her current, dual role, while helping to establish the foundations of a scalable business model along the way.
Although Nili says she stays physically active and up-to-date on UFC events, neither of these factors were the main reason why she joined UFC GYM.
"It was more about the excitement of the brand and creating something new that could really make an impact in an industry," she explains, calling the young company a "game-changer" that offers a unique workout experience. After all, the motto of UFC GYM is "train different."
Nili says she enjoys greeting challenges head-on, including leaving the law firms at which she was employed as a litigator early in her career, in favor of opportunities to help create and build new companies—a trait she may have inherited from her father, who owned his own company.
"Litigation can often be about helping people tear things apart," she says. "I don't like to break things down; I like to build them up."
Whether it's a new franchise or a healthier body, there's a lot of building taking place at UFC GYM.
Showcase your feature on your website with a custom "As Featured in Vanguard" badge that links directly to your article!
Copy and paste this script into your page coding (ideally right before the closing