Zack Weber – Renovate America
Growing pains to growing gains
For most corporate general counsels, simply having a voice in the legislative process, on a bill that fundamentally transforms your business model, would be a welcome opportunity—a chance to help create a more nuanced legal landscape.
Zack Weber took a slightly different tack: He helped shape the language himself. Specifically: a 2017 law passed by the California legislature which established more stringent guidelines for property-assessed clean-energy financing (PACE), a program that helps homeowners make energy-efficiency improvements to their homes.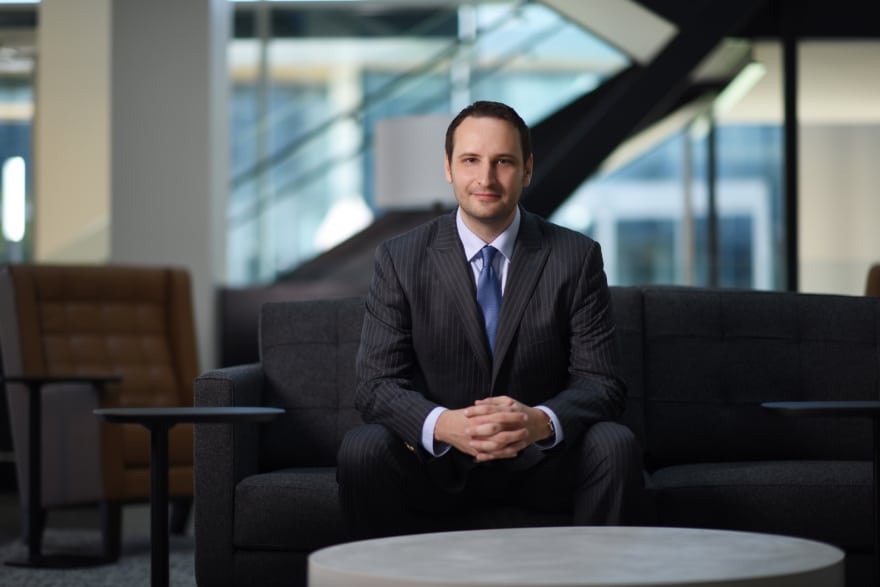 According to Weber, however, having a seat at the table wasn't a point of pride, but a matter of necessity—and the only way to ensure that the law's impact was minimized.
"We knew the legislation was coming, and we knew that it would lead to a contraction in the market," recalls Weber, general counsel for Renovate America, one of California's biggest PACE providers. "But we had to do what we could to shape it. We had to fight to keep PACE viable."
Not easy being green
Truth be told, the law was a long time coming. In 2008, California became the first state to enact PACE financing, which allows homeowners to pay for efficiency improvements over time through their property tax bills.
Because PACE is considered senior to existing and future mortgages in California, it eventually drew the attention of the Federal Housing Finance Agency (FHFA), which instructed Fannie Mae and Freddie Mac (the government-sponsored enterprises that it oversees) not to purchase mortgages on properties with PACE assessments. Frustrated by the FHFA's policy, many in the mortgage industry took aim at PACE by claiming that PACE lacked oversight and consumer protections.
"The most frustrating aspect about the aggressive legislative response to residential PACE is how disproportionate it has been relative to the extremely small size of the market," Weber explains. "For example, the residential PACE market accounts for less than two billion dollars of originations every year. Compare that to the residential mortgage market, which is nearly two trillion dollars in size. So you have these very powerful interests in the mortgage and real estate industries who have formed a coalition with consumer advocacy groups to restrict the scope of PACE. That coalition has posed a lot of challenges to the industry."
When the state legislature began soliciting input from various stakeholders, Weber quickly got involved, working with his team at Renovate America to negotiate with bill sponsors, other industry stakeholders, and the future state regulator of PACE—albeit "almost never from a position of strength."
First responder
Indeed, the ordeal, in many ways, epitomizes Weber's time with Renovate America, a tenure that has forced the 32-year-old into a number of fires and frays.
In early 2017, the Wall Street Journal began running a series of articles critical of Renovate America and the PACE industry writ large. The articles, coupled with a class action lawsuit and subsequent copycat litigation, represented a crisis point for Weber and his colleagues.
Initially hired to oversee the company's regulatory and compliance efforts for a consumer lending product called Benji, which launched in 2015, Weber was soon brought into the litigation fold: driving Renovate America's litigation strategy, managing outside counsel, obtaining insurance recoveries, and responding to an endless array of discovery requests.
"When you're operating in a space that for years lacked a coherent regulatory framework, and suddenly one starts to emerge, you're bound to encounter some growing pains," Weber reflects. "The most successful companies are the ones that figure out how to navigate those waters, and I think we've done that."
Weber's efforts didn't go unnoticed. In early 2018, he was promoted to vice president and associate general counsel, before being named general counsel the following September.
Silver linings
As Renovate America continues to overcome the challenges in the PACE industry, it has redoubled efforts to promote Benji. Launched in 2015, just after Weber's arrival, Benji allows homeowners to access up to $50,000 in funding for property-improvement projects—from window and door upgrades to kitchen remodels and in-law apartments. While Renovate America's PACE option is only available in a few states, Benji is offered in nearly all 50 states.
In the past, homeowners would have to arrange for a traditional bank loan or use credit cards to secure the needed funding for a project. By contrast, Renovate America's model leverages point-of-sale financing, where contractors present homeowners with various financing options—and do not get paid until the customer is satisfied.
"Benji has been growing like a weed," says Weber, who was instrumental in helping build out the platform. "It is a more traditional financial product, and its regulatory framework is far more stable than what is being developed for PACE. It's a lot more straightforward and flexible. And that's something that homeowners really respond to."
As the company looks to bring PACE to markets outside of California, designing a seamless product that balances consumer protections with consumer friendliness remains a large-looming goal. One that requires Weber to don his second hat: head of market development.
By having a more granular understanding of local political dynamics, and by understanding how to operationalize PACE in the patchwork of differing structures, Weber is hoping to stake out terrain for Renovate America's next phase of growth.
"Of course we want to grow, but the goal is to grow in an intelligent way," Weber says. "That means doing the legwork up front to avoid scrambling to fix things later."
If Weber sounds like the type who likes a legal challenge, there's a good reason: It runs in the family.
The good fight
It was Weber's grandmother, the head of a conservation nonprofit who once took on a powerful developer to protect a Michigan wetland, who first sparked his interest in the legal world.
"I didn't grow up in a family full of lawyers, but I did grow up around litigation and conflict," Weber says with a laugh. "The way my grandmother fought for a cause she believed in—that stuck with me."
As an undergrad at the University of Michigan, Weber was part of a student group that fought the school's effort to ban Coca Cola products from campus. He clearly made an impression: Two years later, while attending the university's law school, Weber was invited to serve as a law clerk in the university's office of the general counsel, the same office he once clashed with.
After earning his J.D. in 2011, Weber began his legal career as an investigative attorney, focusing on investigations into alleged violations of the Foreign Corrupt Practices Act—an experience he credits with giving him his first taste of Washington's regulatory apparatus.
From 2014 to 2015, Weber served as director of compliance and senior compliance counsel for Axcess Financial, a Cincinnati-based financial services company. From there it was on to Renovate America, where Weber's purview quickly grew to include everything from compliance and regulatory support to litigation and crisis management.
And while the challenges confronting PACE are formidable, the company's enduring mission—empowering homeowners to embrace energy efficiency and reduce their carbon footprint—has never felt more ascendant.
"Renovate America has played a critical role in advancing the public policy goal that motivated the creation of PACE: expanding access to financing for measures that improve energy efficiency," Weber says. "Part of my job is to limit the impact of the extrinsic risks that are unique to PACE, so the company can remain focused on advancing this goal."
Showcase your feature on your website with a custom "As Featured in Vanguard" badge that links directly to your article!
Copy and paste this script into your page coding (ideally right before the closing