Charlie Bingham – Microsoft
Legal support for business strategies out of the clear blue sky
Legal ninja, blue sky visionary, trusted business advisor, contractual gunslinger and out-of-the box thinker.
These are just some of the titles Charlie Bingham, attorney at the American multinational technology giant Microsoft prefers. Working from a field office in Atlanta, he provides innovative legal support for a billion-dollar sales team in a territory that covers half of the country.
As an African American who worked his way out of a life of poverty in rural Mississippi and an urban ghetto in Milwaukee, Bingham says he's dedicated his life to helping the business—and other people touching his life—by devising ways and lending insight to help all achieve their maximum potential by working smarter not harder.
"I'm blessed to make it out of those situations with God's grace and mercy, fulfilling his purpose by helping others; I made it out for a reason," Bingham says. "I could have ended up in jail, or dead, but God saw fit to preserve me. I glorify Him by my love, and the language for that love is action."
Blue sky visionary
Joining Microsoft in 2013, Bingham got an idea after a brainstorming session with his manager and legal team that morphed into one of the most impactful business advisor initiatives. That concept came to him on one of his annual reading retreats in Jamaica, where he goes to refresh his perspective. It's there that he reads books in solitude—absorbing everything from self-help to technology—to devise strategies and better himself. Some of his co-workers refer to him as a "blue sky visionary."
One book in particular caught his attention last year: "The First 90 Days: Critical Success Strategies for New Leaders at All Levels." Stemming from that book was an idea to drive revenue and influence Microsoft's educational sales team of more than 100 working in the public sector of state and local government.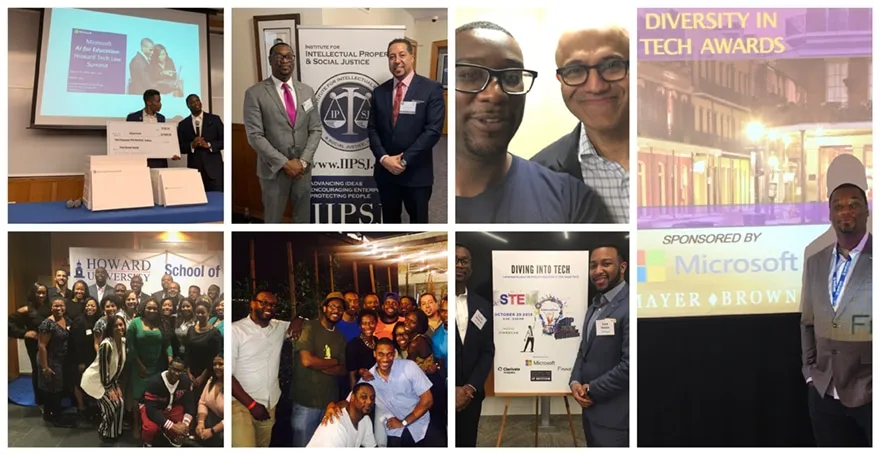 Bingham strategized with others on best practices for the state and local government and education sales divisions, exploring how to influence without formal authority and how to provide top-notch legal support for initiatives. Technology, with a human connection, is the conduit to empower clients to achieve more, he says.
To that end, Bingham became part of a cross-collaborative team that devised a program so that clients and partners could talk about the shared experience of the benefits, pitfalls and problem-solving strategies of digital transformation projects. In a special series of projects that took place in five cities, the idea took off—and along with it, created a revenue pipeline for sales.
This year the book that influenced him the most was "The $100 Startup," leading him to start a children's book publishing company with his family. Two books have been published: "The Little Brown Bible Storybook for Children," a children's Bible that depicts biblical characters as people of color; and the other, "My Hair is My Crown," a story for young girls to increase their confidence.
Opening the door to diversity
Not all success is measured monetarily, though, at least not in Bingham's book.
Long a proponent of inclusion and diversity, Bingham has directed his efforts to bring promising new attorneys—including those of color—into legal operations.
Not all his proposals have been successful, he says, but he never gave up on his appeal to headquarters in Redmond, Washington, to consider hiring more junior attorneys, especially minorities.
After a persistent effort, the company eventually hired a junior attorney in the field with less in-house experience, which he considers a win.
"Not everybody needs five years at a law firm and not everybody needs to live in Redmond," he says. "I can do a fine job from anywhere, and others can too—in places where they can feel holistically whole."
Following the North Star
Bingham remembers the hard physical labor days of his childhood with two stints living in rural Mississippi. With his great grandmother needing hospice care and his mother fleeing from an abusive relationship in Wisconsin, the family with nine kids (including an adopted family of five and his biological siblings) packed up a U-Haul and drove south to Waynesboro.
Considered "Yankees" by some family members, Bingham lived for a year in a trailer without running water, getting a shower from water that dripped off a tin roof when it rained. He caught chickens, bagged groceries and picked peas, strawberries, watermelons and greens in the hot Mississippi sun to aid his family.
His takeaway from that experience?
"I made up my mind I wanted to be an intellectual and not do physical labor," he says. "I wanted to work smarter, not harder."
With high ACT scores Bingham got a free ride in college, earning his degree in mass communication from Jackson State University in 2002 and later earning his MAT degree in education, graduating Summa Cum Laude from Morgan State University in 2005. There he participated in the National Black Graduate Students Association; National Society of Black Engineers; worked as a graduate assistant; and taught at the Baltimore City College, a magnet high school in Baltimore, Maryland. He followed that up by earning a law degree from Howard University School of Law in 2008.
Bingham started his career as an associate at a global regulatory firm in the Washington, D.C. area for three years in 2008, learning the ropes in mergers and acquisitions and general corporate matters. He worked simultaneously as co-founder and CEO at SmartTank, a tech company designed to assist minority entrepreneurs for five years in areas such as drafting and filing organizational documents for building company culture and policies.
Bingham next took a position in 2011 as attorney-advisor at the U.S. Department of the Interior, Office of the Solicitor for two years. There he provided legal counsel and litigation support in a variety of legal issues, including bid protests, federal procurement contracts, international treaty obligations and intellectual property matters, to name a few.
Next came Microsoft, where he came aboard as corporate counsel of the worldwide sales group, public sector, Corporate External Legal Affairs starting in 2013.
His favorite aspect of his job? It's the empowerment and variety in the ways he helps people. It might mean sorting out an issue of previous employees disregarding a non-compete agreement or ensuring that a university has the best technology to prepare its students for the future. Often, it's helping the sales team close a deal, or removing a regulatory obstruction.
"When it comes to contracts and provisions, I'm like a hired gunslinger; if something's holding up the deal, I explain to the parties why things are the way they are … and close a multi-million dollar deal with a large state entity from the field," he says. "It helps everyone and impacts Microsoft's bottom line in a positive way."
Disclaimer: The opinions and views expressed in this article are those of Charlie Bingham and do not in any way state or reflect those of Microsoft.
Showcase your feature on your website with a custom "As Featured in Vanguard" badge that links directly to your article!
Copy and paste this script into your page coding (ideally right before the closing