Darren Moore – Appriss
A legal generalist comes full circle
Darren Moore left his previous position as an in-house M&A attorney because he wanted to return to be a generalist again. Naturally, one of his first big projects for his new employer was a transformative acquisition.
"Shame on me for trying something new," Moore says with a laugh.
As chief legal officer for Appriss, he guided Appriss Health through its purchase of PatientPing, a care coordination and collaboration software company. Now, Moore is shifting his focus back to more traditional legal duties—among them, product development support, regulatory compliance maintenance and risk management.
In a way, it's the story of a career come full circle.
Finding a niche
After earning his J.D. from the Washington and Lee University School of Law in 1999, Moore spent his early career in Big Law.
"There is no better place to find the industry and practice that best suits your skills and interests," he says. "But I wanted to see the details of a business, and the impact of my advice, that only a corporate counsel role could provide."
So, eager to try his hand in-house, he joined Equifax in 2004. Six years later, Moore was hired by LexisNexis Risk Solutions to oversee legal support for the company's business services unit. Over time, he acquired additional responsibilities.
In 2014, he was recruited by analytics pioneer RELX (the parent of businesses that include LexisNexis and Elsevier) to help spearhead the company's M&A efforts.
"When the best M&A minds tell you to consider a career in M&A, you consider M&A," Moore says.
In this role, he oversaw legal work for transactions in many countries and industries. As he explains, "RELX is highly acquisitive, so I quickly became an M&A specialist. I enjoyed being at the heart of some of the most strategic activities at the company, interacting with outside counsel who are recognized experts in their field, and watching projects from inception to integration."
But after six years and several high-profile initiatives—including acquisitions of ThreatMetrix, Emailage, ID Analytics, Aries Systems, Intelligize, Lex Machina and FlightStats—he began to entertain the idea of becoming a generalist once again.
"My career path has never been about jumping from one company to the next or chasing the next line on a CV," Moore says. "For me, it's about investing my time in companies that I believe are making a real impact in the world. And I found that at Appriss."
Coming full circle
Founded in 1994, and headquartered in Louisville, Kentucky, Appriss offers data and analytics solutions to address things like fraud and compliance for a global clientele, encompassing everything from public institutions to commercial enterprises.
"Our technology and services help our clients analyze trends, identify risks and make better decisions," says Moore, who was hired as the company's chief legal officer in December 2020. "Ultimately, that helps improve the health, safety and well-being of people and communities. So, I feel good about the work I'm doing."
While he admits that transitioning to a senior legal role in the middle of a pandemic hasn't been easy, he credits the company's flexible work policies for helping it navigate the complexities posed by COVID-19. Now, with things steadily returning to normal, Moore is working to integrate the operations of Appriss Health's newly acquired entity—PatientPing.
"We're definitely looking forward to getting together with our new colleagues for a happy hour that isn't via Zoom," he jokes.
Beyond the acquisition, Moore and his team are focused on internal initiatives aimed at improving the legal department's efficiency, easing the contracting process, responding to the ever-evolving world of privacy law, and so on.
"Appriss is a high-growth company with a stellar reputation, so it shouldn't be surprising that it already had a talented legal team," he says. "They had a level of expertise that allowed me the opportunity to polish off any rust as a generalist."
From geography to law
Moore jokes that "LA Law" wasn't must-see TV in his household. He doesn't come from a family of lawyers, and he wasn't interested in litigation. Still, his high school guidance counselor told him the law matched his affinity for negotiation and breadth of interests.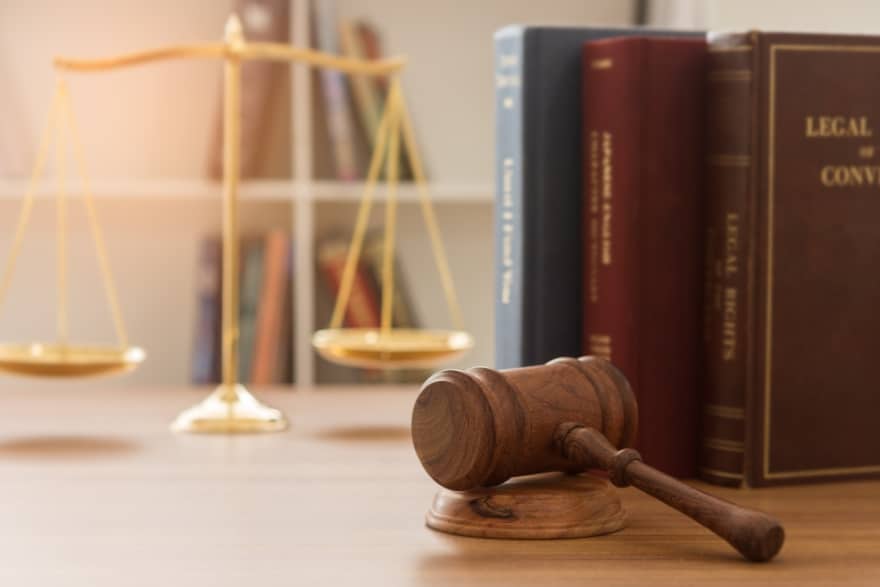 He didn't give a legal career much thought until late in his tenure at the University of Florida, when his geography professors provided frank advice about the limited opportunities for graduates with geography degrees.
"About the same time, I realized that there was a massive amount of law practiced outside the walls of a courtroom and that advising a board could be just as challenging and exciting as advocating before a judge and jury," Moore explains.
He decided to take the advice of his high school counselor and attend law school at Washington and Lee.
"I started my in-house career as more of a generalist, and now I've kind of come full circle," Moore says. "Sometimes, moving forward means winding up exactly where you started."
View this feature in the Vanguard Summer III 2021 Edition here.
Showcase your feature on your website with a custom "As Featured in Vanguard" badge that links directly to your article!
Copy and paste this script into your page coding (ideally right before the closing