David Onuscheck
Moving on after moving up
After spending 30 years as an integral member of the legal staff at ABB, a Swiss-based provider of power, robotics and automation, David Onuscheck says there won't be a 31st. But that doesn't mean his journey is over.
In 2020, nearly a decade into his role as general counsel and head of integrity for ABB's North American operations, Onuscheck faced a stark choice: pursue a new role in Zurich as part of the company's reorganization after it sold off its power business or do a reset of his career. He chose the latter.
Besides, he says, the weather is better in North Carolina—the place he calls home.
"I've always felt it important to be working on projects that not only help advance the business, but leave a positive impact," Onuscheck says. "Now I've got my chance."
Stemming from his passion for law, Onuscheck says what comes next will likely fall into one of two buckets: handling substantive legal issues or working with C-Suite executives. Teaching is also an option, what with the wealth of information he has to share—particularly as it relates to high-profile matters.
"I view myself not just as a lawyer, but as a business partner to a company," says Onuscheck. "I know if I work to make the company, people and processes better success will follow."
International relations
Several cases and projects at ABB underscore Onuscheck's capabilities.
In 2012, Onuscheck won a case against the South Korean government. The country was selling transformers below market value—known as "dumping"—which significantly impacted ABB's business. Appearing before the International Trade Commission, alongside representatives from other aggrieved companies, Onuscheck helped ABB win the case—an achievement that earned him the company's CEO Award in 2013.
"It was a huge a success. Our victory gave us a foothold to get back into the market," he says.
During his three-decade tenure, Onuscheck's duties reflected ABB's growing presence in the automation space—the company's wares connected to everything from rail cars to nuclear generators. Whether he was adapting to ever-changing regulatory standards, or drafting contracts worth hundreds of millions of dollars, Onuscheck says there was rarely a dull moment.
In the 1990s, ABB launched a global environmental team to handle remediation on properties it sold and to improve environmental practices. Onuscheck worked with sustainability officers and drafted agreements to ensure sites were cleaned up and in compliance.
While working on a project for ABB at an old Westinghouse factory in the early 90s, Onuscheck handled the regulatory work needed to clean an area contaminated with cancer-causing PCBs. In handling remediation efforts, he drafted the paperwork to move a "mountain of contaminated dirt" to an incinerator in Utah.
"Cleaning that stuff up was rewarding and enjoyable," he recalls.
In 2002, he oversaw a $100 million contract for the Los Angeles Department of Water and Power. The move allowed for the upgrade of a utility line along the West Coast to improve power flow to residents of LA.
"Any time you're doing something that's benefits people and a client, it's rewarding," Onuscheck says.
Equipped with a tool kit
Over the years, negotiating large contracts became one of Onuscheck's strong suits. Whether it was a "small agreement" of a few thousand dollars, or a nine-figure deal, his job was to ensure the company was protected.
"Coming up with fair resolutions—that's the art of the deal. If you try to snooker someone it will come back to bite you," Onuscheck says. "Reputation is everything."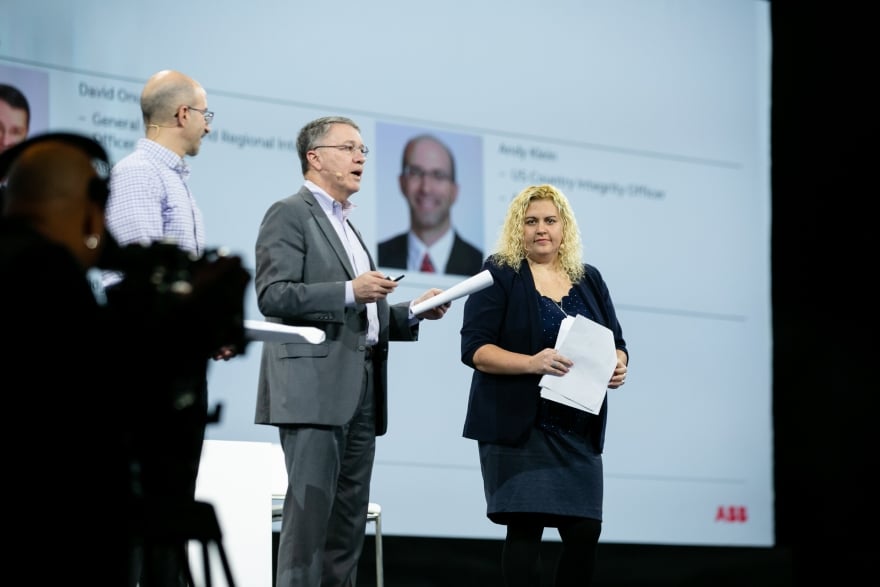 Ditto solid communication skills. A self-described "people person," Onuscheck cites personnel training as one of his favorite aspects of the job. Over the years, he's worked with board members, employees and clients alike—on everything from contracts and compliance to creating better diversity and inclusion initiatives within the company.
In keeping with his love of education, Onuscheck's next career move may involve teaching or mentoring. He's also considering creating online Continuing Legal Education courses on topics such as drafting contracts.
"Continuing education with the law is important, he says. "Typically, especially with major litigation, you can get by for two years before mistakes catch up to you, so it's wise to stay current. Thankfully I've enjoyed a long stretch of keeping my mistakes to a minimum, thanks in large part to a great team."
From coal country to Carolina
Onuscheck's fascination with law started at a young age, hanging around the western Pennsylvania mining office where his father Ed worked.  There, his father handled mine safety, working alongside in-house lawyers.
"I saw what these lawyers did and to be a nice combination of handling legal issues, but also being a business partner—something enjoyable and intellectually stimulating," he remembers.
After earning a degree in political science from the University of Notre Dame and a J.D. from Georgetown University Law Center, Onuscheck hoped to stay in Washington, D.C., but says jobs were hard to find so he returned to Pittsburgh.
Not knowing what might come next, Onuscheck did a variety of legal work in the mineral and coal business at a law firm and at U.S. Steel. Recruited by Arch Mineral in St. Louis, he thought the change of scenery would be good—never realizing it would be a pivotal experience in his career.
When the lead attorney at Arch left abruptly, the company was looking for a replacement. Onuscheck applied for the position—as did one of his in-house colleagues. In the end, the company went with the other candidate. While disappointed, Onuscheck vowed to use it as fuel.
"I told them they made a great pick but could've made a better one," he recalls. "And with that, I told them I would do something else—something where I wouldn't be the runner up."
Hitting his stride
In 1990, Onuscheck was hired by ABB as an assistant general counsel for its U.S. power business—and never looked back.
"I moved up the ladder with hard work, success and a bit of luck," he says.
Onuscheck was involved in everything from HR and litigation to regulatory and environmental compliance and—of course—contracts. He's also led and assembled teams of as many as 76 people. Most recently, before leaving ABB in December 2020, he focused on leadership and participation with management teams.
"I always had a goal of coming in-house, where I wanted to be building teams, being a leader and giving people the educational and legal tools they needed to be successful," Onuscheck says.
Now, as he looks to write the next chapter in his career, Onuscheck is free to develop the storyline of his choosing—whether it's consulting on legal matters, building teams, or grading papers—while sipping an iced tea from his back porch.
Showcase your feature on your website with a custom "As Featured in Vanguard" badge that links directly to your article!
Copy and paste this script into your page coding (ideally right before the closing