Dickens Mathieu – Trinity College
Beyond advice and counsel
In the spring of 2004, as he prepared for trial representing the federal government in a drug-trafficking case—one he knew "wouldn't make a dent" in the volume of illegal drugs coming into the U.S.—Dickens Mathieu took a break from the wiretap transcripts to check his email. There, near the top of his inbox, one subject line caught his eye: "In-house legal position at Tufts University."
Reading the description, Mathieu was instantly intrigued. Here, it seemed, was an opportunity he had not previously considered—a chance to have a real impact in an area that spoke to his heart, education. Three weeks and several interviews later, Mathieu had a new title: senior legal counsel for Tufts University.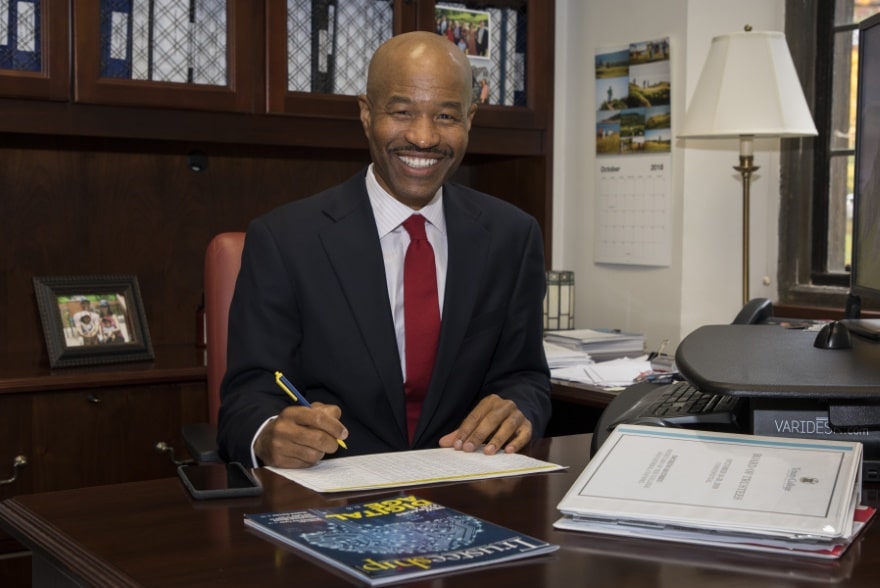 "When I was working as an Assistant U.S. Attorney, I always had the satisfaction of knowing I was working for the good guys," Mathieu recalls. "It was important that my next job be in a role where I felt a similar sense of pride. That's why higher-education appealed to me."
Today, as general counsel for Trinity College, a private liberal arts college based in Hartford, Connecticut, Mathieu's timely calling has become a full-fledged career—even if the impacts are largely felt behind the scenes.
Board games
Upon joining the Trinity administration in 2015, Mathieu was reunited with the college's president, Joanne Berger-Sweeney, who had been the undergraduate dean of Tufts for part of Mathieu's tenure. There was just one thing: In addition to his duties as general counsel, Mathieu would also serve as secretary to the college's board of trustees.
"Between the planning, strategy and focus on enterprise risk, you could say that substantially expanded my role, yes," Mathieu says, letting out a laugh. "It's also given me an exposure to the governance of the institution at a much higher level. In a way, it's been a most fulfilling surprise."
With responsibility for the operational logistics and corporate compliance of the board, Mathieu handles the details so that trustees can focus on the institution's goals and mission. He also oversees orientation for all new board members, giving them "the legal and institutional context necessary to thrive in their roles."
Sword and shield
Of course, not all of Mathieu's duties are bound to the boardroom. As the chief legal officer, he advises Trinity in all legal matters. One of the most pressing areas involves Title IX, the 1972 federal civil rights law that prohibits gender discrimination on college campuses.
While for decades the law was known primarily for its impact on funding for women's sports programs, it's become increasingly cited in cases involving campus sexual harassment.
Like just about every American college and university, Trinity isn't immune to such issues. In 2015, on the heels of a newly implemented taskforce aimed at addressing sexual assault on campus, Mathieu collaborated with faculty and administrators on campus to draft a new sexual misconduct policy.
"Sexual misconduct claims are difficult for all parties concerned, including the school," Mathieu explains. "We wanted to ensure that Trinity had in place a process and policies that were rigorously fair and equitable to all participants."
Taking off the hat
Speaking more broadly, Mathieu says the increased politicization of higher education as a sector, creates the potential for even more legal pitfalls. In the wake of the 2016 election, as the Trump Administration threatened to repeal the Deferred Action for Childhood Arrivals, or DACA—the 2012 executive order allowing children who came to the U.S. illegally to remain in the U.S. on renewable two-year terms—some Trinity students found themselves in political crosshairs.
It was Mathieu's job to help craft the school's policy statement, which reiterated Trinity's commitment to maintaining the confidentiality of all student information, while offering free legal advice and consultation to any and all community members impacted by DACA.
"Sometimes, the advice I provide isn't straight legal counsel and is often driven by policy, PR, or moral considerations," Mathieu reflects. "Sometimes, you end up taking off the legal hat altogether, and you give advice as one human being to another."
If Mathieu comes off sounding sympathetic to the plights faced by some of Trinity's minority students, there's a reason for it: He was once firmly in their shoes.
Making the most
The son of Haitian immigrants, Mathieu immigrated to the Mattapan area of Boston when he was seven years old. It was on these "rough and tumble streets" that Mathieu saw the dark side of the American dream.
"Not all of my friends and family members made it to their 20s or 30s," Mathieu reflects. "In my view, the main difference maker for those who succeeded was education. I was lucky to have people in my life that, when the road forked and I was about to zig left into a dead end, noticed and redirected me down the right path. Their guidance allowed me to be here talking to you today."
Ultimately, Mathieu earned a scholarship to the prestigious Amherst College, where he graduated with a B.A. in political science in 1987. After working for three years as a sales rep, Mathieu—recalling the advice given to him by his former roommate—decided to pursue a law degree. In 1990, he enrolled at the University of Virginia School of Law, earning his J.D. three years later.
Par for the course
It was during his time at UVA that Mathieu first discovered what would become another passion project: golf. Not only has the sport introduced him to far-flung cultures and climes; it's also helped him cultivate a robust network of friends and colleagues alike.
"The game of golf is the ultimate test," says Mathieu, whose most recent excursion was a long-awaited pilgrimage to the birthplace of golf: Scotland. "Every match tests ones resolve, integrity and imagination in ways that one wouldn't expect in a game where the basic objective is to knock a small ball into a small hole. Plus, I am constantly called by the sublime beauty of the links. It's become a sanctuary for me."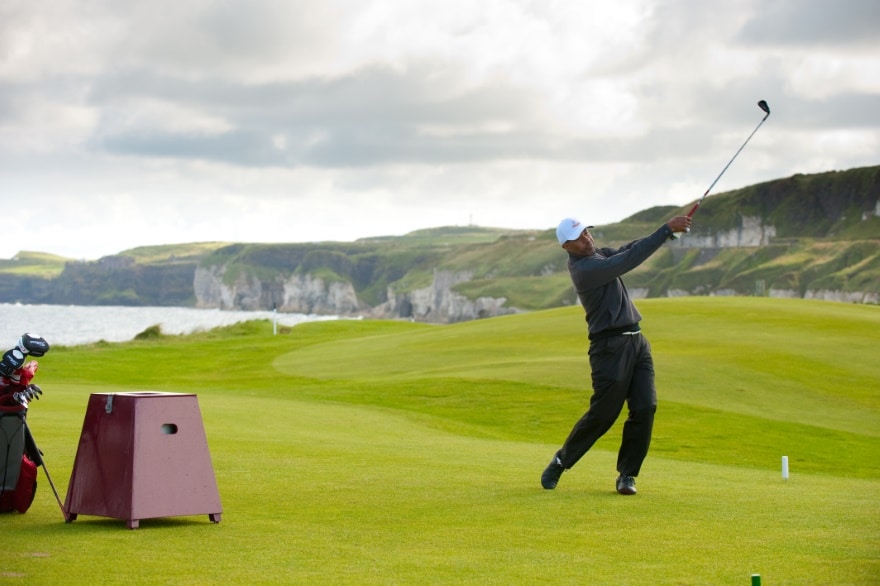 Mathieu started his career in private practice, as an associate attorney at the Washington, D.C., firm of Morgan Lewis & Bockius, where he represented clients on issues ranging from civil litigation to pro-bono work.
In 1999, hoping to help "clean up the streets of Boston," Mathieu joined the U.S. Department of Justice as an Assistant U.S. Attorney working out of the Boston office. But despite the high-profile caseload, Mathieu grew increasingly disillusioned with the "endless cycle of crime and incarceration."
He went to Tufts, followed by a one-year stint at Syracuse University, before joining Trinity in 2015.
"The fact that I had the opportunity to come to the United States, to have an education that transformed my life, and knowing the impact that will have on the lives of my children and grandchildren—I am very grateful," Mathieu says.
Any other advice for up-and-coming lawyers? Keep checking your email.
Showcase your feature on your website with a custom "As Featured in Vanguard" badge that links directly to your article!
Copy and paste this script into your page coding (ideally right before the closing