Erin Wiggins – TS Tech Americas Inc.
He won't sit down on the job
It's the world's seventh largest automaker by volume, the Japanese-owned Honda Motor Co., which churns out around 5 million vehicles annually. Wherever it's doing so, there's likely to be a TS Tech installation nearby, producing the specialized seats and door liners as well as other interior necessities and accessories.
Partially owned by Honda, there are 14 TS Tech facilities on this side of the world: A couple in Ontario and two in southern Brazil, with three more in Mexico and the rest in the United States. Not more than a couple of years will pass before Erin Wiggins visits each of those facilities.
General counsel and chief compliance manager of TS Tech Americas Inc. since May 2016, Wiggins has multiple responsibilities pending at all of those locales. The wonders of modern communication notwithstanding, he'll tell you there is no substitute for being there.
Not quite alone
"It's a big help having outside counsel in all those countries," the affable Wiggins tells Vanguard in April from TS Tech Americas headquarters in the Columbus, Ohio, suburb of Reynoldsburg. "I can't say I'm an expert on Canadian, Mexican and Brazilian labor law, but the longer I'm on the job, the more I'm learning and the fewer calls I'm having to make."
With TS Tech Americas' work force numbering around 9,000, there's little if any margin for error in any locale, Wiggins goes on to say. Whereas U.S. law puts the lion's share of power in a company's hands when it comes to hiring and firing, other countries are more sympathetic to employees and the bosses there had better take heed.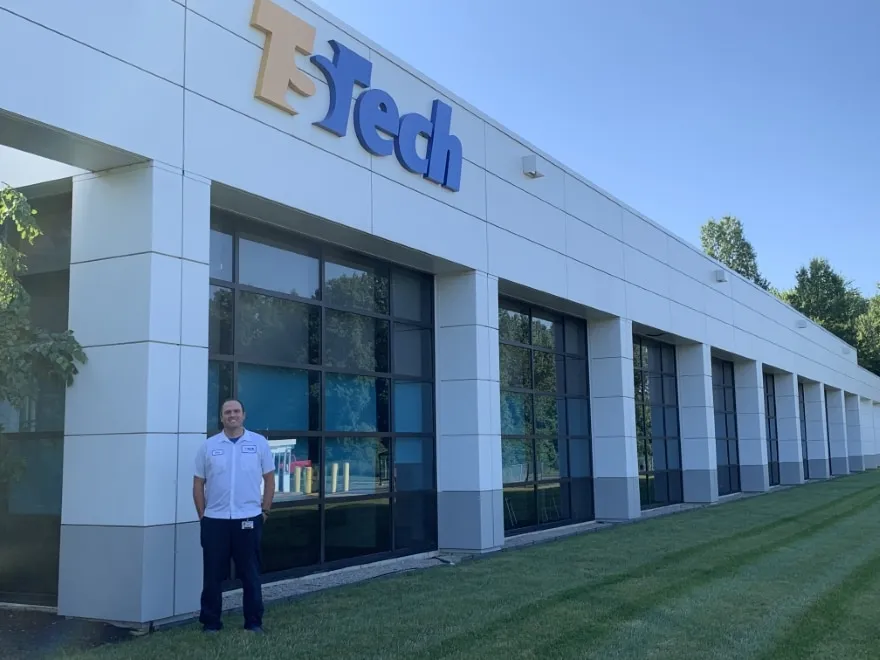 He cites the case of a worker at one of the Mexican plants who quit, but still filed a complaint against the company, alleging she was fired and that the court put the burden on TS Tech Americas to prove otherwise.
"Law school doesn't always teach the kid gloves approach, but you learn to use it outside the U.S.," Wiggins says. "It may not be a 180-degree difference in Mexico, but you do have to take a kinder approach."
Ever proactive
Hence the need for Wiggins to stay current on labor laws throughout those countries and—all the better—to preempt issues through visiting and leading training sessions about such matters as on-the-job harassment and discrimination.
He's encouraged by the many women on the company's workforces in Mexico and Brazil, but wants the management ranks just as inclusive. On his watch a better mechanism has been put in place for lodging complaints, and Wiggins uses the forums to emphasize that speaking out is non-retaliatory.
"It's actually become one of the best parts of my job," Wiggins says. "To go to a manufacturing plant, observe the operations and meet the people. That builds a trusting environment."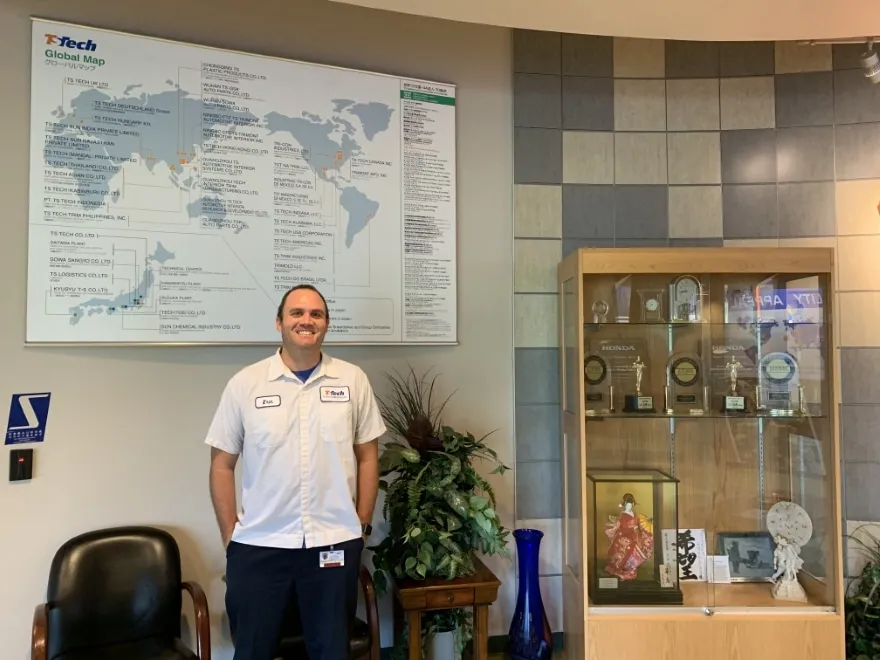 This trusting environment extends to the intellectual properties front, with Wiggins taking it upon himself to drive innovation through incentives for associates to enhance TS Tech's product line.
On this note he can lead by example, the technologically inclined Wiggins having invented the Switchtflip, a $24.99 device that allows one to wirelessly control multiple electrical outlets with a single light switch. He's got a patent pending on that while his wife, Adiya Dixon Wiggins, developed her own patented invention.
Like him, she's a Columbia University law grad, one who served nearly five years as international counsel and director at The Wendy's Co. headquarters in Columbus, Ohio. Last year she founded Yubi Beauty, the signature product being a fingertip beauty brush that Time magazine recognized as among 2018's best innovations.
"They say that necessity is the mother of invention. In my case, motherhood made this invention necessary," she says on her website, explaining that the task of tending to the couple's two small children prior to work, left her little time to apply makeup. Through trial and error she'd fashion the most efficient way for a woman to apply cosmetics in a car, subway or restroom.
So it's been a fulfilling past few years for both the Wiggins. Erin's role now tends to be at least as much managerial as legal, and that's fine with him. The 35-year-old general counsel was almost all legal while cutting his teeth as an associate with three firms, the most recent a two-and-a-half-year stretch at Hahn Loeser & Parks in Columbus. A great learning experience, he says, adding the same held true for earlier gigs at Paul, Weiss, Rifkind, Wharton & Garrison from 2011 to 2013, and Weil Gotshal and Manges from 2008 to 2011.
But firm life isn't where one sees the full fruits of one's legal labor. At least that's how Wiggins perceived it while racking up billable hours. How much better to have just one client, he says, that being the company itself.
"As an outside attorney, you can feel like a hitman—especially on litigation," he says in his colorful style. "You have a specific target and eliminate it and once you finish, the company grows without you. In-house you deal with all the issues and grow with the company."
And maybe see far more of the world in the process as well as build the relationships that Wiggins sees as so crucial to the growth of any company. Personal interaction being so necessary in this quest, he won't sit still for long, no matter how comfortable a TS Tech seat might be.
Showcase your feature on your website with a custom "As Featured in Vanguard" badge that links directly to your article!
Copy and paste this script into your page coding (ideally right before the closing