Gary Spiegel – Anaplan
Hypergrowth in the 'connected planning' frontier
It was six months of head down, nose to the grindstone work.
Preparing Anaplan for its IPO in October 2018—and simultaneously capturing the momentum of the software company and the economic climate—required that a core team be constantly assessing, researching and ticking off specific guidelines and checkpoints, all within tight timelines.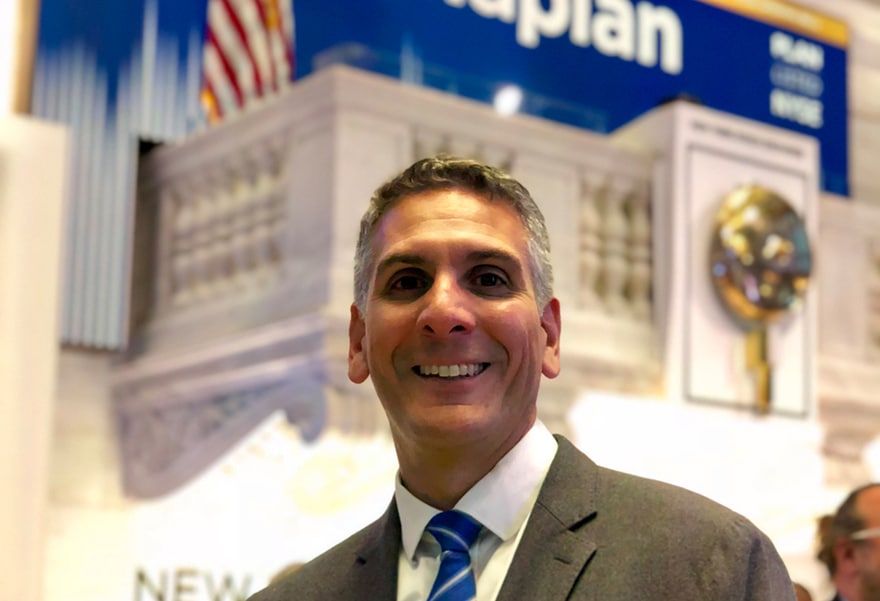 In other words, explains Gary Spiegel, vice president and head of legal affairs for Anaplan: compiling mountains of records on all aspects of the business; performing economic evaluations; ensuring accordance with SEC rules; and building a solid compliance framework.
"There are so many decisions to be made—just the balancing act of the project to ensure that you're ready to go out to the world and prove that you have something valuable," says Spiegel.
And now post-IPO? The work is no less constant. If anything, Spiegel says, the work has only accelerated. Which is what makes his role as Anaplan's first in-house counsel so interesting and ever evolving.
"We really want to capture the opportunity that's in front of us," he says.
An exciting time of 'hypergrowth'
Founded in 2008, Anaplan—marrying the words "analysis" and "planning"—provides a cloud-based enterprise platform for business planning. The company's database and HyperblockTM modeling engine allow for developing scenarios and analyzing data to assist businesses in making better and faster decisions in all areas of operations like finance, sales, supply chain and workforce planning. Anaplan calls this process "connected planning," because it brings together people, plans and data.
Pre- and post-IPO, the San Francisco-based company has been in "continual hypergrowth mode," Spiegel says. This is because Anaplan is a pioneer in the connected planning category, with a platform that can be used by virtually any company.
Now that Anaplan has transitioned to a public entity, Spiegel's focus is compliance, compliance, compliance (did we mention compliance?). The goal, he says, is to ensure that operations are effective, efficient and growth-oriented, while following pertinent rules and regulations.
As a public company with eyes always watching, the stakes are even higher, making for a "never-ending process" to improve contracting efficiency, build out adequate compliance infrastructure and keep up with SEC reporting requirements. Not to mention laws around privacy, intellectual property and employment across the globe.
To meet the added legal responsibility of a rapidly growing company, Spiegel has tactically built out his team, which now includes 14 people in the U.S., Europe and Singapore. In particular, he has sought out team members who have a depth of knowledge in a broad range of topics and are passionate about learning more.
"We want to ensure that the team is relatively self-sufficient, while also maintaining our team culture," he explains, "so that as the company grows, we work together to ensure that we are able to respond quickly."
An entrepreneurial culture
Indeed, that knack for adaptability is something Spiegel has been honing for years. He began his career as an attorney with the Federal Reserve Bank of Minneapolis, helping it juggle its dual role as a federal and private corporate entity. Prior to joining Anaplan five and a half years ago, he spent nearly 15 years as corporate counsel with several tech companies, most notably Adobe Inc.
Anaplan began with a legal team of one: It wasn't uncommon, Spiegel notes, for him to work on a European deal in the morning, U.S. deal during the day, then transition to an Asian matter in the afternoon or evening.
While he was initially hired to take pressure off the CFO by helping negotiate deals—as can often be the case in small companies, the previous CFO juggled contracts and other legal matters as they arose—the legal team is now an integral part of the business.
"I take personal pride in seeing where the legal team is today," Spiegel says. "Starting with something small and watching it grow has been important to me."
Helping the company evolve has been an educational experience, he adds—from engaging with clients and investors, to working with different departments to navigate an ever-changing legal landscape, optimize processes, and jump in in where needed to make the company's vision become reality.
"It's not some narrow range of work, it gives me a picture of the company as a whole," he says. "I'm always trying to find something new to learn about the company and how different parts of the company work."
He also credits Anaplan leadership for crafting a "self-motivating," entrepreneurial and customer-focused culture. The company places value on building communities and relationships, pursuing personal passions and "being a person, not just a worker."
"It's refreshing to have that as your guidepost," Spiegel says. "With any job, you have to find something in it that gives you something meaningful back. Finding that balance is critical."
Showcase your feature on your website with a custom "As Featured in Vanguard" badge that links directly to your article!
Copy and paste this script into your page coding (ideally right before the closing