Jim Muska – Satterfield & Pontikes Construction
From the Jobsite to the Boardroom
Jim Muska remembers waiting in the predawn hours, the tick of the clock getting louder as time went by.
The concrete finishers were supposed to have arrived an hour ago. The concrete trucks, lining the street. The challenges of construction, of working at all hours and in all conditions. The toll on the body. The uncertainty. The stress. Muska remembers too well the eight years he spent as a homebuilder, before attending law school.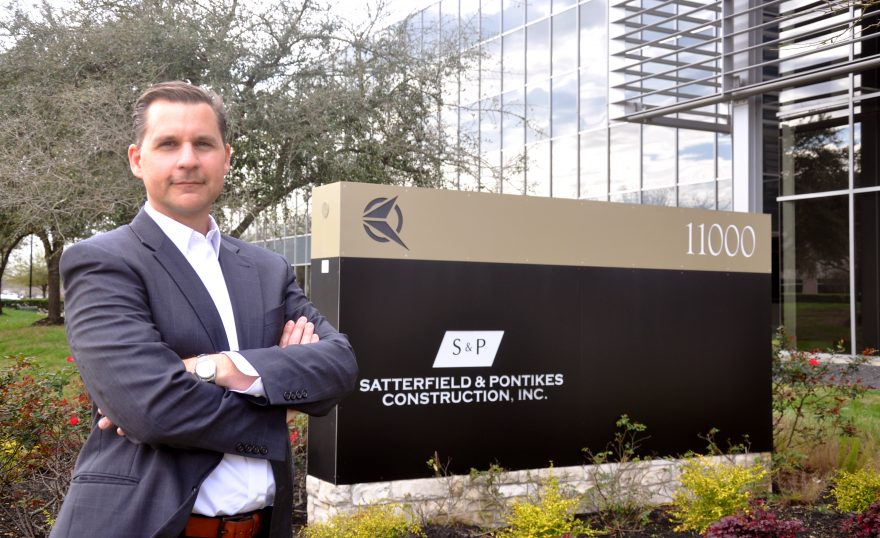 While those long days are long gone, Muska says the lessons he learned have stuck with him, all the way to his new role as General Counsel for Houston-based Satterfield & Pontikes Construction, a large general contractor with services ranging from preconstruction and construction to BIM services and program management.
"I understand where the guys in the field are coming from," Muska says, "and I think that helps us be more responsive and flexible."
Granted, those bygone projects pale in comparison to those on S&P's docket, which include some of the region's largest and most sophisticated schools and buildings.
Risky business
While S&P maintains a diverse project portfolio—from health care to aviation to entertainment—K-12 education has long been the firm's specialty, and there are particular challenges that come with that work.
"There isn't a whole lot of room for negotiation when you're dealing with a state agency because there is so much competition for the work," Muska explains. "Once you're under contract, you're inherently more limited in your recourses, because a state agency benefits from sovereign immunity."
That means Muska must be especially diligent when it comes to identifying and mitigating subcontractor risk, because the low bid often comes with unforeseen costs.
As part of the analysis team for new jobs, Muska vets prospective subcontractors for red flags, such as unreasonable subcontract change requests, poor credit ratings, past history with the subcontractor and the subcontractor's reputation in the industry. This is especially important when S&P pursues projects well outside its established footprint of Houston, Dallas, San Antonio and Austin.
During a recent project, one subcontractor was able to leverage a low bid to secure work. However, after the subcontractor requested a series of drastic changes to the contract and provided a bond from a surety not listed by the U.S. Treasury Department, Muska grew suspicious. Rather than take the risk of using an unknown subcontractor with no reliable surety backing, S&P leveraged its close relationship with another subcontractor to fill this gap.
Numbers game
Risk, though, must be balanced with cost, and given the sheer scale and scope of the projects—some of which fall in the $150-$200 million range—a lower bid is often a more competitive one. However, Muska says S&P is okay with losing a bid if winning it means compromising on quality.
At the same time, most school districts award work based on more than just the low bid. It's the job of Muska and his colleagues to find that balance: highlighting S&P's building bona fides without pricing themselves out of the race.
"Every school district has a formula for how they choose a bid, and it's always a matter of balancing cost and quality," Muska says. "Because they know if they go with a contractor solely because it undershoots everyone, [the district] could wind up with a real mess on its hands."
Using state-of-the-art building information modeling (BIM) technology, S&P is able to generate more holistic, cost-accurate bids. That makes for a more predictable project, one where "measure twice, cut once" becomes the mantra.
A career path with some turns
Indeed, it's a belief that applies as easily to construction as it does to law; a field Muska had designs on pursuing as far back as childhood.
A 1993 graduate of the University of Texas at Austin, where he majored in government and minored in history, Muska's interests took him on something of a detour when he decided to enroll in a political science PhD program.
However, it took just one semester for Muska to realize a career in academia wasn't for him. In need of work, Muska came on as a construction manager with a local homebuilder. And while he had a successful career and earned his MBA, after eight years in the industry, Muska realized it was a job he would never truly love.
More than a decade after he first entertained a legal career, Muska went to law school, earning a J.D. from South Texas School of Law in 2007.
In 2008 Muska joined the law firm of Hoover Slovacek, where, over the next six-plus years, he worked in commercial litigation in the real estate and construction sectors.
When S&P began a search for a new assistant general counsel in 2014, it was referred to Muska by one of its outside counsel. In September 2017, Muska became the firm's general counsel, a promotion that brought years of work and sacrifice full circle.
"Internally, this is a company that does the right things for the right reasons," Muska says. "And that applies to how we deal with clients and subcontractors as readily as how we work with one another."
Showcase your feature on your website with a custom "As Featured in Vanguard" badge that links directly to your article!
Copy and paste this script into your page coding (ideally right before the closing