John Kahle – Kimball Electronics
Keeping manufacturing alive during the pandemic
In normal times, a manufacturer that made electronic medical assemblies for respiratory care products would go about its business as usual. Because of the COVID-19 pandemic, these aren't normal times.
Along with the rest of the world, Kimball Electronics—a global company which makes everything from respiratory care devices and vehicle navigation systems to semiconductor power modules—has been coping with the impact of the pandemic. The company has a manufacturing plant five hours from Wuhan, China, so General Counsel John Kahle and his team followed the virus as it moved from China, throughout Europe and into the U.S.
He and his team developed protocols that allowed the Indiana-based business to continue operating, and the company's task force sorted through sources and information to help make policy decisions.
"We have business contingency plans, but those don't work in this situation," Kahle says. "We needed to get the facts to protect our workforce and the parts to make the products."
Watching the virus spread
Soon after word of the coronavirus—and the virus itself—began spreading, a task force was created to monitor the situation and keep company employees around the world informed. Kahle and the other task force members got regular updates in China and initially dealt with the virus locally.
With plants in China, Vietnam, Thailand, Romania, Poland, Mexico and the U.S., Kahle knew the company would be affected as the virus spread. He also knew that, among other tasks, it would need to continue making respiratory products in short supply.
"In order to develop policy, we needed a focused group to sort out all the information from multiple sources, such as national and local governments, health agencies, social media and on the ground, to help our leadership team make informed decisions," Kahle explains.
In a matter of days, the task force recommended safety protocols and procedures to keep plants open, and Kahle and the team worked with local authorities and employees in China to provide details. He says differing views globally on how to respond made things challenging, especially since he feels the universal goal should've been keeping people from contracting the virus.
Regardless, he says, Kimball Electronics used the same practices in all plants. N95 masks were shipped from the U.S. to China at the beginning of the pandemic, and as the virus moved to the U.S., China shipped unused ones back to America and Kimball Electronics donated them to healthcare workers who were in dire need at the time.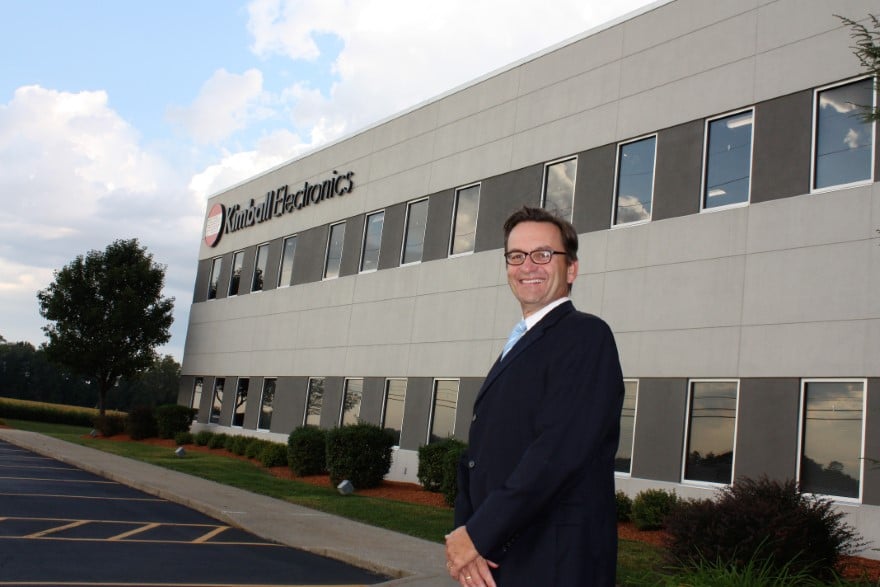 "Then, when you couldn't get masks, we found a supplier in Mexico through one of our employees," Kahle says. "We had logo masks made for our employees in all of our facilities. It's what we had to do to help keep our people safe."
Legally, there were myriad issues he and his team faced, from determining the essential nature of the company's operations that allowed it to maintain production under the rules of each country, to time off, implementing and effectively communicating paid leave policies, and appropriate safety protocols.
Relying on experience
Kahle has been with Kimball Electronics for more than 30 years, and he says there are some experiences he's had in his time with the company that have helped deal with the pandemic.
"With our ability to see things happening in China before others here in the U.S., we made connections and worked hard to have safety standards in place around the world," he notes. "Our biggest problem was on a local level and trying to predict what the local governments were going to say."
Kahle says the financial crisis and Great Recession from 2008-2009 saw a similar response from Kimball Electronics. There was a task force-like focused group reviewing pure economic data and helping the executive team make informed decisions.
He admits the company is in uncharted waters while trying to decide how to handle any future positive Covid cases among employees. The team is reviewing and amending contact tracing protocols and return-to-work plans while following guidance from the CDC in the U.S. and appropriate governmental health agencies worldwide.
Questions about testing, mandatory mask wearing and encouraging vaccinations for employees are being asked, and Kahle and his team of four other leaders are exploring all of Kimball's legal options.
"The general legal consensus in the U.S. is that you can probably make vaccines mandatory because of the health and safety needs of employees and the company," he says. "But most companies seem to be leaning toward encouragement or incentives for vaccination and we are working through those considerations as well."
The journey
Kahle got his undergraduate degree from Indiana University and spent time working as an accountant before attending IU's law school in Bloomington. After completing his law degree, he worked for four years as an associate attorney before joining Kimball as their first in-house counsel in 1987.
"In regular practice, I didn't like keeping track of my time and could see the competition coming in the private sector," he says. "I wanted to work in the front-end of the law, so an in-house position was perfect for me."
Kahle became vice president and general counsel in 1988 and has continued to add titles since. He was promoted to his current role of vice president, general counsel, secretary and chief compliance officer in November 2014.
He says he'll be able to look back at all the hard work and the ways he's made a difference. And for this "pandemic phase" of his career, he's happy to have done his part to keep the members of the Kimball Electronics family as safe as possible.
"It's all part of the job," he adds. "There's never been a dull moment."
Showcase your feature on your website with a custom "As Featured in Vanguard" badge that links directly to your article!
Copy and paste this script into your page coding (ideally right before the closing