Patrick McCraney – Cardinal Ventures/Blake Management Group
Beyond bingo, returning to topflight retirement
Before COVID-19 hit the Deep South, residents at "The Blake" senior living communities could enjoy dinner in the upscale dining room and choose from its chef-prepared menu. No bland institutionalized food and tapioca pudding at 4 p.m. here.
While the pandemic has temporarily changed protocols in these community dining spaces—which look more like fancy restaurants—the goal of Mississippi-based developer Cardinal Ventures and its affiliated operations company, Blake Management Group, is to provide Ritz Carlton-like service to seniors who call the Blake communities home.
The companies seek to accomplish that through modern and tastefully appointed buildings, innovative wellness programs, impeccable service—and yes, the food—says Patrick McCraney, general counsel for both companies. In a nutshell, it's their business to make sure the details are done right.
For McCraney, working at the boutique real estate development firm was a dream job. Now, his focus is on elevating the standard of the company's senior housing developments throughout Mississippi, Arkansas, Alabama, Florida, South Carolina, Texas and Louisiana.
"We are going for the 'wow' factor," he says. "Our goal is to be much more than a run-of-the-mill senior housing community with bingo and a van."
By the book
In a growing and highly competitive senior housing market, McCraney says Cardinal's and Blake Management Group's shared mission is to always "put people first."
As a private pay organization—different from standardized nursing homes that are often funded by Medicaid—Blake's residents pay a largely all-inclusive monthly fee that covers everything from housing and health care to dining and activities.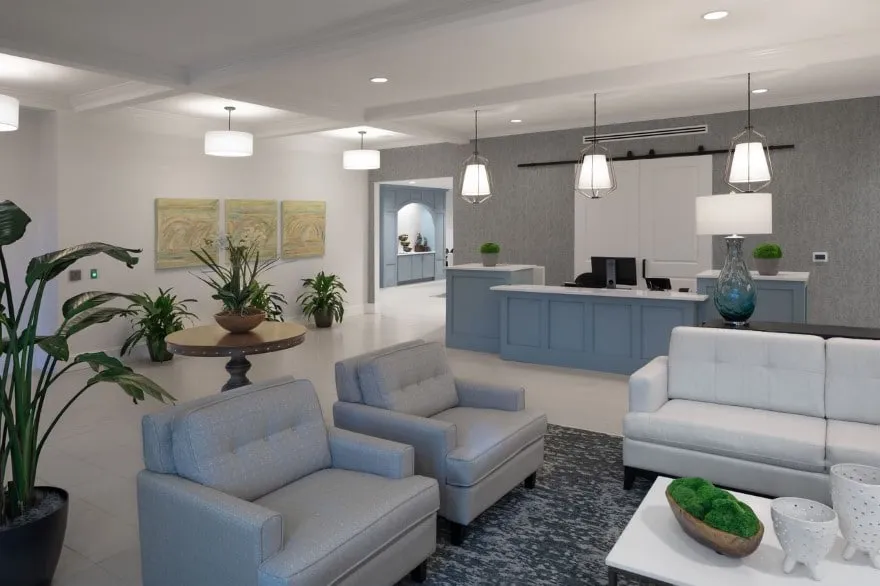 At its typical properties, 70 percent of the residents are in assisted living arrangements and approximately 30 percent of the apartments are dedicated to serving those with memory or cognitive impairment needs. Some Blake communities also offer independent living apartments or detached cottages.
The goal, McCraney says, is to provide a safe setting for loved ones while offering a dynamic living experience that includes personalized service, opportunities for social engagement and nourishing, restaurant-like fare.
Making the most
Blake's memory care services include its unique "Walk with Me" program. Each community has a Walk with Me coordinator who oversees a team of memory care specialists. Their job is to provide a holistic and individualized plan of care which focuses on the social, spiritual, cognitive, physical and emotional well-being of each memory care resident. The Blake communities also use iN2L (It's Never Too Late), a state-of-the-art system that uses touchscreen technology to increase resident engagement.
"The challenge of 2020 is that COVID-19 hurt everyone, with widespread damage to health and economics, but here we fought to keep people safe by honoring protocols set by the Department of Health and the CDC," says McCraney.
While the safety protocols were not always popular with residents and their relatives, Blake Properties were required to insist on limited visitation, socially distant dining, quarantines when appropriate, and routine deep cleanings. They are also exploring new technologies for air and surface purifying systems.
"Everyone made sacrifices, but we had to abide by safety first," McCraney notes. "Given some of the social limitations, we also made a point of focusing on how to try and maintain the quality of the living experiences we offered during such a difficult time."
For example, with the help of resident families, the Blake community in Baton Rouge, Louisiana, organized a drive-through Mardi Gras parade (complete with honking cars and a brass band) that residents were able to observe and enjoy from their apartments.
"The creativity and commitment we saw from our on-site community leaders to meet this challenge was really inspiring," he says.
Specialized services
Drawing on his legal background in real estate finance and development, McCraney is involved in all aspects of Cardinal's new projects, including site selection, land acquisition, financing and sales transactions.
Cardinal's typical properties are approximately 100,000 square feet, with over 1,000,000 square feet developed to date. There are currently three sites under construction—one in Arkansas and two in Florida—scheduled for completion between first quarter 2021 and first quarter 2022.
Once a location is built, management of the facility is taken over by the other arm of Cardinal's business, Blake Management Group, that oversees all aspects of on-site operations and state regulations, with 700 employees across 15 communities under management.
McCraney is equally involved in operations, assisting Blake Management Group with a variety of concerns that range from vendor contracts to employment to licensing and regulatory matters.
"Early on in this venture it made sense for each community to develop operational on-site expertise to match the level of expectations," he explains. "It ensured credibility in our industry and supported our operations and financing … banks want to know that you are capable of operating the building before you build it."
Approximately 8 to 10 months before any location opens, an executive director is hired to oversee and manage all departments, as well as a director of sales and marketing, and a memory care director. Then, specialized teams of up to 85 people are hired to handle specific duties, such as nurses, personal assistants and other specialists in areas including wellness, dining, housekeeping and activities.
"We feel hiring people with good hearts on-site elevates our level of service and commitment. This sometimes means we spend more in our effort to find the best people, but we want to be good stewards of people and their money to meet their high level of expectations and offer the services they desire," McCraney says.
Worth the wait
Coming to Cardinal was a bit of a winding road, he admits, but he never lost sight of his final career destination. Commercial real estate development and investment were always fascinating topics for him.
"These were my interests. I loved the idea of taking a project from concept to reality—to see raw land transform into a beautiful space people could call home," McCraney says.
With a degree in history from the University of Mississippi in 1997 and a JD from Washington and Lee University Law School in 2000, McCraney's legal career started as a family affair when he joined his older brother in a boutique litigation firm. Wanting to gain more transactional experience, he transitioned to a large international law firm headquartered in Jackson, Mississippi. McCraney's first in-house experience came in 2007, when he joined a real estate investment and finance company.
It wasn't to his liking and was complicated by the economic downturn of 2008, but he soon rebounded and started his own legal practice later that year. For his first client, he reached out to a childhood friend, the founder of Cardinal Ventures, and the relationship grew from there.
While his own firm was doing well, McCraney says he was yearning for immersion in the real estate development business when Cardinal offered him a full-time position three years ago.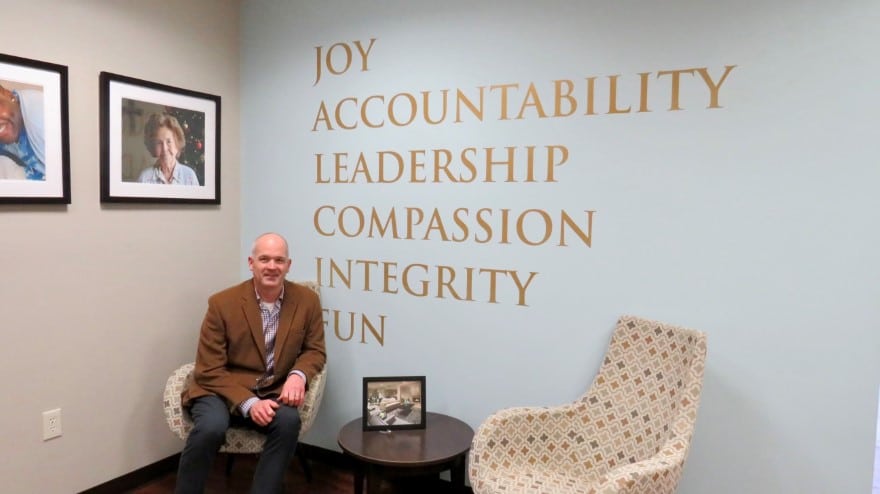 "The timing was right and it was refreshing to be in-house with like-minded people," he says. "Focusing on two clients really allows you to provide deep and rich work and the ability to dive into issues without the pressures of multiple clients and the sensitivity towards costs accruing on the time sheet."
The best preparation for his current position was the unpredictability of his career path, which he says built character and wisdom. A combination of prior in-house and big law firm experience and the insights gained from operating his own law firm, gave McCraney the perspective that he relies on daily.
"I work with good, ethical people—who are really smart—and together we are on a mission to provide resident care to the most vulnerable segment of the population," he says. "It's not just about dollars and cents—we care about what we're doing."
Showcase your feature on your website with a custom "As Featured in Vanguard" badge that links directly to your article!
Copy and paste this script into your page coding (ideally right before the closing