Jory Zola – Tire Discounters
As Tire Discounters expands, he keeps wheels moving
Look closely and you just might recognize similarities between stopping pucks and being an in-house lawyer.
"You've got to focus with extreme attention to detail," says Jory Zola, who during the mid- and late-2000s tended goal for the Indiana University men's ice hockey team before opting for law school. "You have to evaluate a multitude of things going on at once. You've got to be aware of your surroundings which are constantly changing and adjust."
Well, the surroundings at Zola's employer, Tire Discounters, are changing for the better as the Cincinnati-based and Midwest-strong company now targets Greater Atlanta. With the business recently announcing its intent to offer franchise and acquisition opportunities, it's the biggest market targeted yet, explains Zola, who's associate general counsel and director of real estate development.
Expertise in both areas is essential as Tire Discounters envisions at least 15 new stores in the next year and a half around the Georgia capital. Some stores will be built from the ground up and other stores fashioned in bought or leased buildings.
The common denominator to tapping the Atlanta market will be real estate transactions that Zola will oversee from a legal and real estate perspective. And that makes him a two-fer.
Road-worthy from the start
A Chicago-Kent College of Law graduate, Zola lacked experience in real estate law and development when he joined Tire Discounters in 2015 after working as a litigator in the Windy City. The company in growth mode even then, he realized it needed someone with real estate acumen, and that had Zola learning on the fly.
"I jumped in with both feet and read all I could, and that's how I've come to manage everything from site selection, properties under contract, financing construction—the whole bit," he tells Vanguard in July from Cincinnati headquarters. "It's very stimulating intellectually, which is something that's always been very important to me."
Now most of his working hours are likely consumed with real estate issues, with less than half the time spent on such typical legal matters as negotiating, drafting and reviewing contracts and whatever concerns the human resources department brings to his attention. He's enjoying the diverse workload and saving his employer considerable expense on outsourcing matters to outside counsel, he says.
For no two real estate transactions are identical, Zola explains. Perhaps there's something ambiguous about the title to a property. Maybe a proposed lease or purchase agreement has something buried in the fine print.
"Obviously, there are a lot of real estate developers who aren't lawyers," he goes on to say. "Having that underlying legal knowledge and background better prepares you to analyze deals."
On the road again
The worse of COVID-19 hopefully over, Zola is making regular trips to Atlanta and relishing the face-to-face contact that's always been his preferred modus operandi. While he functioned capably while working from the Cincinnati home he shares with his wife and now three children, he acknowledges it took some doing.
"I've always been the kind of person who's relished having a separation between my home and place of work or study," he says.
His wife just having given birth to the couple's third child, Zola often had his hands full with non-work-related matters. But all ended well, and each day brings Tire Discounters closer to business as usual. Whether the latest Tire Discounters store comes from an acquisition or franchisee, he speaks excitedly about how the new tire or automotive partner stands to benefit.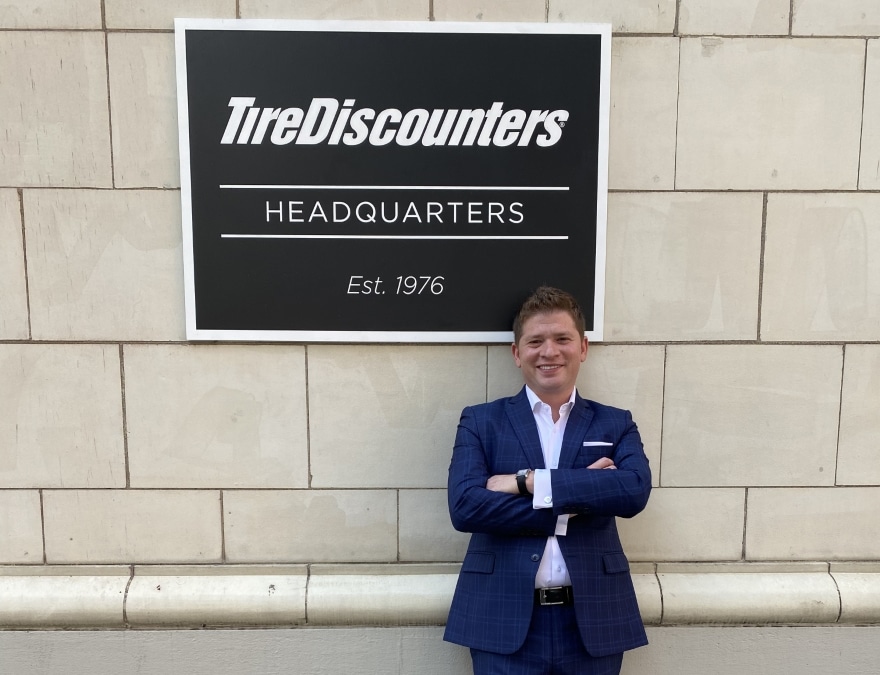 A multitude of assets awaits, he says, including the affiliation of a company with a nationally recognized brand name and whose founder, Chip Wood, garnered Tire Dealer of the Year last year from industry publication Modern Tire Dealer. A new acquisition also accesses systems and processes for training, operations and customer communication. Marketing savvy and inclusion on a high-traffic website also come with the deal.
And any kind of deal-making is proving to be more to Zola's liking than the litigating he used to do in Chicago. But, as the 35-year-old Zola explains, he—like so many other young lawyers—were conditioned by their schooling to go a certain route.
"One of the interesting aspects of legal education is there's a huge disconnect between legal theory and legal practice," he says. "I never had much interest in the corporate law courses that I took in law school. Career-wise, litigation was where I seemed best suited, but once I entered the practicing world, I discovered it wasn't truly what I wanted to be doing."
Thus, he shifted gears to focus on transactional law. Turns out it was what he wanted all along.
"They're getting two for the price of one," he chuckles. "But that's OK. I have a lot more involvement in the day-to-day operations and decision-making. Got to keep the wheels moving."
View this feature in the Vanguard Fall III 2021 Edition here.
Showcase your feature on your website with a custom "As Featured in Vanguard" badge that links directly to your article!
Copy and paste this script into your page coding (ideally right before the closing