Joshua Sidney Hyman – Integrated Financial Holdings
Hemp plants new future for financial service provider
Joshua Sidney Hyman never liked being office-bound as an attorney, but visiting a hemp farm in Kentucky was unusual even for him. Hemp, which is of the same species as cannabis but has a THC level of 0.3 percent or less, was a staple crop from the earliest colonization of the U.S., grown at Mount Vernon, for instance.
But while George Washington and his fellow founding fathers grew hemp used to make clothing, rope and sails, the 1937 Marihauna Tax Act lumped it in with its more potent counterpart as an illegal crop. It was not until 2018 that Congress reversed course and legalized its cultivation again.
Legalized hemp is what led Hyman, then the executive vice president and chief legal counsel for Integrated Financial Holdings, to that field in Kentucky. Hemp farming and production held great promise, and IFH, through one of its subsidiaries, West Town Bank & Trust, was among the first financial services companies to consider investing in the industry.
But not without a tour that would also be a foundation for a compliance program ensuring the bank could safely invest in the burgeoning industry.
"Early in my career, in the late '80s, I started to think about law as not just sitting at a desk and drafting or being in court and arguing or negotiating," Hyman says. "I looked at it as a business. The client service aspect in law is really no different than the service of a restaurant. Keep the patrons informed, serve quality food on a timely basis and constructively address escalations."
A new cash crop
Headquartered in Raleigh, North Carolina, IFH is comprised of subsidiary companies West Town Bank & Trust, West Town Insurance Agency Inc., Windsor Advantage LLC, Glenwood Structured Finance LLC, SBA Loan Documentation Services LLC and Patriarch LLC. IFH's companies employ about 130 people working in 12 locations across seven states.
As he chatted with Vanguard in November 2021, Hyman had stepped back from his executive role in favor of an advisory one. Still, he'd played a large role in the company's growth by guiding M&A, HR, litigation and compliance efforts after being hired in 2017.
"I either had a hand, arm or shoulder in it, depending on the amount of time I had," he says. That included helping IFH become a partial owner of both West Town Payments LLC and Risk Scout Inc.

The investment in West Town Payments, a payment processing and merchant  services company, enables West Town Bank & Trust to work around the restrictive and varying state regulations that initially made hemp a cash-only business. Risk Scout, a regulatory technology platform, ensures West Town Payments and its customers comply with Federal Deposit Insurance Corp., or FDIC, Bank Secrecy Act regulations and laws used to prevent money laundering and financing terrorist activities.
With these advantages, Hyman says IFH's investments in the hemp industry are promising. The U.S. Department of Agriculture, which now regulates hemp instead of the Drug Enforcement Agency, reports 90,000 acres were planted in the first year it was legalized.
The number of licensed farms has leveled off, but in October 2021, Hemp Industry Daily reported more than 9,200 licensed farmers were cultivating almost 285,000 acres. Along with its traditional uses as a woven material, its CBD oil can be extracted for use in edibles, tinctures, creams or personal care products.
"IFH is much more than a bank holding company," Hyman says. "I was attracted to the way IFH approached opportunities outside the strict confines inherent to traditional bank holding companies."
A legal entrepreneur
Born in Washington, D.C., where his father was a journalist who became a speechwriter for Presidents John F. Kennedy and Lyndon Johnson, Hyman also spent part of his youth living in Chicago, as well as Rome as his father wrote a history of the Catholic church.
In fact, his father also hoped Hyman and his brother would get into politics, even if not as candidates themselves. Hyman graduated from the University of Wisconsin-Madison in 1985 with a bachelor's degree in behavioral science focusing on law and history.
In his last semester of law school at Washington University in Saint Louis School of Law—where he earned his J.D. in 1989—Hyman also worked for former Sen. Bill Bradley. While he hoped the experience might lead to working on a presidential campaign for the 1992 election, it didn't, and Hyman returned to Chicago to join Laser, Schostok, Koleman and Frank. After five years Hyman went out on his own, leading to founding  the firm Fumagalli, Tecson & Hyman PC.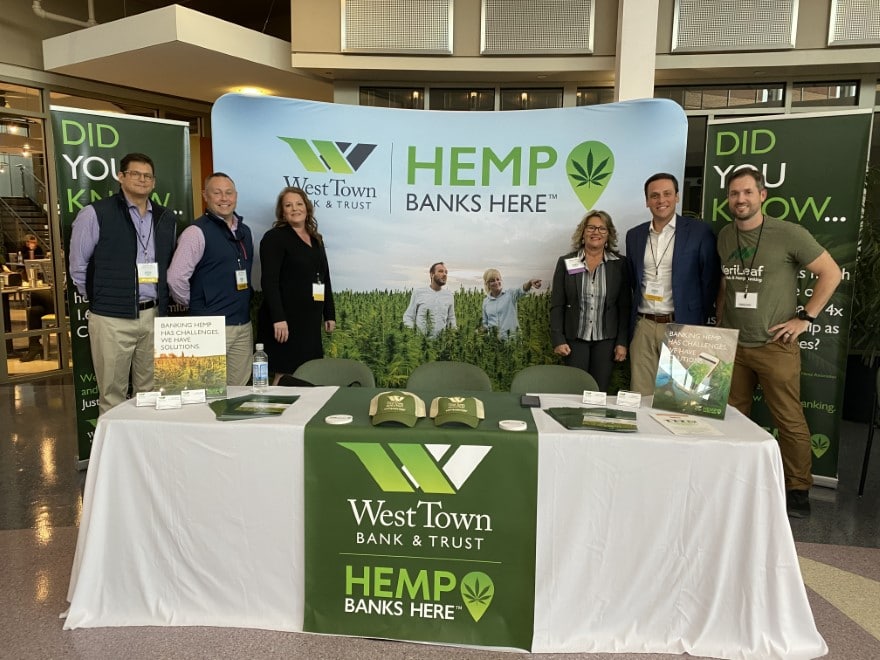 As the firm evolved, it merged with Chuhak & Tecson in 2002 and Hyman became a shareholder and chair of its banking practice. The practice grew to include 40 attorneys working with more 100 banks. He also oversaw opening the firm's New York office.
In 2017, Hyman began shifting his workload and clients to other attorneys and remained of-counsel to the firm until December 2020. While doing so, he joined one of IFH's bank subsidiaries as an executive vice president and chief legal counsel. In 2019, he founded and became managing director of the subsidiary SBA Loan Documentation Services LLC.
Getting into the hemp industry early presented the type of challenge Hyman has always relished because of his entrepreneurial approach to practicing law, he says.
"If you look at issues only as a lawyer, I believe you can be somewhat constrained in how far you see," Hyman says. "For me, it was looking at law as an entrepreneurial opportunity that allowed me to view matters from the client's perspective and thus service clients as an entrepreneur, which distinguished myself from other lawyers."
View this feature in the Vanguard Winter III 2022 Edition here.
Showcase your feature on your website with a custom "As Featured in Vanguard" badge that links directly to your article!
Copy and paste this script into your page coding (ideally right before the closing