Kathryn Williams – Siddons Martin Emergency Group LLC
Associate counsel ensures firetruck sales have no emergencies
No one ambles into a showroom to casually buy a firetruck or ambulance. No one takes it out for a test spin and then sits down at a desk with a sales rep to pencil out a deal, talk about a trade-in and set up the financing. 
But there still needs to be a bridge between municipalities and agencies needing firetrucks and rescue units and the companies making them. That's what Siddons Martin Emergency Group has done since 1974. Founded by Pat Siddons, a retired Houston police officer, and Leon Martin Jr., a retired Conroe firefighter, the company knows what its customers need, says Kathryn Williams. 
Although Williams, who will become the company's general counsel in 2021 after years in other roles, does not share the founders experience as first responders, she has helped their business grow through legal and general expertise.
"I've always wanted to be in-house but never understood how broad-based the role is and how you have to be familiar with multiple areas of business and law to be successful," she says.
Williams notes Siddons Martin is the largest emergency vehicle dealership for Pierce firetrucks in the U.S., and sells Braun, Crestline, Demers, Road Rescue and Wheeled Coach ambulances to municipalities and airports. The company is also the dealer for Skeeter Brush Trucks—vehicles used for wildland firefighting.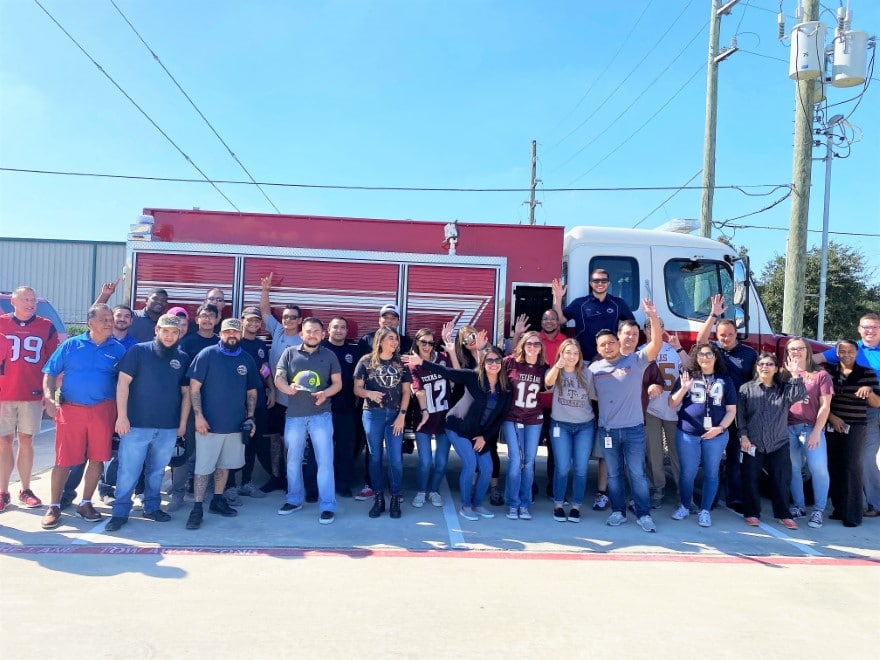 While it had been selling and servicing apparatus in Texas, New Mexico and Louisiana for decades, in January 2020, Siddons Martin expanded into Utah and Nevada with the acquisition of Superior Equipment. It was a deal Williams helped guide by assessing its risk, writing and reviewing the purchase agreement and integrating new staff. She adds that the company has grown from 175 to 410 employees since she joined in 2014.
The growth was one of the reasons Williams was hired. Although she'd not expected to lead HR, she did just that, developing policies and processes to ensure the company complies with state and federal employment and labor laws, she says.
As Siddons Martin expanded, in 2020 it became an employee-owned company—an effort Williams says took over a year as she worked with company trustees, formed a new holding company and brought in outside counsel to ensure the transaction was properly executed.
All in the details
Because no one buys emergency equipment straight off the showroom floor, Williams says it's hard to understand how challenging it is to make the deal.
With a new aerial firetruck costing more than $1 million, municipalities may even need to pass bonds in order to buy one, and no purchase is made without seeking bids from manufacturers or companies such as Siddons Martin.
Yet, as Williams notes, the bid documents contain terms she needs to review as well, because what buyers seek and bidders can supply may be at odds. For example, Siddons Martin passes along manufacturer's warranties on what they sell, even if an RFP seeks a longer or more detailed one.
Payment terms may also need reconciliation between Siddons Martin policies and an RFP, as the company requires payment upon delivery of a unit. Another area she reviews is order cancellation and the penalties that come with it.
"A custom order for fire apparatus is hard to stop," she explains. "Because it's custom, it's also harder to sell it to someone else if an order is cancelled. So I'd rather make that clear up front in the contract."
Protecting themselves
There was never a question of whether Siddons Martin would be considered an essential business that needs to remain open during the COVID-19 pandemic, but Williams adds staying abreast of all the new rules and regulations in March and April 2020, was as challenging as any contract review she's done.
"I felt like I was in law school answering questions, like I was getting drilled by professors who tweak the facts," she recalls.
After Williams joined the company, it also brought on a full-time safety manager to handle duties she once oversaw. During the pandemic, they have worked closely to develop rotating schedules for office staff to work on-site and remotely. They also developed protocols such as daily check-ins from Siddons Martin offices and shops to determine if anyone was showing signs of the new coronavirus.
It's more than just a required procedure, she adds, because whether it's pulling together during Hurricane Harvey to support employees impacted by the storm, or checking in on them as they work remotely, Siddons Martin has a culture of caring that she's proud to uphold.
Back in Texas
Born in Baytown, Texas, an industrial city on the east side of Houston, Williams and her family moved to Riyadh, Saudi Arabia, when she was in second grade. She only returned to the U.S. after graduating high school.
Williams earned a bachelor's in business administration and management from Texas A&M University in 2006, and although her mother had attended law school, Williams was not anticipating a law career when she graduated.
After graduation she became a subcontract administrator for logistics and civil augmentation projects for the consulting and engineering firm KBR Inc. Williams discovered she loved working with contracts and soon enrolled at South Texas College of Law in Houston.
"I loved the logic side of contracts and really taking a deep dive into them to find the correct meaning," she explains.
It's hard to imagine a year stuffed fuller of life events than what Williams enjoyed in 2012 as she got married, earned her JD, moved into a new house, took the bar exam and had a baby.
After passing the bar exam, she joined Black, Mann & Graham in February 2013 as an attorney advising residential lenders on complying with Texas and federal residential lending laws and Fannie Mae guidelines for secondary market transactions.
Another opportunity was not long in coming, as one of her law school mentors, professor W. David East, told Williams of the opening for an associate counsel at Siddons Martin.
Because an in-house position provided a greater balance for her work and personal life and afforded the opportunity to continue to work with contracts and other areas of law, it was an easy decision for Williams to join the company in June 2014.
As 2021 began, she was eager to take on her new role as general counsel, as former General Counsel Jeffrey Keiser shifts to focus more on business operations and future acquisition targets.
"I can't emphasize enough that the company is fantastic," Williams says. "It's a giant family that keeps growing. Every day I work the hardest I can to protect our company because none of us feels like a number here."
Showcase your feature on your website with a custom "As Featured in Vanguard" badge that links directly to your article!
Copy and paste this script into your page coding (ideally right before the closing