Katie Helton – Jack Cooper Investments
Jack Cooper rolls into the future
It's a tradition nearly a century old. New vehicles roll off an assembly line with a sparkle and a new car smell, and Jack Cooper's team hauls them to dealers or drop lots before they end up in someone's driveway.
Founded in 1928 to haul General Motors vehicles from an assembly plant in the Leeds district of Kansas City, the company, part of Jack Cooper Investments, now has more than 1,700 rigs operated by union drivers across 37 terminals in North America.
Jack Cooper Transport remains one of two auto carriers in the U.S. using union labor, and while unions may carry negative connotations for many employers, Katie Helton has a different opinion. The company's Investments Chief Administrative Officer, she says unions are part of a shift to woman-led, pro-employee operations—and the most rewarding aspect of her legal career.
"Emotional intelligence is something I used occasionally in my legal practice, but in HR it's something I have to rely on every day," Helton says. "I enjoy it—reading people and body language and taking the temperature of how people respond."
Having responded to allegations and complaints in the workplace as an employment attorney, Helton prefers to avoid such situations by training and investing in employees as part of the HR team. That's been easier in the past year as diversity and inclusion have gained attention.
"I think people are more willing generally to talk about things for the first time," she says. "It's different and better than it's ever been."
School's in session
Jack Cooper employees are going back to school at the newly created Jack Cooper University. Working with leadership experts from across the country and using digital tools, Helton is designing courses with five-to-seven-minute videos that are followed by more in-depth group discussions.
"I try to make each video worth people's time to watch. I don't want them to watch it and forget it," says Helton, who pitches in with video editing and web design.
In the first 10-part leadership series, former board member, author and executive coach Kevin McHugh shares leadership tips. A second series launched in May features author and trainer Myra Golden. She'll discuss conflict resolution following an introduction by company Executive Vice President for Terminal Operations, John Bates.
While the Jack Cooper University leadership programs are prepared for about 400 nonunion supervisors and staff, Helton says other series target union employees with topics like terminal safety and truck loading. One such video from the safety series features a Jack Cooper Transport driver who survived a truck fire.
"There's an emotional piece when it hits home and people are able to retain it a little better," she says.
Keep on truckin'
The future of vehicle transport is also being dictated by the future of vehicle manufacturing. Ford and GM, two of Jack Cooper Transport's largest customers, have pledged to become carbon neutral and to invest in electric vehicles, and Helton says Jack Cooper is planning green initiatives. Those include a company goal for achieving carbon neutrality and the potential addition of green fuel and electric semi-trucks.
All has not rolled smoothly for Jack Cooper, though. In August 2019, the company filed for Chapter 11 bankruptcy in the U.S. Bankruptcy Court for the Northern District of Georgia. Chapter 11 filings help a company reorganize in the face of debts and stay in business.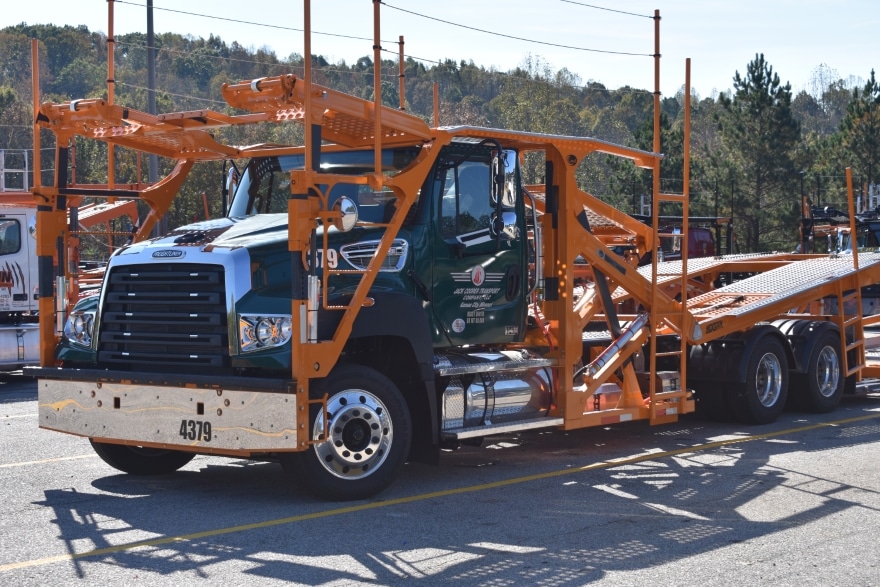 As Helton explains, no one expected the company would emerge three months later with such positive outcomes. The restructuring even pleasantly surprised the presiding judge, who left the bench to congratulate company leadership on their approach and consideration for all involved.
"If you can have a miracle bankruptcy, this was it," Helton recalls. She adds the success of the reorganization plan is due greatly to communication and willingness of all company members to sacrifice.
Those months improved internal communications at Jack Cooper permanently, Helton says. When the bankruptcy petition was filed, for instance, she and a colleague remained in the office until 11:30 p.m. to email everyone in the company about the situation and the plans to pull through it.
"I've described the process as kind of like walking across a very high and narrow bridge," Helton says. "There's one path forward that's scary, but if you stay on it, you're going to be in good shape."
Here to help
Born in St. Louis, Helton grew up in Joplin, Missouri, and says her interest in a law career stems from reading the autobiographical and inspirational works by Dave Pelzer. Her interest was piqued as Pelzer wrote of overcoming childhood abuse with help from a female attorney, Helton says.
After earning her bachelor's degree in interdisciplinary studies from St. Olaf College in Minnesota in 2003, Helton attended Washington University in St. Louis School of Law, getting her J.D. in 2006. She's also studied at Southeastern Baptist Theological Seminary.
After graduating from Washington University, Helton became a staff attorney with the Atlanta Legal Aid Society. In 2009, she joined Jack Cooper as associate general counsel and quickly began working on HR matters.
"I feel what I'm doing is meaningful. I'm keeping people employed and insured and making sure they are treated fairly in the workplace'" Helton says. "If there's something I can do with my resources and ability, I still want to fulfill my desire to do good."
View this feature in the Vanguard Summer III 2021 Edition here.
Showcase your feature on your website with a custom "As Featured in Vanguard" badge that links directly to your article!
Copy and paste this script into your page coding (ideally right before the closing