Kenneth M. Walker II – Shelby County Schools
Taking control and conquering the digital divide in Memphis
In 2020, the stage was set in the midst of a pandemic for Shelby County Schools to have its own version of "Mission: Impossible."
In administering one of the largest public school districts in the country—with 95,000 students—the Shelby County Board of Education had to find the same number of computer devices to enable remote learning. It was then left up to General Counsel and Chief Legal Officer Kenneth M. Walker II to procure equipment after Superintendent Dr. Joris M. Ray and the school's executive leadership team approved a digital device plan.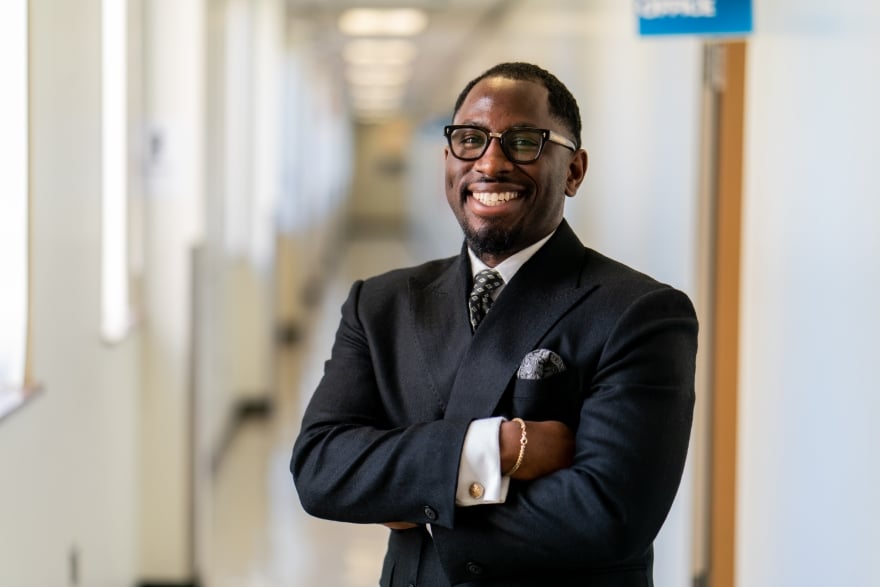 It was an assignment that Walker, with just a few months into the job, chose to accept—and one where the school district prevailed. Shortly after the start of the school year in September 2020, each student had a device, a feat he and others in the community called "monumental."
The achievement capped the successful negotiation of two contracts with Microsoft and Hewlett-Packard—to the tune of $44 million—to purchase or lease-to-own computer devices at cost. The move paid off for a school district that's still in "full crisis mode." It's still delivering virtual education to this day.
"We will survive this pandemic by continuing to build relationships in our community and with the state," Walker told Vanguard in February. "Relationships are critical to ensuring continuity and success for Shelby County Schools."
Tip of the iceberg
Walker became the lawyer for the SCS in January of 2020.
As COVID-19 spread, he was faced with the primary question of whether children should—or could—safely go to school. As the crisis unfolded, he was in charge of managing legal compliance with state and federal education laws; handling contracting with partners for providing internet access to conquer the digital divide in remote learning; and sourcing devices educators were all seeking.
"So many issues arose, all at once," recalls Walker. "We had to ensure equity and access for all student populations."
With passage of the CARES Act in March of 2020, Walker was tasked with reading, interpreting and applying the new federal legislation as it related to student programming. Education and funding, he says, are both heavily regulated.
At risk was a large population of economically disadvantaged students in Memphis. Many lacked computers at home and internet access as well. Immediately, the school department conducted a wireless survey. Two companies were hired to provide mobile hot spots to improve connectivity.
"We had to solve two issues at once—even before the homework was assigned," he says.
That meant teachers, too, had to adapt to a new online delivery of education. The school made training resources available by offering regular virtual meetings and professional development training sessions, to help educators learn how to use technology to deliver instruction.
For students with special needs, individualized education programs were adapted. An emphasis was made on increasing communication with parents remotely, to accommodate needs in a virtualized space.
"That was the one thing we discussed as education lawyers," says Walker. "None of the special education laws were written with a global pandemic in mind."
To address these and a multitude of other issues, Walker says SCS beefed up communication with parents, educators and community stakeholders, allowing them to share their opinions through virtual forums developed by the school district.
"We wanted to send the message to everyone that we are in this together," he says. "We learned quickly there are no easy answers. But we were committed to engaging in the discussions."
Home is where the heart is
Walker says he was driven to solve pandemic problems by his love of the community. Even so, he acknowledges there were 17-hour days that he shouldered alongside his legal team of three lawyers.
Calling himself a product of the Memphis schools, Walker earned his degree in political science in 2008 from the University of Memphis and his J.D. from The University of Memphis – Cecil C. Humphreys School of Law in 2013. Education law was his primary interest, and later became his specialty. Even now he's supporting a summer clerkship program with his alma mater in hopes of garnering more interest in education law.
After law school he was hired as an associate lawyer at Lewis, Thomason, King, Krieg & Waldrop P.C.  before joining Shelby County Schools in 2016 as an associate general counsel. From there it was a matter of moving up the ladder to deputy general counsel in 2019 and interim general counsel and chief legal officer in January 2020. He was promoted to his current post full-time in April 2020.
"I prefer to practice educational law in my district to help the community flourish. That all starts with delivering a top-tiered education where I grew up," he says.
In his work in the legal department at SCS, Walker handles litigation, compliance, risk management, legislative advocacy, policy development and manages legal resources. His goal was to support educators on the frontlines by doing whatever he could to support their efforts legally.
"There's plenty that goes on even when there's a pandemic underway," he says. "I think it's safe to say continuity of operations—and survival—are the targets."
That, he says, and supporting families and students.
"We all have a voice and it should be heard regarding all of the regulations that are being implemented at a state and local level," he says. "Each year when the legislature revisits education laws, I know my school district will be heard."
Walker credits his mother and father, Sharon and Kenneth, for instilling in him that never-ending love of education and a strong work ethic to get his points across.
"I found during these unprecedented times I was presented with questions that needed answers," Walker says. "It was up to me to figure these problems out; they don't go away just because you go to sleep. They'll be there to greet you in the morning. It's a fire that burning; we are just trying to keep the flames down as much as we can."
Showcase your feature on your website with a custom "As Featured in Vanguard" badge that links directly to your article!
Copy and paste this script into your page coding (ideally right before the closing