Lori Burrows – Arkansas Electric Cooperative Corporation
The power of giving back
As a young girl growing up in a working-class home outside of Little Rock, Arkansas, Lori Burrows' parents imbued her with a single, deeply-held belief: If you've been given much in life, you should give back even more.
The words clearly stuck. From spending more than two years in the Peace Corps to a post-college job overseeing drug-prevention training for a local nonprofit organization, a steadfast commitment to service has, in many ways, defined Burrows' professional path.
Well, that and a super-successful career.
"The more you serve others, the more you want to keep doing it," says Burrows, vice president and general counsel for the Arkansas Electric Cooperative Corporation (AECC). "I've been incredibly fortunate to work in a field where public service is part of the fabric."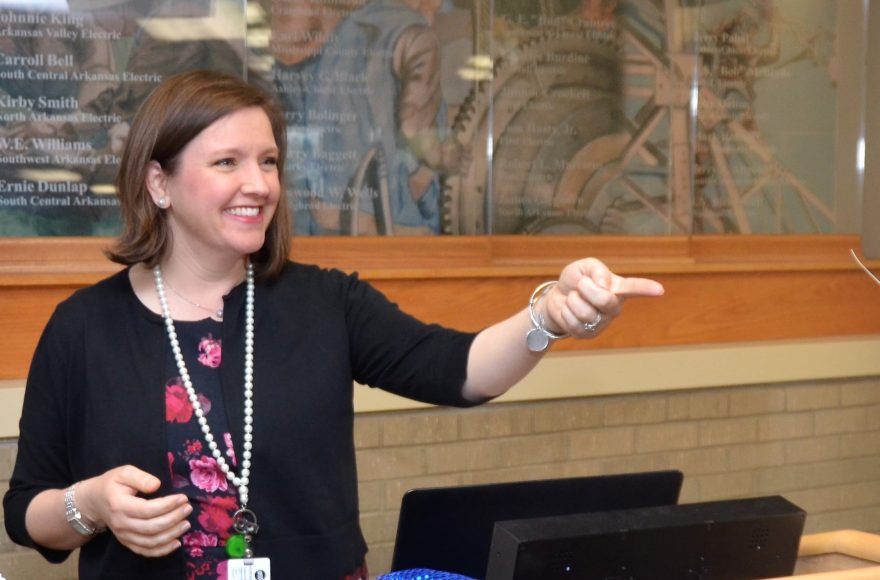 Since joining AECC as a senior staff attorney in 2012, Burrows' roles and responsibilities have broadened considerably—just like the organization itself.
Power to the people
AECC was formed in 1949 to provide electricity to the many Arkansas residents who didn't have it—as of 1940, that was 94 percent of the population.
A public utility as imagined by Franklin Roosevelt, who spearheaded the country's mass-electrification, today AECC represents more than 520,000 meters–approximately 1.3 million Arkansans–through 17 electric distribution cooperatives. Not surprisingly, the organization's large size and scope means having to address a swath of complex issues, according to Burrows.
"We're overseen by the state's public service commission, but also by environmental agencies relating to water, air and land use," Burrows explains. "If I had to put a number on it, I'd say the regulatory side takes up about 30 percent of my bandwidth."
Owing to a six-year stint at the Arkansas Public Service Commission (APSC), Burrows is well-versed in the language of utilities regulation. In the event that AECC has to raise rates, for example, the organization has to justify the increase in testimonial filings—writing that comes from Burrows' division. Similarly, should AECC need to build new electric lines, substations or other infrastructure, Burrows and her team of 25 weigh in.
While the Federal Energy Regulatory Commission doesn't have direct oversight over AECC, the legal department participates regularly in relevant federal dockets and other proceedings.
"We used to hand that off to outside counsel, but in recent years we've become pretty adept at navigating these national issues internally," Burrows explains.
Propelled by an increase in wind and solar energy projects, the organization's steady growth has given Burrows and her team plenty to keep them busy.
And yet, she still finds time for another challenge.
Paying it forward
In 2012, just prior to beginning her new job at AECC, Burrows and a colleague were having lunch at a Little Rock restaurant. The topic du jour: how to encourage more women to enter the industry.
The following year, Burrows co-founded Arkansas Women in Power (AWIP). Bringing together representatives from across the energy spectrum—from engineers to lawyers, statisticians to CEOs—the nonprofit provides everything from industry networking to professional development.
But while empowerment remains the guiding star, Burrows says the group has a practical purpose as well—and a pressing one at that.
"Just at AECC alone, almost 30 percent of our staff will be retirement-eligible within 10 years," Burrows says. "These are hugely important roles that need to be filled. And that's part of our organization's message: if you get in the industry early and learn the business, the opportunities are limitless."
Not long after launching AWIP, Burrows commissioned a 15 inch by 17 inch Arkansas-shaped placard, listing the names of the more than 150 charter members who joined the group in its inaugural year. To kick off the organization, AWIP honored two women industry trailblazers who she says inspired all of the women on the list. Today, the image hangs on Burrows' office wall—a steady reminder to always follower her vision and passion.
Putting others first
By the time she entered high school, volunteering was already part of Burrows' routine, including heavy involvement with Arkansans for Drug Free Youth (ADFY), the American Red Cross and multiple social and civic organizations. She even harbored designs on joining the Peace Corps.
In 1997, after graduating from the University of Central Arkansas with a degree in speech communication, and two years working full time for ADFY as its drug-prevention education program director, Burrows got that chance.
She spent more than two years as a nonprofit development volunteer in the Federated States of Micronesia, a chain of small islands in the north Pacific. Here, Burrows worked with a local nonprofit organization focused on career development skills for out-of-school youth, fully half of the island's under-18 population. In addition, she tutored English as a second language and mentored a group of 15 young women for the entire time she served.
"Up to that point, it was my plan to never live in Arkansas full time again," Burrows recalls. "But as amazing as the experience abroad was, I started missing home and my family. A lot."
When her Peace Corps term concluded in mid-2001, Burrows was ready for the next big challenge. During her three years at the UA Little Rock Bowen School of Law, Burrows honed her discursive chops, serving as the Moot Court Board Chairperson and winning best brief at a national mock-trial competition. She also earned a Dean's Distinguished Certificate of Service for more than 300 hours of community service during law school.
After earning her J.D in 2004, with honors, Burrows was hired by the Arkansas attorney general's office, where she litigated and tried cases in the utilities and environmental protection sectors. Her public service career continued with a six-year stint at APSC, a career highlight being a case in support of a $2 billion, 600-megawatt project in Hempstead County in south Arkansas.
Rewarding as the work was, the opportunity to have a single client with a focused role was one Burrows couldn't pass up. Since coming aboard in 2012, Burrows says her work has required her to be "three miles wide and an inch deep" on myriad issues confronting AECC.
Dream job in hand, and with her husband and two young daughters at her side, Burrows says she's never felt more at home.
"We have the unique privilege of being able to focus on what's best for the people of Arkansas in the long term," Burrows says. "When you're helping provide an essential service, you feel a lot of responsibility for the work you do and I'm grateful for that honor every single day."
Showcase your feature on your website with a custom "As Featured in Vanguard" badge that links directly to your article!
Copy and paste this script into your page coding (ideally right before the closing