Marchelle E. Moore – Encova Insurance
Seizing opportunities, tapping into talents
Marchelle E. Moore remembers the day in 2005 when she met Bill Lhota at the Central Ohio Transit Authority. As she recalls, employees were in awe of him given his career as a CEO in public transportation and his work with American Electric Power for more than three decades.
But for Moore, as COTA's senior legal counsel, she recognized that by working with Lhota, no matter how intimidating, there was an opportunity to learn from a seasoned executive. Curious how he achieved success, she summoned her courage, struck a conversation, and asked him if he'd mentor her. He said yes.
Moore admits she often thought her sponsor would look just like her—she was Black and beginning her career, while Lhota was white and heading toward a second retirement. Yet she found they shared values like honesty, respect and a "desire for excellence."
Moore quickly advanced under Lhota's tutelage. In 10 years at COTA, she progressed from senior legal counsel to interim vice president of human resources, to vice president of legal and government affairs and general counsel. In 2015, she became the first woman of color to serve as senior vice president at Encova Insurance, a company that has been around for nearly a century.
"He was larger than life," says Moore, who noted the man who influenced her life sadly passed away Aug. 10, 2017. "I knew my access to his knowledge was fleeting, as he initially planned to lead COTA for just one year—and loved his job so much he stayed for eight. I wanted to learn as much from him as possible. His legacy continues to inspire me to this day."
Making progress
Moore's current role as Encova's chief legal officer and corporate secretary is a far cry from where she started in life. Knowing she wanted to be an attorney from an early age, Moore landed a scholarship at the Columbus School for Girls. Her single mother, Gloria, worked overtime to put her daughter through college.
"My mother always believed in me. Watching her work so hard to provide for my college education motivated me to pursue excellence and give my best efforts toward my collegiate studies," says Moore.
After graduating from Ohio State University with a degree in English in 1995, Moore earned her J.D. in 1998 at the school's Moritz College of Law. Over the next seven years and until she arrived at COTA, she made sought to "trade up" with every position she took: beginning as OSU's law school admission officer; then as an assistant city attorney in Columbus before being hired as a staff attorney at Franklin County Court of Common Pleas under Judge Guy L. Reece II in 2003.
After two years, however, she was ready to combine the litigation skills she obtained as a prosecutor with the research and writing skills she obtained as a staff attorney. As more explains, "I was hardwired to keep climbing."
Switching gears
In 2005, Moore joined COTA as its senior legal counsel. Her days were filled with research and analysis of public transportation issues as she handled everything from unemployment compensation to internal investigations and learning from Lhota.
"I loved my time at COTA. I worked with outstanding people, helped to deliver a critical service and had tremendous opportunities for personal and professional growth," she says.
While Lhota was dealing with issues such as reduced ridership, financial issues and an ethics scandal at COTA, he offered support of Moore's aspirations and became her sponsor. With his support she was eventually promoted to vice president of legal and government affairs and general counsel.
"For me, as is the case with many lawyers, becoming general counsel is the brass ring so I was exceedingly grateful and honored for the opportunity to serve in this role," says Moore.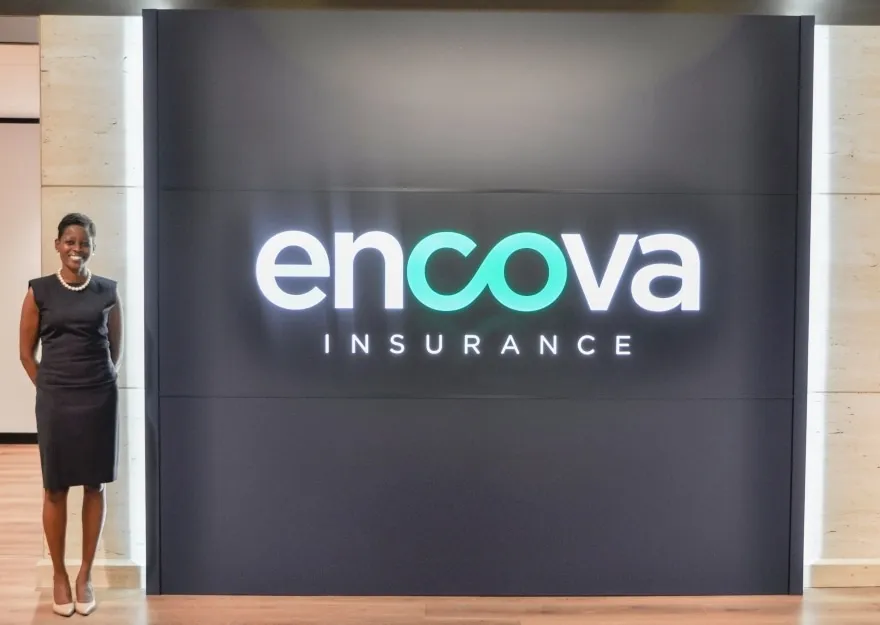 For Moore, the next two years were a whirlwind—both in what she learned and how she grew.
At Lhota's 's suggestion, Moore added new experiences and responsibilities—such as joining the Ohio State University Alumni Association Board where she served as chair. He also introduced her to business circles to discuss topics ranging from leadership to strategy. Moore's confidence grew.
The evolving nature of her work and interaction in the business community caught the attention of a headhunter, ultimately leading her to Encova, where she became the first Black woman to serve as a senior executive.
In 2017, she worked on a merger between Motorists Insurance Group and BrickStreet Mutual Insurance and two years later worked to rebrand the combined company to Encova Insurance. Moore also created a mutual holding company in January to streamline Encova's organizational structure.
As she reflects on her life and career—the hope and hurdles, the obstacles and opportunities—Moore hopes that her own experience can serve as an inspiration to others. Even now, she says, she has plenty of work left to do.
"I want to leave this earth empty," says Moore. "I plan to exhaust every gift God has given me and seize every opportunity to do well for myself, my family and my community."
Showcase your feature on your website with a custom "As Featured in Vanguard" badge that links directly to your article!
Copy and paste this script into your page coding (ideally right before the closing