Michael Goldstein – ADMA Biologics
Legal gatekeeper for a biopharma's growth
At last for Michael Goldstein, a chance to see the inner business workings following his years of externally counseling ADMA Biologics, a producer of FDA-approved products for immunodeficient patients. Goldstein had overseen many of ADMA's legal matters as a corporate and finance attorney at DLA Piper's Short Hills, New Jersey office which was just down the road from ADMA's headquarters in Ramsey, New Jersey.
This past spring he became ADMA's senior director, general counsel following an unlikely twist of events. He is now part of an organization in an exciting time of growth as ADMA ramps up production of three FDA-approved products and expands its capabilities for collecting the plasma necessary for manufacturing such products.
"It was eye-opening as an attorney to see the insides of the business and how advocating for the company can impact employees, stockholders and, ultimately, the patients," Goldstein tells Vanguard in December from Boca Raton. "I never realized the impact an attorney could make on a pharmaceutical business could be so rewarding and meaningful."
A most general counsel
Through his legal counsel and negotiation strategy, Goldstein is involved in all segments of ADMA. He sees himself as a gatekeeper of sorts, one who examines the fine print in contracts that include non-disclosure agreements, commercial agreements and real estate leases.
This being a publicly traded company, he's got Securities and Exchange Commission filings and press releases to review as well as corporate governance documents, policies and procedures. He also oversees human resources, sparing executive management of less critical day-to-day operations and, as a key member of the company's promotional review committee, even signs off on promotional materials and presentations.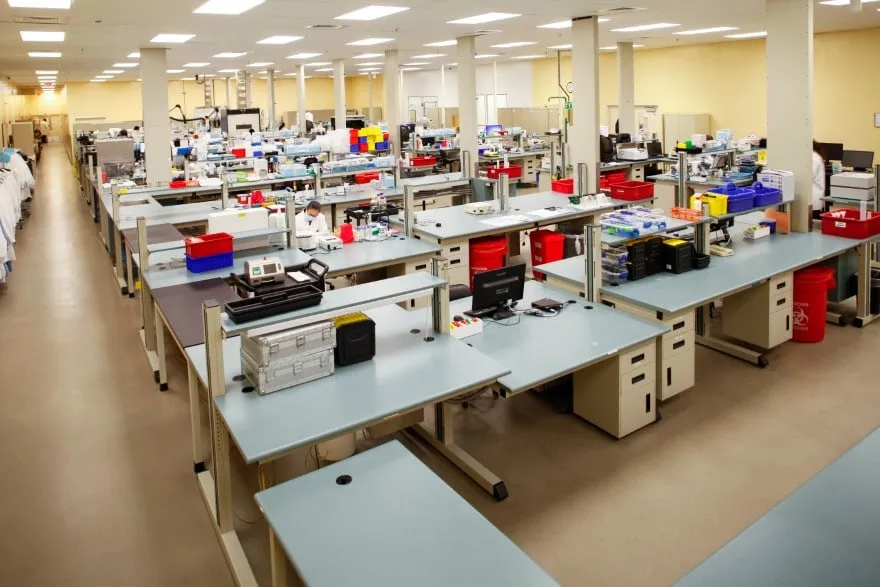 "That's an example of something that might not jump out as a core legal function in nature," he says. "But I enjoy contributing and playing an integral part in activities from start to finish."
It's also a satisfying feeling, Goldstein says, being in an environment where his efforts may figure in improving or even saving someone's life. While he describes ADMA as a small fish in a big biopharma pond, the company is in growth mode with its 500-strong workforce and its commercial products on the market.
There's ASCENIV™, made from ADMA's patented technology. A novel plasma-derived 10 percent immune globulin liquid, it's used for intravenous treatment of primary immunodeficient [PI] disorders that render patients vulnerable to serious, even life-threatening infections. ADMA's other offerings are BIVIGAM® and Nabi-HB®. BIVIGAM® also is used for the treatment of PI while Nabi-HB® provides protection to patients who may have been exposed to hepatitis B.
Plasma being the essential ingredient for ADMA's products, Goldstein says the company is on its way to becoming a self-sufficient collector. He has led the drafting and negotiating of real estate leases for the company's numerous plasma donor centers, all of which require FDA approval. There's also incentive to donate, he explaining how a healthy donor can earn several thousand dollars or more annually.
All for one
Just 33, Goldstein is among the younger general counsels. While he benefitted from his years in private practice at DLA Piper and a preceding stint at Sills Cummis & Gross in Newark, New Jersey, he doesn't miss the pressure of having to rack up billable hours. He had accumulated 2,500 during his last full year at the firm and while Goldstein says the ADMA workload is similar in many respects, it's still a relief to focus on just one client.
"External counsels are masters of juggling numerous corporate clients," he says. "But it is much more efficient and effective to serve one company full-time."
Goldstein also is serving a company that had its eyes on him when he was still at DLA Piper. Amusingly enough, Goldstein says he didn't even know he was essentially auditioning for an in-house role while being external counsel. Then in a series of unlikely moves, ADMA bought the facility of its Boca Raton-based contract manufacturer in June 2017. Last summer Goldstein and his family relocated to Boca Raton for reasons unrelated to ADMA, and months later he learned the general counsel's position had opened and was encouraged to apply.
A perfect storm in the best of ways? It now looks that way.
"Moving in-house was always appealing to me, the best of both worlds," the 2013 George Washington University Law School graduate says. "At first, I didn't know this was something I could handle—the job description was quite different from what I was doing at DLA Piper. But I've had an amazing support network with the company's senior management and operational leadership team."
They all worked well together when Goldstein was at DLA Piper and he says they've picked up where they had left off. A finance and marketing undergrad at the University of Maryland, he relishes being a bigger part of the business discussions at ADMA in addition to weighing in on all subjects touching legal.
The Palm Beach County lifestyle and climate also proves most agreeable to Goldstein and kin, although this time of the year his heart is several states north at times. Born in North Bethesda, Maryland, he remains a hard-shelled Terrapin, especially during basketball season, and is an avid fan of all Washington D.C. sports teams.
But as satisfying as his alma mater going to the Final Four or one of his D.C. teams winning a championship might be, Goldstein gets daily reminders to keep sports in perspective.
"As a father of three kids, this really hits close to home," he says about ADMA's therapies of providing life-saving medicines to those in need.
View this feature in the Vanguard Spring I 2022 Edition here.
Showcase your feature on your website with a custom "As Featured in Vanguard" badge that links directly to your article!
Copy and paste this script into your page coding (ideally right before the closing