Rudy Reyes – Verizon
Breaking business, governmental and societal taboos
When Rudy Reyes was 16, he received a full scholarship to leave his home in Houston, Texas, to attend Boston's highly selective Milton Academy boarding school. Although he was initially reluctant to attend, his parents knew it was an opportunity for a young Hispanic student in the 1980s, and they encouraged him to accept the offer.
"It opened doors I didn't even know existed for me to attend a very prestigious undergrad and law school," Reyes says.
Reyes worked hard to escape the cloud of "impostor syndrome," graduating cum laude from Milton Academy, receiving his BA magna cum laude from Harvard then his Juris Doctor degree cum laude from Harvard Law. Legal degree in hand, he faced a dilemma: He wanted to give back to underrepresented communities but felt his only options were working at a firm or clerking for a judge—basically litigation or transactional law.
Then Reyes discovered public policy, where he could use legal acumen and persuasive argument to help build bridges between companies and communities—and joined Verizon.
"I was determined to provide others the opportunities that I had been lucky enough to receive, so I began working with executives to actively promote diversity and change how we worked with communities and change the defensive relationship we had with regulatory authorities," Reyes says.
Truths and taboos
Reyes quickly discovered that, while everyone seems to want diversity, inclusion and equality in the workplace, many are reluctant to have a conversation about it.
"We had the title equal opportunity employer in our job posts, and we followed that. Yet, talking about race, gender and sexual orientation were taboo," Reyes recalls. "I sat down with different departments, including executives, and said, 'It's OK for us to talk about this.'"
And Reyes didn't just talk. As Verizon's west region vice president and associate general counsel in charge of public and regulatory policy and local engagement, he expanded the legal and public policy department in eight states in the Western US. When he listed a job opening, he used a motto he created: "Diversity and Excellence."
Within two years, Reyes grew the department from about five employees to over 20. His focus on diversity was not limited to race, ethnicity, gender, spoken languages, sexual orientation or even economic background; he also looked at diversity of education and experience. His team now includes an engineer and marketing salesperson, among other diverse hires.
"I've heard so many people lament that there's no 'pipeline' from which to hire people from diverse communities. I wanted to show everyone that there's so much talent out there if you just actively seek it out," Reyes says. "I hope the team I built stands as a model for what can be accomplished."
Collaboration for education  
Reyes says he is also determined to change the educational opportunities afforded to marginalized communities. His current focus is on California—where he works and resides. He wants to find ways for Verizon's 5G and broadband to reach young students who so desperately need it.
"To accomplish this, we cannot work in silos with local, city leadership fighting for maximum funding, the state government and legislature fighting over local control, while internet service companies focus solely on their own revenues and profits," says Reyes.
He cites a picture that went viral across social media in August 2020, showing two young East Salinas students sitting on the ground in a Taco Bell parking lot to use the Wi-Fi to attend their Zoom classes.
"COVID-19 and that picture threw the long prevalent digital divide across not just California but the U.S. into sharp relief," Reyes says.
After speaking with Verizon executives and receiving the go-ahead from upper management, Reyes started speaking with the California policymakers, as well as local community leaders and authorities, to convince them that installing broadband and 5G across the state was a bipartisan issue—a chance to eradicate the digital divide through a combination of investments and local reform.
Reyes' efforts are already leading to what he calls "shovels in the ground." In October 2021, Governor Newsom signed legislation by Assembly member Bill Quirk to ensure local governments approve wireless 5G infrastructure projects in a timely manner so that everyone, from consumers to small businesses to students, receives reliable and affordable access to high-speed internet.
Reyes is particularly excited about what occurred in July of the same year: California passed a $6 billion dollar investment in what's called last mile- and middle-mile wireless and fiber optic infrastructure. As the names suggest, this will allow Verizon and other providers to connect hard-to-reach rural, tribal and exurban communities to reliable broadband service.
"Cutting through red tape is never an easy task, but it helped when I could remind those holding leadership positions within state and local communities and governments that 5G and high-speed internet should not be a luxury," Reyes says.
Building for future generations
Reyes has also been on the board of the Silicon Valley Leadership Group and the California Chamber of Commerce since 2019. In both roles, he advocates for individuals, businesses and stakeholders to make sure California remains competitive and innovative; this includes everything from climate, education and housing reform to building better infrastructure for transportation and internet deployment.
Reyes wants every child, business and individual to have the opportunity to succeed—without having to depend on a life-changing scholarship letter. Although this has been his focus since graduating law school, it's been an even larger part of his life since he and his husband adopted from birth their 10 -year-old son.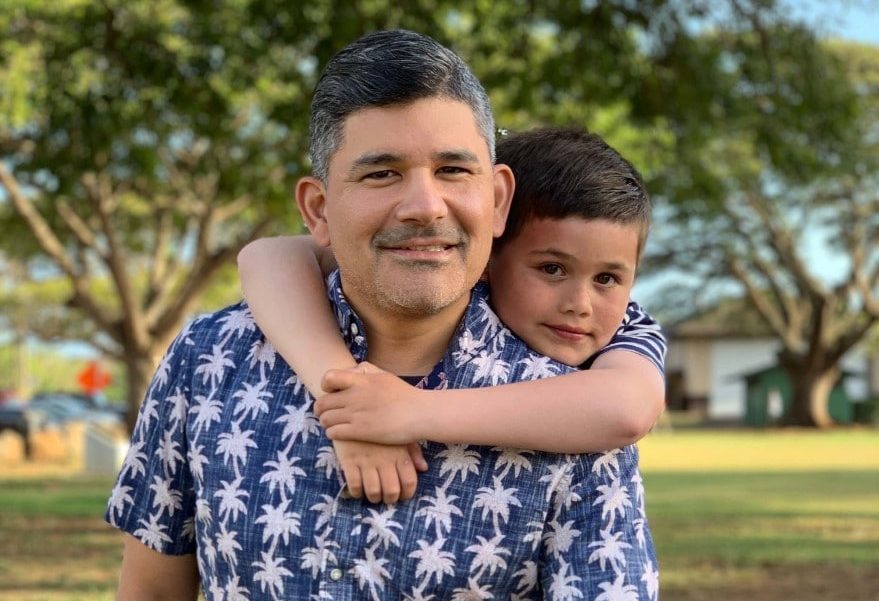 They've been open with their son about his adoption story from the beginning. They've also worked hard to build a loving relationship with his birth mom and have helped others confused by the adoption process, Reyes says.
"All these unnecessary taboos we have in the business world and our personal lives, they overcomplicate what should be straightforward matters," he says. "Whether it's adoption or DE&I or working with the government, I always want to help demystify processes and make it easier for others to gain knowledge that can help them better their lives and the lives of their families and loved ones."
Showcase your feature on your website with a custom "As Featured in Vanguard" badge that links directly to your article!
Copy and paste this script into your page coding (ideally right before the closing