Sbarro
To claim a piece of pizza prosperity
The owner of a casual, family-style Italian restaurant in North Canton, Ohio, Mark Inzetta knows the recipe for success in the risky endeavor of serving food to customers and hoping they'll make a habit out of coming back often.
His restaurant—Mama Guzzardi's—is noted for its mouth-watering lasagna, but that alone won't keep the place viable. The restaurant is largely dependent on factors over which Inzetta can't have complete control. Factors which he has to multiply a thousandfold when counseling the Sbarro chain, for which he is general counsel and secretary.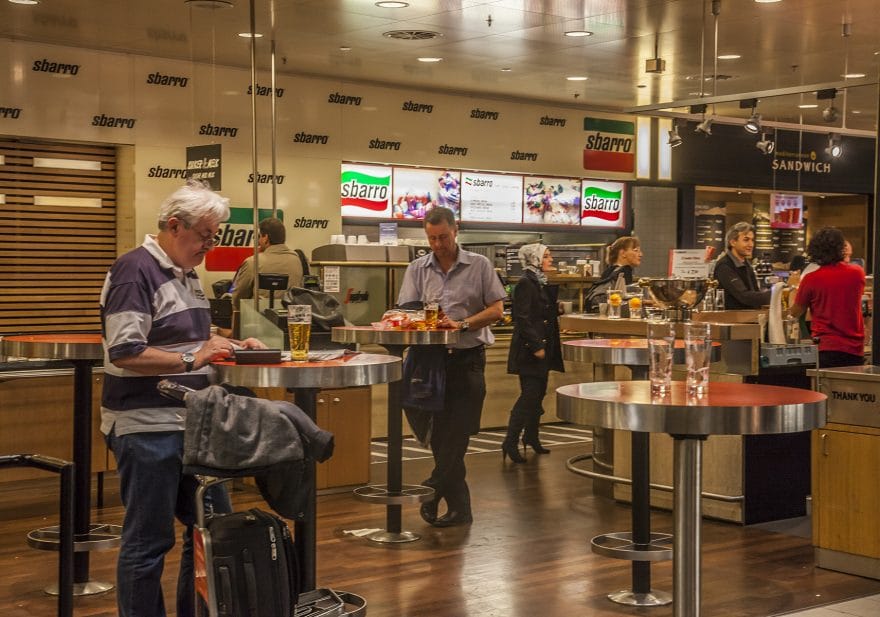 "It's one thing to own one restaurant and be there every day, keeping your labor and supply costs under control while trying to expand," Inzetta says. "Now translate that into thousands."
One doesn't really have to do much math to get a sense of what confronts Inzetta in his role with a chain whose business model is largely based on sales of single slices of pizza. New York-style pizza, that is—the choice of many, with its crisp, thin crusts that can be embellished with any variety of toppings, folded in half and eaten like a calzone.
Ideal for lunch or a snack, those slices still weren't enough to keep Sbarro out of bankruptcy court twice, prior to Inzetta's arrival in late 2014. Now with him aboard and under the capable leadership of CEO David Karam—his old colleague from their prior positions at Wendy's—Sbarro just may be on the road to pizza prosperity.
A worldly view
"Pizza is the universal food," says Inzetta, who has an admirable knack for making his point in a manner that non-lawyers can understand. "There's a demand for it that we didn't create—no one creates such a demand—but we are meeting it and expanding. But the toughest thing to do as you expand is to keep the metrics in place."
Sbarro was expanding prior to his arrival, Inzetta reminds, with its stands ubiquitous in malls, campuses, casinos, airports and military bases all over North America and in dozens of other countries. But that expansion was accompanied by growth pains.
Growth outpaced capability, the brand name lacked the recognition of other fast-food heavyweights, and the overall operation called for the kind of overhaul that maybe only outsiders could bring.
Outsiders like Karam and Inzetta. Both had spent decades at Wendy's; Karam a Harvard business school grad who owned a family business of about 150 of the iconic burger stands prior to becoming president of Wendy's International Inc. in 2008. Inzetta had been a Wendy's senior vice president as well as associate general counsel and chief corporate compliance officer since 1984.
The pair had worked well together at the chain's Dublin, Ohio, headquarters during Karam's three years at the top, a time frame that saw Wendy's overtaking Burger King to become second only to McDonald's in the hamburger hierarchy.
Karam actually launched an unsuccessful bid to buy Wendy's with the help of a private equity firm called Stone Tower Capital LLC. When another firm, Apollo Global Management LLC, acquired Stone Tower, the merged entity bought Sbarro out of bankruptcy court in 2011 and reached out for strong leadership.
By the time all of these musical chairs sorted out in 2013, that leadership went to Karam, who starkly realized the extent to which the chain had been leveraged. Remembering how Inzetta's legal and business smarts figured in Wendy's thriving operation, Karam brought him in to aid the restructuring.
Some retrenchment was in order. Sbarro's broad menu was tightened around the pizza that should have been so central to corporate identity and consumer appreciation. The logo that long positioned the company's name in the middle of Italy's red-white-green flag was redone to show "Sbarro" on a tri-color pizza slice that also noted its New York 1956 founding. Around 170 restaurants were closed and much of the debt consolidated and made more manageable. A rebuilt  website made the offerings readable across all devices. Company headquarters was moved from New York City to Columbus, Ohio.
Wendy's wisdom applied
You can take the executive out of Wendy's, but you can't take Wendy's out of the executive—so noted one restaurant industry observer when the restructuring had commenced, paraphrasing an old slogan for Salem cigarettes.
Karam and Inzetta aren't copying Wendy's modus operandi as much as they are applying some of its successful principles to Sbarro.
Wendy's distinguished itself in what can be a cut-throat fast-food world with square burgers, sea-salt fries and the chocolate Frosty, all of which were departures from the offerings of competitors. Upon strengthening its position, Wendy's added to its menu while never de-emphasizing the old reliables. So entrenched in American culture is Wendy's that it got an unexpected boost during the 1984 presidential campaign when Walter Mondale famously asked another Democrat, "Where's the beef?"
"The beef" is to Wendy what sliced New York pizza is to Sbarro. It'll remain the Sbarro staple, although a couple of Roman varieties are also offered, along with strombolis, which are something of a pizza derivative. The menu includes ziti and spaghetti, perhaps because no Italian eatery would be complete without them.
Sbarro also has launched—cautiously—a fast-casual concept restaurant, Cucinova, in the Midwest, featuring artisan Neapolitan-style pizzas made to order and baked in wood-fired, stone ovens in three minutes or less.
"We've put business and legal templates together that make it easy to do sound business in a timely manner," says Inzetta, a 1980 University of Akron law grad who's happy his Sbarro role keeps him in the Buckeye State. "We've experienced tremendous growth during the past two years, in the U.S., Canada and internationally."
As a lively phone interview winds down, Inzetta is put on the spot: So if one is in Ohio and longing for good Italian fare, should the choice be Sbarro or Mama Guzzardi's?
"Well, they're not competitive businesses," he says. "Mama's is a casual, family-style place where we serve meals for under $10. Sbarro's is a different animal. Depends on what you want: lasagna or pizza. But you won't go wrong at either place."
Again, advice that a non-lawyer can easily fathom.
Showcase your feature on your website with a custom "As Featured in Vanguard" badge that links directly to your article!
Copy and paste this script into your page coding (ideally right before the closing