Steve Nielsen – Landus Cooperative
Landus legal leader prefers cooperative approach to growth
Why is that scarecrow taking pictures of the soybean crop? Well, maybe it's not a scarecrow. But why's that robot taking pictures of the soybean crop?
Provided by Google as part of its presence at the Landus Cooperative Innovation Center, the robot, nicknamed "GROWver" is just one of the technologies Steve Nielsen's team is showcasing as part of its exploration into the future of farming. As it plods through the neat rows, it's taking pictures of every plant and creating a terabyte of data on crop and soil conditions.
GROWver's home is the new Landus Innovation Center in Ralston, Iowa, developed so the co-op and its 7,000 farmer-owners can embrace changes needed to sustain farming.
"I would say innovation is paramount for Landus," Nielsen says. "We really believe that those who innovate are going to be out front and leaders in the future."
Growing together
According to its website, Landus Cooperative dates to 1888 with the formation of Farmers Elevator and Livestock Company in Jordan, Iowa. Landus was formed in 2016 and has 600 full-time employees working in more than 60 communities.
Working with growers of soybeans and corn, Landus offers seeds, fertilizers, fungicides and financing. It also buys and stores the crops, shipping the grain and feed throughout the U.S. It has storage facilities on all seven of the railroads passing through Iowa, Nielsen says.
It's likely farmers first formed cooperatives in Connecticut and New Jersey in 1810, according to the National Farmers Union. The passage of the Capper–Volstead Act in 1922 enabled co-ops to flourish by protecting them from antitrust violations.
However, as Nielsen notes, the industry is consolidating. Thirty years ago, for instance, a 1,000-acre farm was considered large. Now a large one is 10,000 acres. As reported by farm-equipment.com, of the seven farming equipment companies in business in 1930, John Deere is the only one that hasn't merged with a competitor.
Co-ops are consolidating, too. Nielsen estimates the number has decreased in Iowa from 210 in 1986 to 44 at present. The consolidations could be difficult, Nielsen adds, as neighboring co-ops banded together, one might be left much weaker than another and closures could follow.
"Closures make no one happy, especially if you're the local farmer," Nielsen adds.
Innovate and optimize
Along with its Innovation Center, Landus this year launched an "optimization" program designed to help co-ops band together before consolidation to keep them sustainable.
The optimization isn't limited to Iowa co-ops. In April, Nielsen helped structure the agreement bringing NuWay-K&H Cooperative from southern Minnesota into the model in June. NuWay-K&H will give Landus members a new resource for fuel, among other agronomy services, Nielsen says.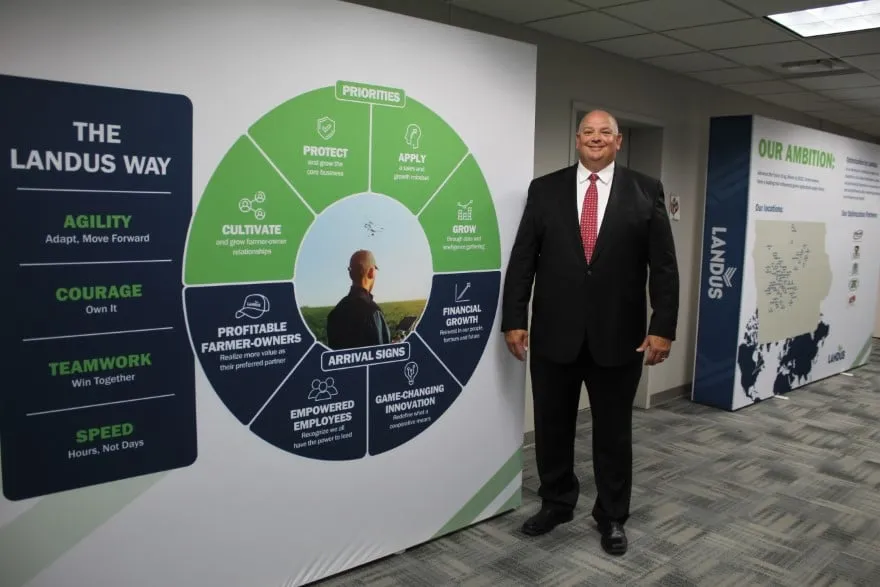 Expansion to other states could likewise provide new grain sources to counterbalance local conditions that may impair growth. As Nielsen points out, 2020 wasn't kind to Iowa farmers, with a derecho windstorm, a drought and COVID-19 pandemic all affecting the growth and harvest.
"If it doesn't work out, the cooperatives can remain strong on their own instead of having beaten each other up," he says.
By early July, the optimization model had attracted five companies or co-ops. Nielsen says though he worked with the Landus business team on the optimization contract template, it's largely their work that draws new partners.
"If the cultures are close, then it's probably worth pursuing," Nielsen says. "But other metrics can come into play, such as how we can help each other."
And there's GROWver, part of the Innovation Center launch in July to give growers access to emerging technologies. "We need to get innovation to the farm and get the farmer at the center of that innovation," Landus President and CEO Matt Carstens said at its opening.
Cultivating a career
After serving in the U.S. Marine Corps, Nielsen came back to Iowa and earned a bachelor's in political science from the University of Iowa in 1988.
In 1991, Nielsen earned his J.D. from Western Michigan University Thomas M. Cooley Law School. For almost 20 years, he was in private practice at several firms in the Des Moines area, then came in-house as general counsel for United Suppliers Inc. in 2010. In January 2018, he became director of risk management services at Nationwide Agribusiness Insurance Co.
In April 2020, Nielsen joined Landus as its general counsel, and was promoted to executive vice president in October 2020.
"For me it was like coming home," Nielsen says. "I was coming back into the true cooperative general counsel role, which is similar to representing clients in private practice. I get up every day and figure out how to help our farmer-owners today."
View this feature in the Vanguard Fall III 2021 Edition here.
Showcase your feature on your website with a custom "As Featured in Vanguard" badge that links directly to your article!
Copy and paste this script into your page coding (ideally right before the closing