Ty Lufman – Smashburger
Success is oh, so delicious
Ty Lufman is not afraid to roll up his shirtsleeves and bus a table as a corporate attorney for Smashburger. For a former semi-professional baseball player wannabe (who continues to play to this day), pitching in and being a team player seems to be part of his DNA.
Admittedly, it's been a bit of a wild ride for the former Quiznos executive, who left the franchised fast-food sub sandwich business with several coworkers following the company's emergence from its bankruptcy filing. He's now appreciating the smooth transition into calmer waters as senior vice president and general counsel at Denver-based Smashburger, a fast-casual hamburger restaurant with corporate and franchise-owned restaurants in 37 states and nine countries.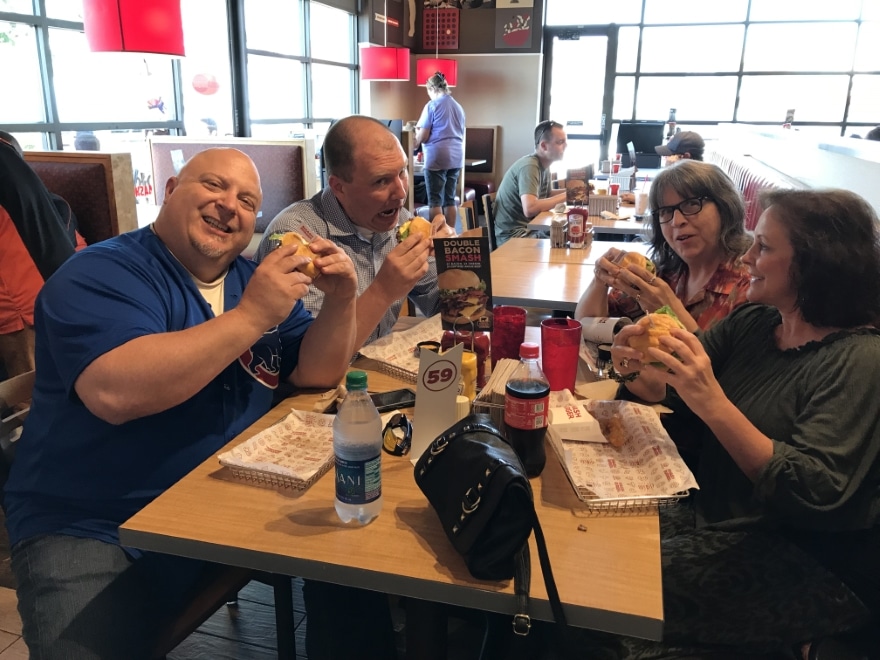 With the company recently purchased by multi-billion dollar Philippines-based Jollibee Foods Corporation (JFC), Lufman has added a new title—head of legal for country business group North America, long enough to warrant a brand new, two-foot-long nameplate—along with a slew of added responsibilities.
Now, with Smashburger poised for domestic growth, Lufman says a primary responsibility is to rebrand its restaurants in top-flight locations across the country, including airports and other non-traditional places, and now in ballparks for the first time.
"Smashburger for a time had lost its way and stopped adding company-owned units, but Jollibee is willing to invest in the company. We all knew there was a better story to tell and we worked hard and have a great team to help tell that tale," Lufman says.
Ramping up slowly
Lufman explained that back in 2015 Jollibee became a 40 percent owner/partner in Smashburger, with the rights to purchase more of the business when the time was right. When he started at the company in 2017, the existing majority owners were ready to move along. Lufman—whose specialty is legal work in real estate and franchising—was ready to step in, handling most of the transactions leading up to the acquisition and through the closing. It was a new chapter for both Smashburger and Lufman, who joined many of his former Quiznos coworkers at the new company.
One of the challenging aspects of Lufman's job was helping the corporate team evaluate the performance of company locations; a total of 30 under-producing, or tired properties, were closed. In the process, four restaurants were sold to a franchisee in Canada, and 16 properties were acquired from franchisees in the tier one markets of New York, New Jersey, Boston and Houston.
"It's always a difficult process, but in some cases, it just has to be done," he says.
In a carefully constructed process, 100 new stores should be opening in the next five years in the United States, and perhaps other international locations if the circumstances are right. Lufman is particularly excited about new store openings at the Minneapolis and Denver Airports, and says management intends to celebrate these new shops with a more robust buzz around the grand openings for franchised and company-owned restaurants. Yet, Lufman and his support center colleagues still spend time working at the local restaurants in Denver every quarter.
"The important thing is to come out each day with a positive can-do attitude and to keep a good solid perspective and roll with the punches," Lufman says.
Take me out to the ballgame
After months of transition and readjustments, Smashburger was ready to play ball and taste the fruits of its labors. One of the greatest joys for Lufman, as a former ballplayer, was to bring the joy of the flavorful burgers to Denver's Coors Field to watch a Colorado Rockies game with friends. That dream became a reality when he collaborated with a close friend, Brian Gaffney, who is the general counsel for the Rockies, and loved the game as much as Lufman. Joining forces with the Rockies and food service provider Aramark, baseball, burgers and brews have become a big hit for Smashburger.
The potential for business was big, Lufman says, with more than 3 million baseball fans (and potential customers) filtering through the park in a season, as well as flocks of concertgoers. Through the five-year agreement, Smashburger will have the rights to sell its specialty burgers, served up against a backdrop of promotional Smashburger signage prominently displayed in the park.
Lufman says he hopes to promote the business model at Wrigley Field in Chicago, not far from where he grew up, as well as at Fenway Park in Boston.
"I love it. It's something tangible where I can say, 'Hey, look! I did that!'" he says. "Sometimes the best opportunities come through word-of-mouth, through the people you know and have long-standing relationships, and it's great when you can help each other out."
Rebranding initiatives, a fresh look
Along with the movement to promote Smashburger at venues, Lufman says with the corporate investment Jollibee brings to the table, Smashburger is looking to make a splash at high-profile sites throughout California, New York, Boston and Chicago, as well as airports and casinos, to add to its image of being a high-end, high-quality burger chain.
There will also be a conscientious effort to simplify the menu to build on the Jollibee brand mantra focused on the "Joy of Eating." Beef is big, he says, with the commitment on the founder's specs of Certified Angus Beef; they may also simplify the menu by doing away with turkey burgers and other slow sellers.
"We want to serve something that screams better quality," he says. "We will also have a laser focus on customer service, store cleanliness and efficiencies in food prep times."
And what, by the way, is a Smashburger?
The best restaurants, Lufman says, build a positive reputation starting with a commitment to make a great product from the best ingredients available. Initially, the famous "Smashburger" was developed by Tom Ryan, who Lufman fondly referred to as a "foodie mad scientist with a PhD in Foodology." It was Ryan, he says, who took a ball of the freshest seasoned Certified Angus Beef and smashed the meat (with an item now known as a "Smash Daddy") and seared and sizzled it in a special way on a grill to seal in the mouthwatering flavor.
"It's one-of-a-kind and delicious," he says. "I've learned over time to never give up when you do something you believe in. The team is solid, the food is great and we can now grow again. Life is good!"
As for the challenge of integrating Smashburger into the JFC fold? Lufman insists there are plenty of challenges—and luckily, laughs in equal measure.
"It's an ever-changing adventure, but an extremely rewarding one, knowing we're having an impact on the overall success of JFC in North America," Lufman says. "There's no shortage of big projects to tackle, but I say keep 'em coming."
Showcase your feature on your website with a custom "As Featured in Vanguard" badge that links directly to your article!
Copy and paste this script into your page coding (ideally right before the closing