Victoria Beckman — Frost Brown Todd LLC
Cybersecurity, Colombian-style
There are many areas in Victoria Beckman's life where she's broken the mold of expectation, like becoming a champion roller figure skater in her native Colombia. And becoming one of the first women from her country's coffee belt to become a cybersecurity legal expert in the United States.
Now working in Ohio, Beckman's a co-chair of the privacy and data security practice group—as well as chairwoman of the first Latin American desk—at the Kentucky-based legal firm of Frost Brown Todd LLC (FBT). There, she's putting her efforts into solving the complexities in the evolving world of data security and privacy legislation throughout the U.S. and Latin America.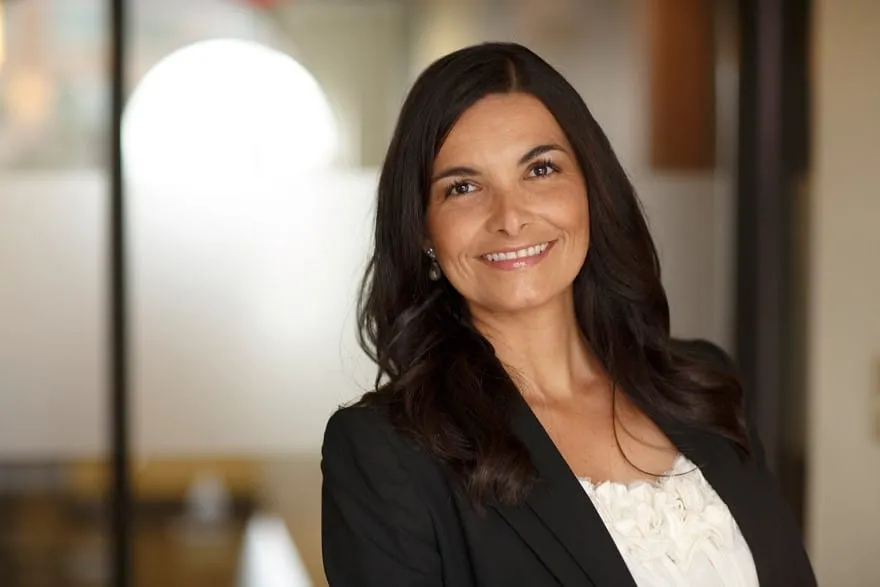 Dividing her time between work in the states and abroad, domestically she's guiding clients through compliance of evolving privacy laws such as the California Consumer Privacy Act. Internationally, she's serving as a liaison and legal adviser between a growing number of Latin American clients and their stateside counterparts.
"Privacy laws change almost daily as countries, states and the U.S. government propose new regulations all the time," Beckman says. "My job is to get clients to understand and prepare to comply with those changes."
Three-pronged approach
Beckman joined the full-service Louisville law firm in 2018, home to almost 600 attorneys across nine states.
With her focus on cybersecurity, there are three ways Beckman is helping companies in this space:
Teaching them how to minimize risk from potential data breaches and the best response to threats.
Advising organizations on compliance with legislation and ever-changing privacy regulations.
Sharing best practices with clients to train employees on their data security systems.
The first six months at FBT were focused on the team's revamping and division of duties.
"Part of it was assessing both responsibilities and opportunities," Beckman says. "Now with that accomplished and an excellent team on board, we are getting into a rhythm and letting the processes flow."
Taking care of business
To help with its efforts to get the job done, Beckman turned to RSA® for Business-Driven Security™ solutions that provide a unified approach to managing digital risk.
Delivering its solutions to millions of users around the world, services from RSA hinge on integrated visibility, automated insights and coordinated actions. Its solutions and products are designed to effectively detect and respond to advanced attacks and manage user access control, reducing business risk, fraud and cybercrime, says Doug Howard, RSA vice president of global services and IT innovation.
Through the RSA Advanced Cyber Defense Practice and breach support through the RSA Incident Response Practice, Howard says RSA delivers advanced assessments in multiple areas:
Security technology use (multi-factor authentication, end-point and network detection)
Certain cybersecurity threats (fraud, data breach, incident forensics)
Business needs (M&A advisory services specific to cybersecurity risks).
Cultural key
Armed with the tools needed, perhaps one of Beckman's most significant keys to her success at the helm of the Latin America desk is sharing her cultural insights. Having grown up, studied and worked in Colombia, she innately understands the cultural perspective of how South Americans do business—vastly different from an American model.
When called upon, she acts as a liaison to connect Frost Brown Todd's established clients to attorneys outside of the United States should they need to conduct business abroad.
Latin Americans, she says, love in-person meetings over a meal or coffee and have a warm collegial approach. Americans, by contrast, are more direct and business-centric, which can be interpreted as impatient.
Her guidance is necessary to help those from outside the region better understand the political processes, best practices and how other countries work. Typically things happen quickly in the U.S, while governmental agencies in Latam can sometimes take forever.
"It is important for me to show our clients these nuances and how to be successful," she says. "Otherwise it would be trial, error and frustration for those not familiar with the culture."
Helping hand
Beckman knows exactly what she's talking about, based on her first-hand experience.
In a case of role-reversal, she distinctly remembers September 11, 2001. That was the day she arrived in the U.S. from Colombia on a work visa, and spoke very little English. Humbled and lost for a time, she found her voice and started learning the cultural subtleties needed to succeed in the U.S. In less than three years, she found herself transitioning from an industrial engineering career to one in law.
"The majority of things in my life have not been planned," Beckman says. "But they've turned out well and I'm extremely fortunate."
After initially earning a degree in industrial engineering from the Universidad Nacional de Colombia in 2000, she received a law degree at the Sandra Day O'Connor College of Law at Arizona State University in 2007. After two years as an associate attorney at Quarles & Brady in Phoenix, she took her first position as an assistant federal public defender in the Capital Habeas Unit for a year and found her passion in this line of work. That led to additional experience serving as a trial attorney at the Maricopa County Public Defender's Office for almost three years starting in 2010.
Moving to Ohio in 2013, however, motivated her to move out of the criminal defense environment, and start "all over again" in a new legal space.
"It was time to re-invent myself," she says.
Much of the work at law firms was not exactly to her liking—not until she stumbled upon a case while at James E. Arnold & Associates, LPA that involved a computer hacker, accompanied by a slew of IT forensic reports.
"At first I didn't understand anything," she says. "But I treated it like engineering reports, I studied a lot and realized I really liked it and that's what I wanted to do."
Spurred on by her interest, she attended seminars, read books and immersed herself in the field, finally taking a job as co-chair of privacy and data security at Kegler Brown Hill + Ritter in 2016, a position she kept until the opportunity presented itself at Frost Brown Todd in 2018.
"I love the complexity of privacy and data security, it's always challenging," Beckman says. "I also love working with my coworkers and other attorneys in our privacy community, as well as working throughout Latin America. It's the best of both worlds which keeps me connected to my roots. Talking to someone in Spanish makes me feel like I haven't left my home."
Despite her professional success, Beckman's never lost the love she has for people from her country, nor has she forgotten what it's like to start from nothing. Now she's paying it forward by helping resettled refugees from Latin America become new Americans, offering pro bono legal services in collaboration with services from the Community Refuge and Immigration Services (CRIS). She also volunteers as the vice chair of the compliance and ethics section at the Hispanic National Bar Association and as a board member of the Ohio Access to Justice Foundation.
"I identify with them; I've been in their shoes," Beckman says. "It gives me a lot of pride and happiness to help them, to hug them and make that whole process a little bit easier."
Showcase your feature on your website with a custom "As Featured in Vanguard" badge that links directly to your article!
Copy and paste this script into your page coding (ideally right before the closing