Amanda Demas – BMO Harris Financial Advisors
A young woman in the elderly's corner
General counsel and vice president of BMO Harris Financial Advisors since October 2015, Amanda Demas recalls how with a previous firm she witnessed an aggressive middle-aged son bringing his very elderly mother into an office and practically strong-arming her into restructuring her portfolio to his favor.
"Prior to then, his mother was always on top of her investments," says Demas, who for the past four years has sought to spare BMO's more vulnerable clients from such exploitation. "And here he was, showing all the classic patterns of aggression, not letting his mother speak, controlling the situation and wanting to put her safe holdings at risk. 'This will be my money and I want it invested my way,' he was saying."
Though he had power of attorney, Demas and her colleagues didn't think that what was legal was necessarily just. They filed a restraining order against the restructuring. Though a judge ruled that the POA document was indeed binding and the financial institution was held liable for the son's costs, Demas doesn't regret the effort.
These days, she reminds, there are just too many ways for the elderly and vulnerable to have their portfolios jeopardized or even picked clean, often by the very family members they entrusted with overseeing their interests.
Defense never rests
"We see the red flags before the customers do," Demas tells Vanguard from her Chicago office. "We're their first line of defense. We have to keep our eyes and ears open and put out these fires whenever we can."
It's a nonstop mission, she says, with more people transitioning daily into their golden years and life spans increasing. And it's not always the case of a caretaker knowingly acting in a self-serving manner.
Family members may feel they're due some benefit—a new car, a home remodel, a shared account—that may also be of some use to an elderly parent or sibling. But Demas can't seem to say often enough that the account holder's interests must come first.
A regular attendee and panelist at the annual convention of the Securities Industry and Financial Markets Association's Senior Investor Protection Group, Demas can be counted on to update BMO on the latest matters of concern to elderly and vulnerable clients. Among the more alarming findings she's brought back from those SIFMA get-togethers: Those victimized by financial fraud also lose years off their lives.
"There's so much more than just money at stake," Demas says in an understated fashion. "When people come to a financial advisor it's to plan their future and quality of life. Their money is their well-being. That's why they panic if it's gone and they can't pay their bills."
With credit due Demas, a vulnerable late middle-aged woman was spared from being scammed by an internet ploy. Beckoned to forward money to someone posing as a Nigerian student who would move to the U.S. and eventually repay her, she could not be easily dissuaded.
"So we told her to come back tomorrow, called the police and they came in to speak with her," Demas says. "Finally they convinced her this was a scam."
Cases like that notwithstanding, Demas says the biggest danger still comes from within the extended family. At her behest, BMO advisors ask to meet privately with such clients. There being no opportunity for emotional blackmail or manipulation in a one-on-one, the client is more likely to be candid about financial goals.
There are times, however, when BMO's best advice falls on deaf ears. If the firm is uncomfortable approving a money transfer, it may advise the client to take their portfolio elsewhere, all the while hoping that some other entity—local police, elder services, a public guardian's office—can intervene in ways a bank cannot.
At home in-house
Of course, assembling the BMO crew to be that first line of defense isn't Demas' entire job. As head of legal, she's engaged in the typical responsibilities of someone in her position. She sits in on all committee meetings, ensures compliance with byzantine rules and regulations, examines contracts, weighs in on real estate and personnel matters, and is a full partner to the executive team.
It's precisely the role she wants, BMO enabling her to combine her primary interests of finance and law. The latter came late, the 1999 University of Colorado-Boulder undergrad initially working four years as a broker with TD Ameritrade and then as a financial advisor at Trust Wealth Management.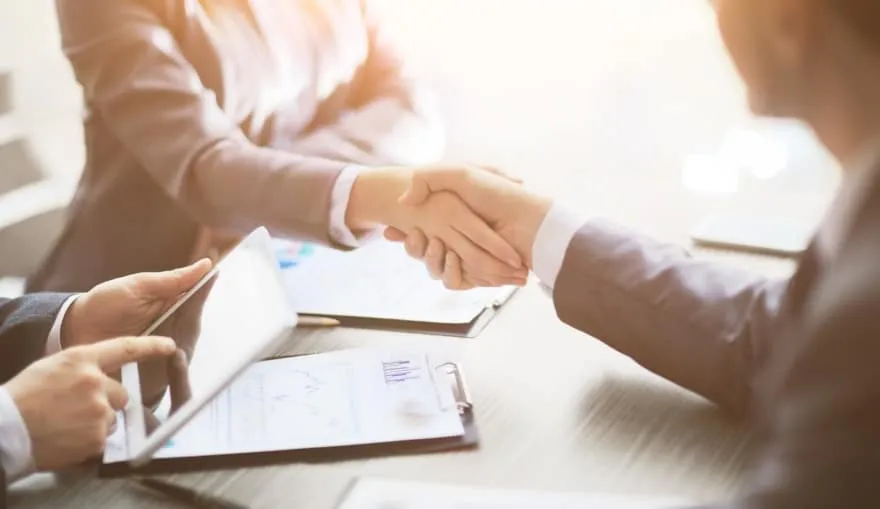 "It's a great industry to be in," she says of the financial world. "I love the pace; it's so fast and there's a culture all of its own."
Wanting to make the most of that culture, Demas would opt for DePaul University College of Law in 2003, graduating three years later. Serving a year as a compliance clerk with global multi-asset brokerage Newedge Group, she then took her skills to JP Morgan Chase & Co., where she'd be assistant general counsel and vice president from 2007 to 2015. BMO would then recruit Demas, offering a bigger job in a smaller organization, both of which have been to her liking.
"I never wanted to be a litigator," she says. "I got a taste of it as an extern with the Illinois attorney general, and it didn't really move me—the court motions, the briefs. I love the day-to-day work that I do here."
And it can hit close to home, Demas' late grandmother having suffered from Alzheimer's late in life. A cruel fate for anyone, but at least she benefited from a reputable financial and tax planner who eased her plight.
"He set an example of how his profession is to behave," Demas says. "He always did the right thing for my grandmother. I try to see her in each of our clients."
Showcase your feature on your website with a custom "As Featured in Vanguard" badge that links directly to your article!
Copy and paste this script into your page coding (ideally right before the closing