Dante Benedettini – Aisin Holdings of America Inc.
One degree of separation
Eureka moments are typically talked about in revelatory terms—those lightbulb flashes when clarity and creativity combine to illuminate the path ahead.
Dante Benedettini only remembers the mild panic. As he sat in a boardroom meeting, listening to a group of senior management clients wield high-level business terms he didn't understand, the realization hit him like a live wire: he needed an MBA—like, yesterday.
On the advice of a friend, John C. Miller, Benedettini enrolled in Michigan State University's (MSU) Eli Broad School of Business. Eighteen months later, he'd earned his MBA. Not to mention a whole new lease on his legal career.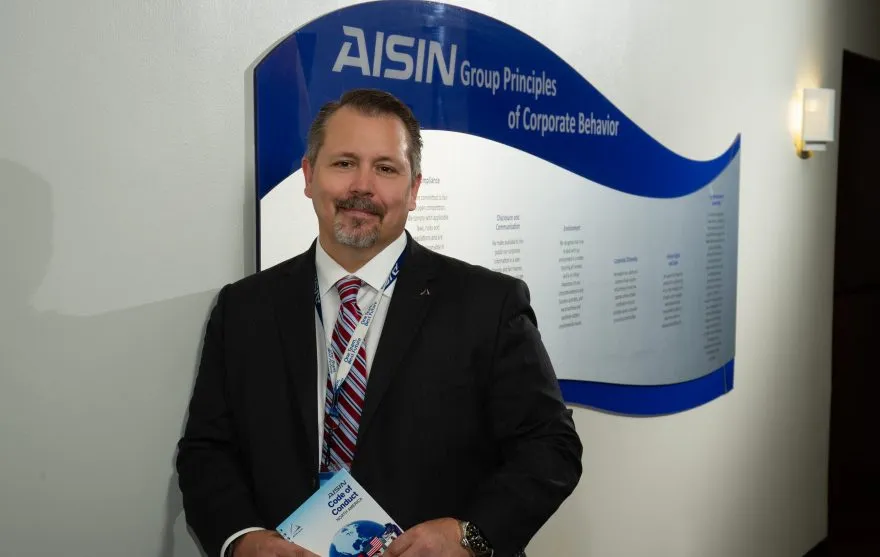 "There are certain things about the business world that law school simply can't teach you," Benedettini says. "It broadened my perspective in ways I didn't expect, especially regarding my views on risk."
The following year, Benedettini parlayed his degree into his first general counsel post, for the North American division of auto parts manufacturer Aisin.
Based in Japan, Aisin is one of the largest automotive suppliers in the world, manufacturing body, brake, chassis, information and electronics, drivetrain and engine products for original equipment manufacturers and the aftermarket in the automotive sector. Aisin's North American division alone generates nearly $6 billion in annual revenue, while employing 15,000 personnel.
Since landing his latest role, business has become a second language for Benedettini—one that's helped with languages of another type.
Same language
Having worked with Chinese- and Japanese-based manufacturers for much of his career, Benedettini experienced firsthand the disruptive effects of things getting "lost in translation"—both literally and figuratively.
Because certain business terms might vary or have slightly different connotations depending on what country you're in, having a firm grasp on your own country's business jargon is crucial.
For years, Benedettini not only needed help grasping what was being said, but the unique—indeed foreign—business context behind it. Thanks to his MBA, bridging that communication gap has become far easier.
"You're dealing with extremely complicated legal issues and terminology, which might have a different legal or regulatory context depending on which country you're in," Benedettini explains. "Everything has to be translated, so ensuring your original message makes it through the translation process intact is a challenge, especially when it involves legal advice."
His boardroom confidence rekindled, Benedettini was better able to focus on the bottom-line minutiae of his own business. In particular, Benedettini credits his MBA for helping him manage his department's operational costs through economies of scale.
By both reducing and better coordinating the use of outside counsel among Aisin's 36 North American locations—all while creating a team capable of internalizing more work—Benedettini has spearheaded significant cost reductions, in some areas as much as 50 percent.
"For a time, we had each Aisin facility hiring its own outside legal help," he explains. "So when I arrived as general counsel in 2016, I had to literally go on a roadshow and essentially sell our services at each facility, convincing them to let us handle a lot of what they were outsourcing."
The result is a more efficient department learning to turn longtime expenses into business boons. Still, Benedettini's role requires more than just creating value on the margins. Overseeing a critical division at one of the world's most prominent automotive suppliers, managing risk—from C-suite to factory floor—becomes paramount.
Under one roof
Immediately after joining Aisin in August 2016, Benedettini, together with senior coordinator Norikuni Fujishiro, sought to overhaul the company's ethics and compliance initiatives (ECI), with the goal of putting their posture on par with other "tier-one" auto suppliers.
Known as Compliance Vision 2021, the program began with a revamped code of conduct—subsequently translated into Spanish and Japanese—for all of Aisin's North American operations. Through a vendor, Aisin will soon provide on-site compliance training for all office personnel. According to Benedettini, similar efforts for factory workers will soon be underway at the company's 10 manufacturing plants.
"The biggest challenge is getting everyone trained in the right areas," Benedettini says. "The workplace environment in an office is a lot different than a plant floor, so we have to assure our training reflects that."
To reinforce these protocols, Benedettini arranged for each facility to be staffed with its own fully trained compliance staff. Additionally, Aisin upgraded its corporate whistleblower hotline.
While each location will still use its own employee handbook and HR staff—a byproduct of the Japanese-owned company's deeply rooted belief in decentralized governance—Benedettini says Aisin is beginning to see the benefits of a more involved legal function.
"We're getting everyone in the frame of mind of asking, 'Does what I'm being asked to do coincide with our commitment to quality?'" Benedettini explains.
Now, nearly two years into his Aisin tenure, Benedettini says the process of transforming the company's legal department remains a priority. Indeed, for the proud Michigan native, being part of his state's evolving automotive legacy remains an honor well worth the hurdles.
Detroit strong
A product of Eastpointe—formerly known as East Detroit—Benedettini grew up at a time when the city's status as a manufacturing powerhouse was in sharp decline. That he would one day be part of the industry's resurgence, however, felt far-fetched, even to him.
"I remember not so long ago, everyone was bashing Detroit and the foreign and domestic OEMs," Benedettini says. "Now, Detroit has taken a 180 degree turn and is coming back strong. It's become hip to be in automotive."
A 2001 graduate of nearby Oakland University, Benedettini earned his J.D. from the University of Detroit Mercy in 2004. He quickly accepted an associate position at the Detroit firm of Berry Moorman, where he remained until 2007.
That year, Benedettini made the decision to move in-house, joining the multinational auto and aerospace manufacturer GKN as corporate counsel for the company's North American operations. In 2012, he made the jump to Nexteer Automotive, a Michigan-based Chinese-owned auto parts supplier—as a senior commercial and transactional attorney, before being promoted to executive director of Global Legal in 2014.
Despite the steady upward climb, Benedettini soon realized that, even with a pair of degrees under his belt, the language of international business required a more specialized immersion. Heeding his friend Miller's advice, he decided to pursue a MBA.
Following eighteen months of late nights and class-filled weekends, Benedettini received his MBA. More importantly, he'd laid the foundation for what would become his biggest professional leap to date—and a role tailor-made for his new bag of tricks.
"Rufus Ogilvie Smals, the smartest general counsel I've ever worked under, once told me that our job as in-house attorneys is to catch those huge meteors hurtling towards the company and turn them into small pebbles, minimizing any business disruption to the greatest extent possible," Benedettini says. "It's about making sure legal is a speedbump, not a roadblock."
It's the kind of eureka moment you actually hope to remember.
Showcase your feature on your website with a custom "As Featured in Vanguard" badge that links directly to your article!
Copy and paste this script into your page coding (ideally right before the closing