Detra Lynn Mills – Round Room LLC
Connecting communities means more than cell sales
Detra Lynn Mills is in love with a red brick, century-old former elementary school in Indianapolis, but not because of its artful floor-to-ceiling windows or its placement on the National Register of Historic Places.
Instead, it's what happens inside the repurposed school building at an agency called Coburn Place Safe Haven that caught her attention. Coburn Place empowers victims of interpersonal abuse to live as survivors, Mills explains, through a housing first model that includes counseling, support and advocacy. Last year, 250 adults and 300 children sought refuge through the nonprofit's programs.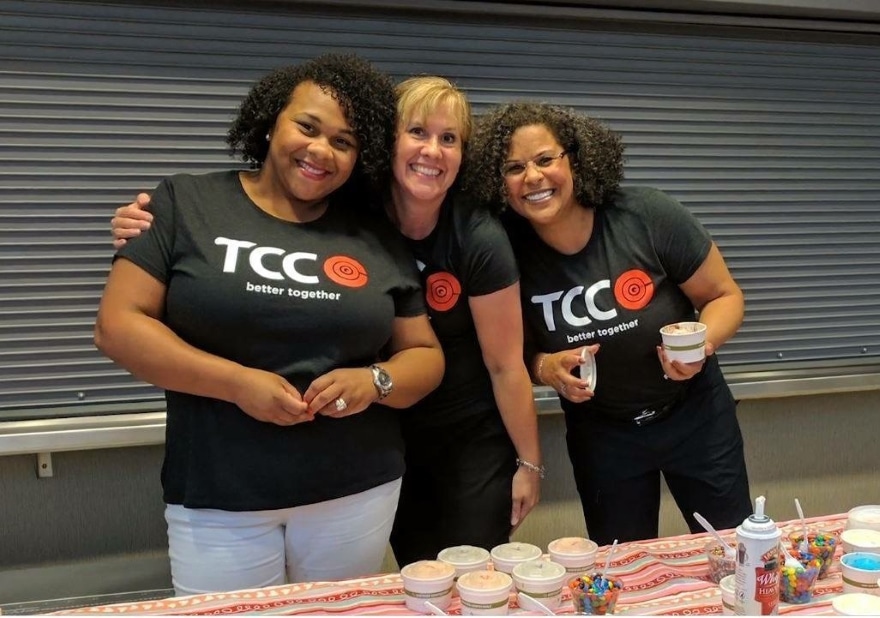 Mills, a survivor of domestic abuse, serves on the Coburn Place Board of Directors. Her employer, the telecommunications company Round Room LLC, also offers its support for the agency as part of its overarching mission to improve lives in the community it serves.
"That my company embraces my passion for this cause and has adopted the need to affect a change in the area of interpersonal abuse is a gift that I could not have anticipated," says Mills, the Round Room deputy general counsel and compliance officer.
Culture of good
Based in Carmel, Indiana, Round Room operates two of the largest Verizon retailers with its TCC and Wireless Zone stores. TCC, short for The Cellular Connection, has almost 900 stores in 38 states. Wireless Zone franchises have been located throughout the U.S. for 30 years.
A third Round Room company, Redux, makes a system that dries out phones or tablets and restores data. Another company is at work on a medical device it hopes will restore people's sense of smell, Mills says.
But what Round Room operations do is only part of the story, she adds.
"We do so much more than sell cellular phones at retail stores; both companies have tremendous philanthropic arms," she says of TCC and the Wireless Zone.
Grant programs are carried out through TCC Gives and the Wireless Zone Foundation, the philanthropic arms of the companies. Mills says employees are given 16 hours of company time annually to volunteer. Employees can use the time individually or join together for a particular cause.
Round Room CEO Scott Moorehead and the former director of customer and employee relations Ryan McCarty also founded Culture of Good, which emanates from philanthropy at TCC and teaches others how to embrace causes in their communities and the world.
Some causes are already traditions; stores take part in what are called "Big Goods," such as "Teachers Rock," where boxes of school supplies are distributed annually each first quarter. In the third quarter of the year, there is a drive to donate backpacks to students and, so far, close to a million backpacks have been given out nationwide.
Employees involved in individual causes or nonprofits can also get financial help for them through TCC Gives, a funding program which makes grants of $150,000 each quarter, with individual grants capped at $10,000. Nonprofits located in communities with TCC stores are eligible, but TCC employees must sponsor the agencies seeking the grants.
To help Coburn Place, TCC Gives and TCC provided more than $30,000 of time and materials in the form of computers and Wi-Fi connections for staff and residents.
TCC Gives also developed the More Than a Phone program to donate cell phones and data service to survivors of domestic violence. Coburn Place was one of the initial recipients when the program began in 2017. In October 2018, More Than a Phone was elevated to a national program.
"Some people have the means through family education, or sheer grit, to move forward after the trauma of domestic violence," Mills says. "For those who don't have an outlet, they need to have hope. TCC helps offer that hope."
Making connections
Day-to-day, Mills' role includes providing ethics and compliance training to employees, overseeing litigation, ensuring the company complies with data and privacy regulations, handling escalated employee and customer complaints, and overall risk management.
Before joining Round Room, Mills had her own practice in Indianapolis for three years, handling mediation, litigation and compliance, an experience she also viewed as a platform to be a "legal leader for good." At Round Room, she says she has found a culture that still enables her to help in and out of the workplace.
Mills draws from her personal experience in an abusive relationship when it comes to helping Coburn Place and its residents.
"I feel like I have reached a point in my personal evolution where I know my story can help others find their voice," says Mills, adding that what happened to her decades ago means less than helping others escape lives of abuse now.
"It is not the details that matter anymore, it is the notion that people who are involved in interpersonal abuse experience it in many ways, perhaps physically, sexually, economically, religiously—abuse shows up as control," Mills says. "It changes the way you see the world and the people you trust to protect you."
Showcase your feature on your website with a custom "As Featured in Vanguard" badge that links directly to your article!
Copy and paste this script into your page coding (ideally right before the closing