Jenny Kim – Koch Industries
Jenny Kim helps unlock potential for people once locked away
With 7.4 million unfilled jobs in America, Jenny Kim of Koch Industries is working to get one of the nation's most marginalized populations, people with nonviolent criminal convictions, to fill them. But, she's quick to say, this project isn't for charity; it is a mutually beneficial second chance.
"It is about businesses making economic decisions that benefit society," she says about Koch teaming up with the Society for Human Resource Management, known as SHRM, on the Getting Talent Back to Work initiative.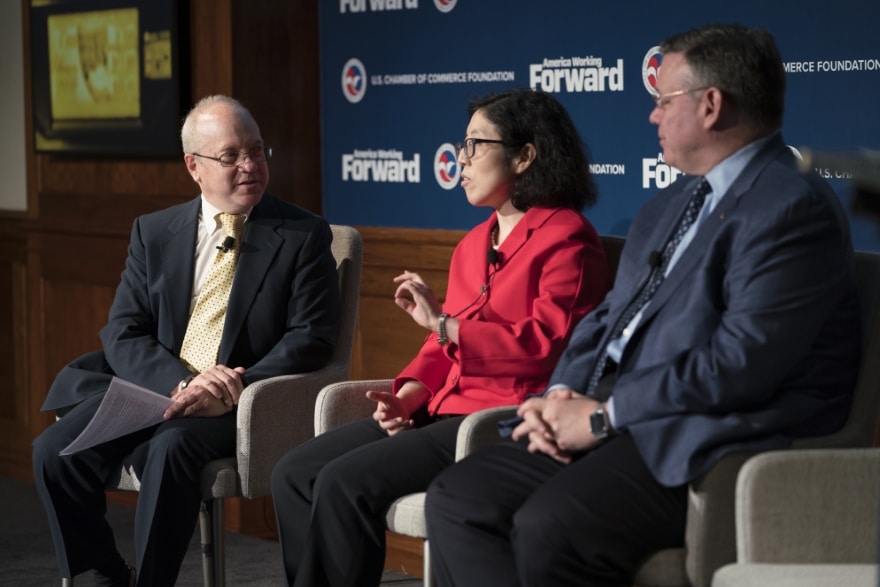 Begun in January following the passage of the federal First Step Act last year, the initiative is about getting people working, and getting employers to think about who they hire.
"Living life is messy, but it becomes 100 to 1,000 times messier if you have a criminal record," says Kim, who grew up in Queens, New York, in a neighborhood where she knew some people had done time at Rikers Island.
Locking the doors
Kim is approaching her twelfth year at Koch, and is now a vice president and deputy general counsel, handling public policy for the company that owns subsidiaries such as papermakers Georgia-Pacific, glass and automotive part manufacturers Guardian Industries, and logistics company Koch Supply & Trading.
"From the start, Koch Industries and SHRM partnered because we realized the importance of hiring and retaining second chance employees," Kim says, noting the dire state of incarceration in America.
The number of people in prison has grown significantly over the last five decades, from 200,000 in state and federal prisons in 1973 (local jail populations were not reported) to 2.3 million today in local, state and federal jails and prisons. In 1985, combined state corrections expenditures were $6.7 billion; in 2017, they reached $57.7 billion, according to the National Association of State Budget Officers.
According to a March report from the Prison Policy Initiative, of all the people serving sentences in federal, state and local prisons and jails the majority are nonviolent offenders. Of the 171,000 people serving sentences in federal prisons and jails, 158,000 committed nonviolent crimes. In state prisons holding 1.3 million people, 588,000 were convicted of nonviolent crimes. The local jail population nationally was 612,000, with 462,000 not yet convicted. Of the 149,000 serving sentences, 117,000 were convicted of nonviolent crimes.
Kim notes the numbers on inmates getting released are almost as staggering as the rates of incarceration, since 700,000 are released annually and a third of the potential workforce has a criminal record. Where they go and what they can do plays a direct role in whether they succeed in society or end up behind bars again.
Opening the doors
Getting Talent Back to Work began after the First Step Act was signed into law in December 2018. The Act reduces some drug-related sentences and increases funding for job training and education programs in prisons.
"For most of the people who are coming out of prison, they have not received any support. You have to make them work ready, and most prisons don't do that," Kim says.
Creating a structured life and having support systems for mental health and substance use disorder issues are keys to successfully returning to society, but Kim says rebuilding someone's life takes an open mind, and that has been among her roles in promoting the program.
"You need generosity and openness; teaching and learning are two-way streets," she says.
This spring, SHRM released a survey of American consumers showing 78 percent were comfortable doing business with an employee who has a nonviolent criminal record; 55 percent were comfortable doing business with an employee who served a sentence of five years or longer; and 74 percent were comfortable working with someone with a nonviolent criminal record.
"Businesses who have hired people with criminal records know it is hard, but it is worth it," Kim says. "They get employees who are loyal, committed to the company and committed to the community that has been created."
SHRM, which works with more than 300,000 human resource directors and business executives in 165 countries, created an online toolkit to support the Getting Talent Back to Work project, with tips on interviewing and assessing applicants with criminal records, getting reliable background checks, and analyzing potential risks when hiring. So far, more than 1,000 individuals, companies, nonprofits and associations have signed the toolkit's pledge "to give opportunities to qualified people with a criminal background, deserving of a second chance."
Some second chances will require criminal justice reforms, Kim says, as restrictions on employment, housing, available services, and professional licensing placed on people released from incarceration can be onerous and/or unneeded.
"I have come to the realization that government needs to be modernized. In terms of laws and regulations, it is still in the 1930s," Kim says.
Additional restrictions came as the War on Drugs ramped up in the 1980s. Kim counts approximately 45,000 collateral consequences from incarceration that prevent people from succeeding when they are released. Eliminating needless rules holding people back is what Charles Koch is all about, she adds.
Minds at work
As a child, Kim's initial aspiration was neurosurgery. College physics courses proved too tough, though, something she said was her first real brush with failure. So she "recalibrated her dreams," deciding law would also allow her to understand how the human mind affects society. It was also a family tradition; her great-grandfather was the first chief justice of the Supreme Court of South Korea following World War II.
After getting her Juris Doctor from Boston College, she worked as a presidential management fellow both at the Missile Defense Agency and the White House during the George W. Bush administration. She then worked at two private Washington, D.C. law firms before joining Koch.
Though she has handled wide-ranging legal work in-house for Koch, helping direct the initiative has been especially rewarding because of friendships made with people who had been incarcerated.
"What I respect most about them is their emotional and life resilience, their abilities to find joy and happiness and the refusal to take anything for granted," she says. "There is never a day working on this issue when you can really declare victory."
Showcase your feature on your website with a custom "As Featured in Vanguard" badge that links directly to your article!
Copy and paste this script into your page coding (ideally right before the closing