Kailee Goold – Cardinal Health
The real deal for a healthcare heavyweight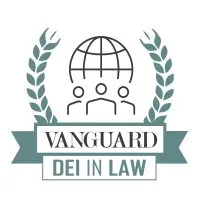 She doesn't always look or sound like a stereotypical lawyer. Neither does Kailee Goold want to. "Authentic" is the word she liberally sprinkles during a lively December interview with Vanguard.
Indeed, she makes a striking first appearance with her big, curly hair and Type A personality that factored in Goold being a collegiate volleyball standout. Her outspoken advocacy of DEI initiatives—diversity, equity, inclusion—and way of putting others on the spot aren't exactly de rigueur in the culture of corporate counsels.
She also seems to have defied some long odds in becoming a lawyer and then going in-house at a young age for a multinational healthcare company. Others could do the same, she says, if afforded the opportunity.
"I know many smart and capable people who don't have a direct pipeline to success, but they could be impactful legal professionals too," Goold says in December while working remotely at her Columbus, Ohio, home for nearby Cardinal Health. "I want to show them they don't have to fit into a tiny mold. Wonderful people aren't on anyone's radar because of circumstances outside of their control."
To Goold, those "wonderful people" include women and minorities, the demographics underrepresented among the legal elite. She's intent on being their champion.
Setting critics straight
"I want to be an actor in the playground of critics," Goold says. "I want to change the culture."
As assistant general counsel for litigation in a litigious industry, she's positioned to make at least some difference, her responsibilities including selection of outside counsel. Only she wants assurance that there are values shared.
Goold might schedule a casual meeting over coffee or lunch, and request that the lawyer in charge bring an associate. That opens the door to a younger lawyer handling something more than basic responsibilities and all the better if that lawyer isn't another white male.
"I don't need the most senior attorney giving me the perfect answer every time," Goold says. "I want external partners who contribute to and create an environment that's a game-changer. It's OK to experiment toward a creative solution."
This approach has repeatedly acquitted itself, Goold goes onto say. Without being too specific, she describes how a managing partner from a large law firm—"a heavy-hitter"—was asked to bring a younger, female associate to dinner. During a three-way chat, that associate relayed that, as one of the firm's many associates on large litigations, she wanted to play a lead role on smaller cases. Out of that conversation, the firm created a portfolio of Cardinal Health's litigation for that firm to handle, and that associate has since capably overseen it.
"It all started from that brainstorm of the three of us in one room," Goold says. "I don't want such a case to be unique, but it is. I'm looking for the good trial lawyers of tomorrow and giving them growth opportunities today."
Then there was the time when an external lawyer brought a female associate to lunch at Goold's request, which led to the associate being nominated—at Goold's request—to a local nonprofit's board of directors. When Cardinal Health hosts meetings, Goold wants her external associates participating. Should they extend their stays and shadow her, Goold ensures they're welcome and the time is put to constructive use.
Company culture shared   
While the impact of her individual efforts would be limited, Goold says she's aided and encouraged by a company that sees DEI as both socially responsible and sound business practice. Chief Executive Officer Mike Kaufmann—a 2014 winner of a "Guys Who Get It Award" from the Institute for Women's Leadership—takes DEI seriously, entrusting Goold and others to ensure metrics are met.
Her DEI strategy falls into two categories, Goold partnering on the ground level to cultivate culture and creating an environment that favors innovation and contribution "rather than perfection."
But, as Goold reminds, her role is much more than just on the social responsibility front. Cardinal Health ranking 14th on the Fortune 500, at any given time can be immersed in litigation. As with other drug and medical companies, Cardinal Health faces a variety of legal challenges. She's counted upon to identify and mitigate risk, and ensure the company is ably represented in court.
And not just for today, Goold explaining that the female and minority attorneys whose careers she's furthering may have a bigger future at or with Cardinal Health. It's all part of the fun of being an in-house lawyer, she says, and especially so at a company where she feels at home.
As to how Goold's career path happened, it wasn't all by design. Born to a modest household, she had to dig up resources on her own and seek financial aid. Naturally competitive, she played volleyball at West Virginia University, graduating summa cum laude in 2007 and earning the Most All-Around Outstanding Athlete Award.
"I wasn't one of the taller players, just 5-foot-9," says Goold, now a 36-year-old mother of a boy born during COVID-19. "While I loved the game and even the traveling, I knew I'd have to do something else after college."
That became The Ohio State University Moritz College of Law where Goold enrolled in 2009 and graduated summa cum laude three years later. She litigated from 2012 to 2015 for Kegler Brown Hill + Ritter in Columbus, then joined the Cardinal Health legal team.
"I've always tried to align my values to company culture, but Cardinal Health deserves the credit," she says. "Their DEI commitment predates me, and they let me and my natural hair fly."
View this feature in the Vanguard Spring I 2022 Edition here.
Showcase your feature on your website with a custom "As Featured in Vanguard" badge that links directly to your article!
Copy and paste this script into your page coding (ideally right before the closing