Kelly Crosier – Heidrick & Struggles
Deputy GC boosts ESG at growing leadership consultancy
With many companies operating remotely because of the COVID-19 pandemic, some have reevaluated their need for office space or extensive travel.
At Heidrick & Struggles, Kelly Crosier and the legal department have created a committee to do just that. In the spring of 2021, the committee on environmental, social and governance published its first report. It also publicly committed to begin offsetting its carbon footprint in partnership with IndigoAg, an agricultural technology company.
"When I joined the firm, I was amazed by its commitments to diversity, equity and inclusion, but we'd not yet taken a hard look at our environmental impact," says Crosier, the deputy general counsel and assistant secretary. "In 2020, we began measuring our carbon footprint, which shrank considerably during the course of the pandemic as we transitioned to primarily serving our clients virtually."
Heidrick & Struggles provides executive search services, leadership consulting and on-demand talent solutions to large companies and organizations around the world. Headquartered in Chicago, the publicly traded company has over 425 consultants worldwide, with offices throughout North America, Latin America, Europe, the Middle East and Asia.
In addition to Crosier, the ESG committee includes the chief human resources officer and the co-chairs of the firm's sustainability office. It has additional assistance from the marketing, real estate, finance and investor relations departments.
"It's important that we have a cross-functional team that understands the business and culture as whole," Crosier says. "Oftentimes it makes sense for the legal department to handle ESG given the overlap with public company disclosures, but it's been ideal to have eyes and ears on ESG across the organization."
Proactive sustainability
Crosier says the committee started by focusing on real estate because it makes up half of the company's carbon footprint, with travel making up the other half.
"Travel and our use of office space have both been impacted by the pandemic, but travel has dwindled significantly," she says. "We decided to start with assessing our real estate because it's an area where we can make real change right now and be a leader."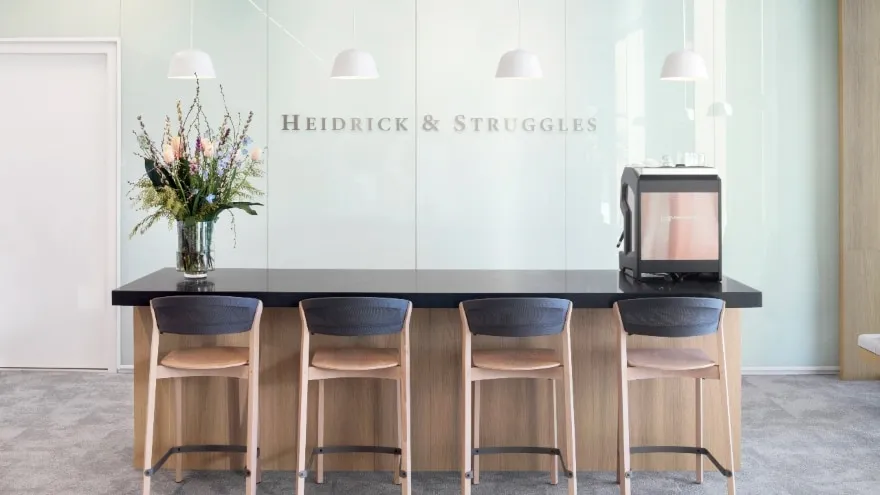 This year and last, the committee is focused on further carbon, water and waste reduction and mitigation efforts. In addition to being good for the environment, Crosier says being committed to ESG work gives the company a competitive edge. She says many stakeholders want to see a commitment to sustainability and social issues. This is important to Crosier, too, with ESG being a passion of hers.
"It's a refreshing space for me to be in as a lawyer," she says. "Lawyers are usually brought in to clean up messes, but ESG work is preventative, proactive and a rewarding topic to turn to."
Global perspective
Over the past year, Crosier has also found fulfillment in merger and acquisition work. In April 2021, Heidrick & Struggles acquired Business Talent Group, a marketplace for independent talent on demand.
Crosier, who was involved from term sheet negotiations through due diligence and drafting the deal documentation, says the acquisition diversifies what Heidrick & Struggles can offer clients. For example, the company can now place interim leaders for clients while they search for a permanent replacement.
"In my previous experience advising clients on C-Suite succession issues, the ability to go to a 'one-stop-shop' in these often-tense situations presents a huge benefit to our clients in an uncertain interim period," Crosier says.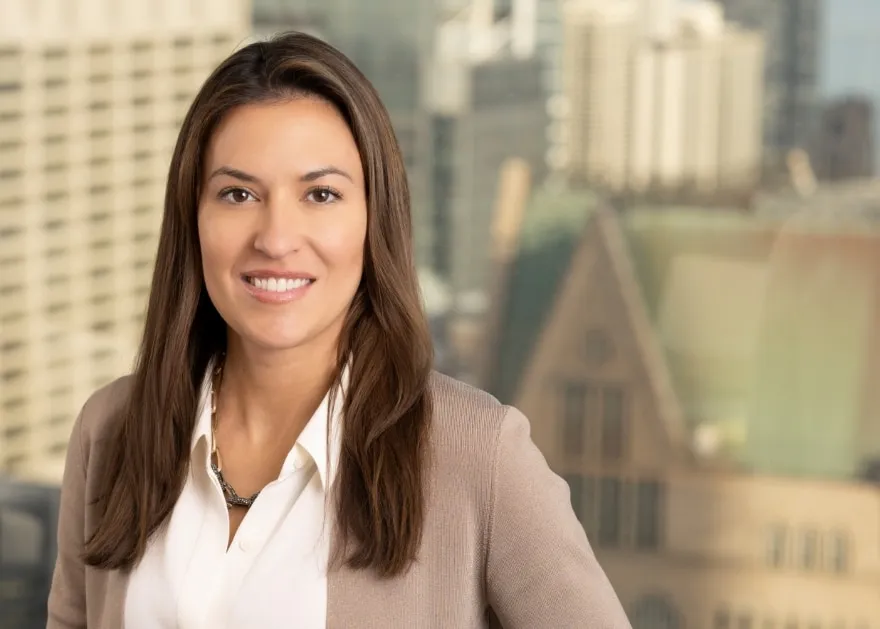 She's also been involved in Heidrick & Struggles' acquisitions of RosExpert in Russia and WE Partners in Ukraine and Kazakhstan. Both companies provide leadership consulting and executive search services. The acquisitions, which are expected to be finalized in early 2022, will make Heidrick & Struggles industry leaders in each country, she says.
"I love working for a global company because it's so fascinating to see how business is conducted across the world," Crosier says. "One of the best takeaways I've had is the importance of finding an international law firm who not only understands local law, but the culture too."
Continued growth
Crosier has been with Heidrick & Struggles since November 2019, when she was recruited as its assistant general counsel and assistant secretary. She was promoted to her current role of deputy general counsel in April 2021,  while maintaining her responsibilities as assistant secretary.
As assistant secretary, she supports the company's chief legal officer and board of directors. She's led the redesign of the proxy statement shareholders receive to be more engaging and visually appealing. As a result, the proxy is more user friendly now and allows for an interactive experience, including stockholder voting.
Prior to Heidrick & Struggles, Crosier spent almost four years at Power Solutions International, a publicly traded global manufacturer of automotive power systems, as assistant general counsel and secretary. For six years before that, she was a partner at the Chicago firm, Buzogany & Associates.
Crosier says being at Heidrick & Struggles has been exciting, especially because more acquisitions are anticipated. As the company continues to grow, she's looking forward to building upon the work of the ESG committee while also working on enterprise risk management.
"I really appreciate how the company, board and the executives have trusted me to be involved in many exciting initiatives," she says. "I feel that focusing on ESG is the future for companies, so it's rewarding to be involved in that here."
View this feature in the Vanguard Spring I 2022 Edition here.
Showcase your feature on your website with a custom "As Featured in Vanguard" badge that links directly to your article!
Copy and paste this script into your page coding (ideally right before the closing