Randi Cigelnik – Property Casualty Insurers Association of America
Ensuring that insurance regulators don't overreach
Necessary as they are, insurance companies tend not to be on anyone's list of favored institutions, and that can make them targets for the arguably political agendas of those who regulate them.
Case in point: the Multistate Insurance Diversity Survey.
Randi Cigelnik, general counsel of the Chicago-based Property Casualty Insurers Association of America (PCI), describes the measure she helped defeat in Minnesota last year as a classic example of political posturing and administrative overreach.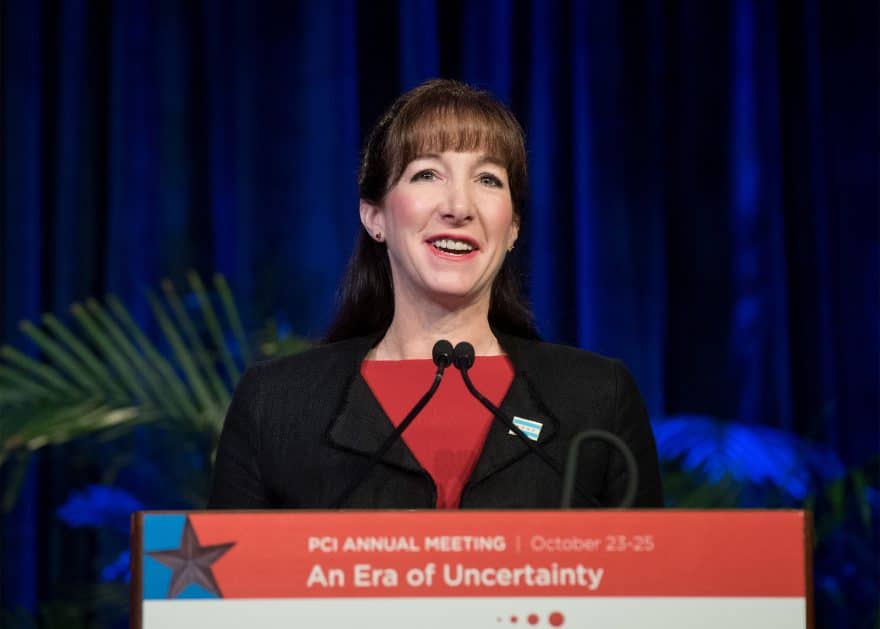 Without legislative approval, the Minnesota commerce commissioner, who regulates the state's insurance industry, seemed to be following the lead of his counterpart in California who, in 2012, beckoned lawmakers there into forcing a social agenda on the insurers.
The California law—narrower in scope—required insurers with in-state premiums over $100 million to complete a detailed 30-page survey every other year regarding their governing boards and vendors on such hot-button issues as race, gender, ethnicity and sexual orientation, with the results posted online and the threat of civil penalties for noncompliance.
Also acting in a similar manner, despite the lack of enabling law, were the insurance commissioners of New York, Oregon, Washington and the nation's capital. Vigilant about such regulatory overreach, Cigelnik and the PCI pushed back in St. Paul.
"While diversity is a value we all share, the Minnesota commissioner exceeded his authority by requiring insurers to complete MIDS," Cigelnik says. "Excessive and duplicative regulatory activity can unnecessarily increase costs for consumers and divert resources from regulation that fulfills the department's mission to monitor solvency and market conduct for the protection of consumers."
Since no state law empowered Minnesota's commerce department to impose diversity requirements on insurers, Cigelnik asked the commissioner to withdraw the requirement in favor of voluntary compliance. Last December, an administrative law judge agreed, ruling that the Minnesota commerce commissioner had exceeded his authority.
Cigelnik hopes the Minnesota decision sends a nationwide message for regulatory restraint, and will be specifically watching what happens in other states, should any insurance commissioners take their cues from California without a legislative OK.
Hitting the roof
It's not just at the state level where such overreach takes place, explains Cigelnik, who's working with the U.S. Department of Housing and Urban Development on what she sees as its convoluted attempt to enforce the 1968 Fair Housing Act upon homeowner insurers through a 2013 rule.
State law requires insurers to charge rates that are not excessive, inadequate or discriminatory. Insurers calculate risk-based premiums and charge what they say is a fair price for the insurance provided to similar risks.
As an example, an insurer may charge a higher premium for buildings with flat rather than angled roofs in climates prone to heavy snow, since angled roofs better withstand blizzards, resulting in less risk of loss. But HUD asserts the authority to force insurers to lower their calculated premium for such flat-roof risks—solely on the basis that the occupant may be part of a federally protected class. The resulting premium may violate state law, Cigelnik says.
"States regulate insurance, not HUD," reminds Cigelnik, adding that one would be hard-pressed to find anything in the Fair Housing Act that permits HUD to interfere with lawful state insurance regulation.
On the front burner
As the priorities of a new administration and Congress take hold in Washington, D.C., PCI and its general counsel are committed to staying ever vigilant in advancing the association's strategic goals in 2017.
"PCI's goal is to ensure that our members emerge from a comprehensive tax reform package better off, with competitive tax rates, higher economic growth and a manageable transition."
High priority goes to ending the Dodd-Frank Act's federal encroachment on the proven and effective system of state insurance regulation. Dodd-Frank, which passed in 2010, was enacted as a response to the global financial collapse. However, Cigelnik points out that it is important to recognize that the business of insurance differs significantly from that of banking, and that insurers are already subject to strict state regulation. PCI is supportive of reforms that prevent duplicative regulation that could unnecessarily increase costs for both insurers and their consumers.
Then there's federal tax reform, which PCI sees as being a once-in-a-generation opportunity to overhaul the tax code and address problems stemming back to the last major reform effort in 1986. Looking back, Cigelnik says the insurance industry was disproportionately impacted, explaining that while the property casualty insurance industry makes up less than 1 percent of gross national product, it pays 3 percent of all federal corporate income tax receipts.
"PCI's goal is to ensure that our members emerge from a comprehensive tax reform package better off, with competitive tax rates, higher economic growth and a manageable transition," said Cigelnik. "This is not just about defending the status quo; we will aggressively advocate for what is in the best interest for our markets and consumers."
And on the international front, Cigelnik says PCI will continue to oppose one-size-fits-all regulations on insurers. That's a cause that is very familiar to Cigelnik, as her global perspective had much to do with her being selected for the PCI role in 2011.
Covering all bases
A 1985 Boston University School of Law graduate, University of Michigan undergrad and Chicago native who wanted to come home, Cigelnik brought more than 25 years of  U.S. and international insurance and regulatory expertise to PCI when she came aboard six years ago as general counsel, senior vice president and corporate secretary.
With her previous duty being the general counsel for AXIS Capital's Ireland- and United Kingdom-based companies, she played a leading role in legal and regulatory compliance, including Solvency II, a European Union initiative to modernize and harmonize insurance regulations throughout the EU that finally took effect in 2016 after years of tinkering.
Prior to that, she spent 12 years with the former ACE Group in Bermuda and London (now Chubb), where she became general counsel and corporate secretary for Bermuda and then European and emerging markets operating companies, and served as a board director for many of those companies. She also served as ACE's primary liaison with European regulators.
While living abroad, Cigelnik handled legal matters in Bermuda, Ireland, the UK, Spain, France, Italy, Turkey, Germany, Egypt, South Africa, Saudi Arabia, Norway, Sweden, Netherlands, Denmark, Gibraltar, Pakistan, Portugal, Brazil and Switzerland.
Back to islandside
With Bermudian companies being a large supplier of reinsurance in the United States, Cigelnik's experience is often sought at the island's annual Insurance Day Summit. She has anecdotes aplenty to illustrate many of the issues facing Bermuda's insurance industry.
Superstorm Sandy resulted in $20 billion of insured losses, Cigelnik told the Insurance Day Summit in 2013. The resulting legislative proposals threatened a perfect storm that would further batter the industry expected to mitigate those losses, she added. Among the proposals at the time: the elimination of hurricane deductibles and increased so-called bad-faith penalties.
"Legislation like this is often driven by politics," she told the gathering.
That's a point she's emphasizing wherever her travels take her.
Showcase your feature on your website with a custom "As Featured in Vanguard" badge that links directly to your article!
Copy and paste this script into your page coding (ideally right before the closing