Sarah Hurt – Jefferson Energy Companies
GC makes the deals to keep Jefferson Energy flowing
They were already a fixture on the Neches River waterfront in Beaumont, Texas. The Jefferson Energy Cos. had six rail track loops connecting three interstate railroads, two docks, and storage for 2.9 million barrels of crude oil and refined products.
In the past two years, the company, a subsidiary of Fortress Transportation and Infrastructure Investors, has added three pipeline projects, storage tanks for an additional 1.4 million barrels, and a new electrical substation.
Sarah Hurt joined Jefferson Energy in October 2020 as its vice president and general counsel, about eight years after the company's founding in 2012. She arrived at the beginning of an expansion costing about $300 million and has managed the legal work for financing the new round of expansion.
But, as Hurt says, 2022 is the year when the focus shifts to bring in new revenues from the expansion, even as its significant new phase gets underway.
"My career has been as a corporate commercial transaction lawyer," Hurt says. "I'm doing everything you'd expect from a GC, but my true wheelhouse is the ability to generate contracts from scratch."
Bonded to expansion
Jefferson Energy is a "midstream" operator headquartered in Houston. Midstream means it provides the infrastructure to receive, store and ship crude oil and petroleum products. In Beaumont, the company can receive and ship by rail, barges, ships, and pipelines.
When Hurt joined the company in October 2020, it was completing three pipeline projects to connect its facilities to ExxonMobil and Motiva refineries and an interstate pipeline. Those pipeline projects began operating in late 2020 and early 2021.
The current expansion adds two more pipeline interconnections, a third marine dock, and 10 new storage tanks that will increase the facility's capacity by 1.9 million barrels to 6.2 million barrels.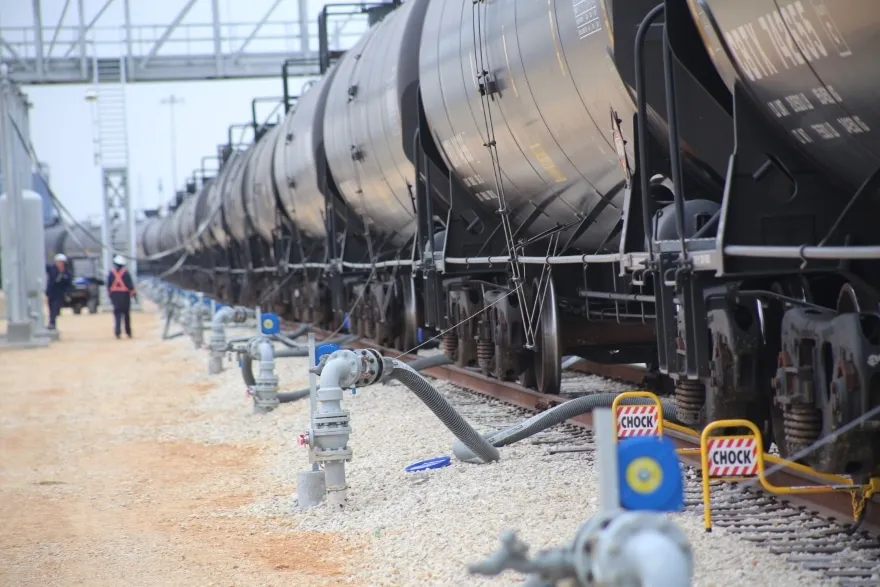 This expansion is funded by a public-private partnership in which the Port of Beaumont Navigation District and its related Industrial Development Authority issue bonds. Jefferson Energy repays the principal for the bonds and funds the interest on them with revenues from the expanded facility.
The Port issued $264 million in bonds for the early phase of expansion in January 2020. For the current phase, and to re-finance a portion of the existing debt, Hurt helped secure $425 million. To secure the bonds, Hurt did due diligence, which included itemizing company real property and other assets to be used as collateral.
Time to earn
With financing secured, she and attorney Lisa Orso are drafting the requests for proposals and bid documents, as well as contractor agreements.
"Lisa is amazing. I was the sole member of the legal team at my prior job, and she takes on so much so we don't have to outsource our work," Hurt says of Orso. That collaboration is a reason she's been able to reduce spending on outside counsel by 80 percent, she adds.
As the focus shifts to generating new business, Hurt's managing the commercial contracts. That includes determining a customer's financial situation and credit worthiness. It also involves determining who's liable for areas such as environmental remediation, accidents or bankruptcy.
"If you can explain the deal to me, I can write it down," Hurt says, "but you can't skip step one."
Born in London, Hurt was raised in the county of Kent, where her parents still live on a 40-acre forested property. After earning undergraduate and master's degrees in English at the University of Oxford in 2000, Hurt earned her postgraduate diploma in law from BPP University Law School a year later. In 2002, she earned her legal practice course diploma from Oxford Institute of Legal Practice.
Crossing the pond
In 2003, she began practicing corporate and transactional law with the London firm of Slaughter and May. In 2009, she moved to Houston. Upon arrival, Hurt joined the firm of Bracewell as an associate. In 2011, she shifted to Vinson & Elkins in the same role. By then, she had met her husband.
In 2014, Hurt became an in-house attorney, joining natural gas and electricity provider NiSource as senior counsel. In her role, she supported Columbia Pipeline Group, a division that was spun out from NiSource in a large initial public offering in 2015. It's now part of TC Energy. Hurt continued at TC Energy until May 2018, when she became vice president and general counsel for Eureka Midstream. She left the company a year later upon its sale to Equitrans Midstream.
In the time between leaving Eureka Midstream and joining Jefferson Energy, Hurt indulged her artistic side. She draws, paints, creates collages and has begun working with fiber art. However, her linear approach to law doesn't translate to her art milieus. "I don't work with realism. There are people who can do that better than me," she says. "What I can do is conceptual using colors and feelings I want to express."
Hurt is also a board member of Menninger Clinic, providers of mental health care and services in Houston. She founded a mental health initiative at Vinson & Elkins to increase awareness of mental health issues in the law firm, she adds.
She also recently won the 2021 Houston Corporate Counsel Award for General Counsel of the Year for a Small Legal Department.
"It's sometimes a shock to realize I've practiced in the U.S. longer than the U.K., but my field translates well," Hurt says. "It has been an exciting, challenging and rewarding first year at Jefferson Energy, but there's so much more to do."
View this feature in the Vanguard Spring II 2022 Edition here.
Showcase your feature on your website with a custom "As Featured in Vanguard" badge that links directly to your article!
Copy and paste this script into your page coding (ideally right before the closing